Jump to Recipe
Print Recipe
Easy Cheesy Cauliflower Puff is a simple soufflé like dish that is great for a brunch or meatless dinner. Can be made gluten free or dairy free.
This Cheesy Cauliflower Puff is a great way to serve cauliflower to people that don't like cauliflower. That would be me!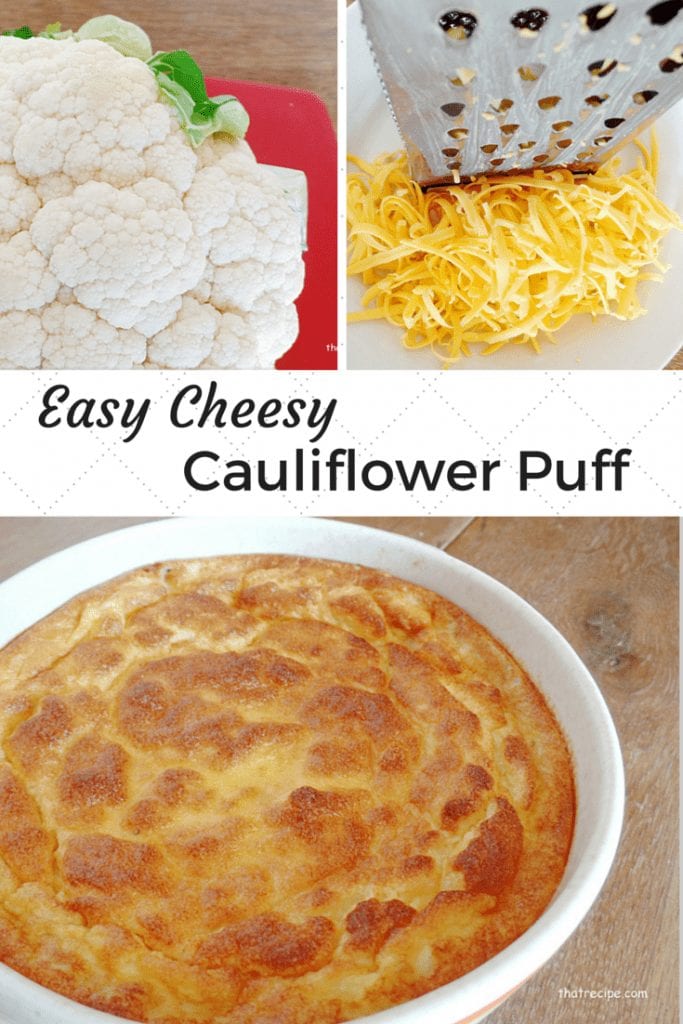 It's the 20th of the month which means it is time for the Crazy Ingredient Challenge, when a bunch of bloggers pick two ingredients and try to come up with a recipe for them. This month we chose Cauliflower and Cheese.
Oh joy!
If you are a cauliflower lover you are excited. If you don't particularly care for it, you probably read that comment with a note of sarcasm.
I am definitely the latter. Seriously, I almost considered skipping this month. But, I couldn't wimp out on you like that.  And I am so glad I didn't, because I wound up making this Easy Cheesy Cauliflower Puff that would be great for breakfast, a brunch (hint Easter and Mother's Day are coming up) or a meatless lunch or dinner.
I altered a recipe that originally called for carrots and added some cheese. When it was done, it was DELICIOUS!!  Honestly, I could have passed this off on the guys without telling them it was cauliflower and they wouldn't have known.
WARNING! This will puff up like a souffle when you take it out of the oven and then collapse
Don't panic, it is supposed to do that. Same great taste as a soufflé, without the stress.
Easy Cheesy Cauliflower Puff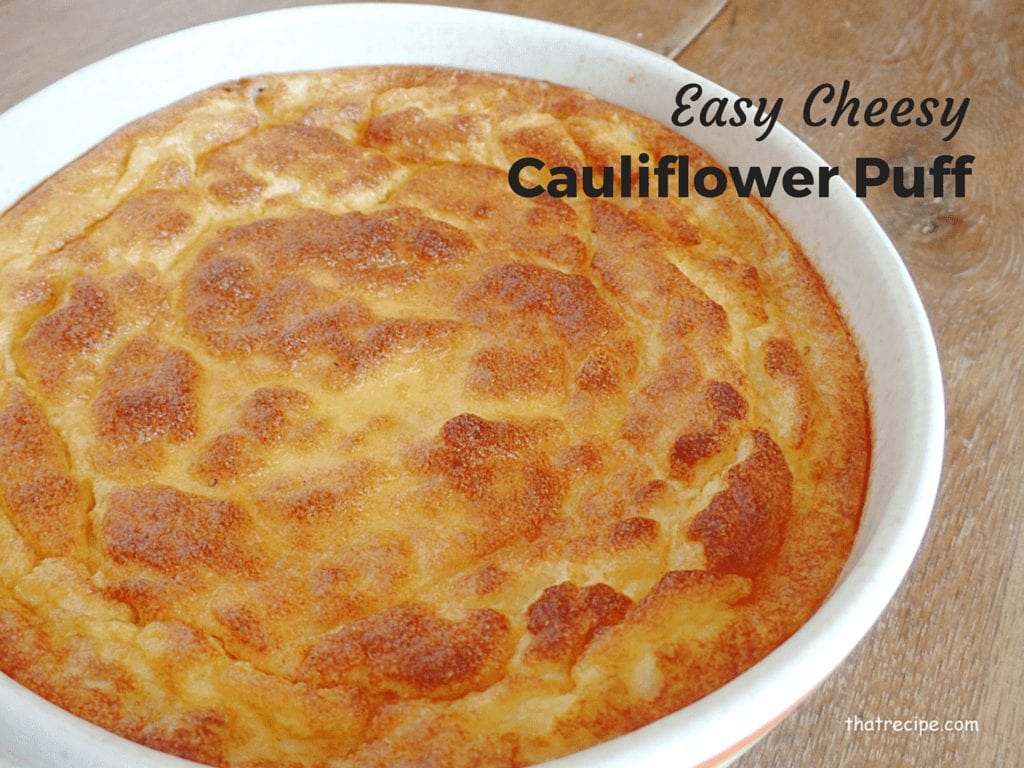 Ingredients
½

head

cauliflower

(chopped into small pieces)

2

tablespoons

olive oil

2

tablespoons

onion

(very finely chopped)

1

clove

garlic

(minced)

2

tablespoons

all purpose flour

(for gluten-free use 1 teaspoon cornstarch)

½

teaspoon

salt

⅛

teaspoon

pepper

hot pepper sauce

(to taste)

1

cup

low fat milk

(substitute almond or soy milk if desired)

3

eggs

(seperated)

½

cup

cheddar cheese

(grated)
Instructions
Preheat oven to 350 degrees.

In a medium saucepan cover cauliflower with water and cook for 8-10 minutes until soft. Drain, reserving a few tablespoons of cooking water.

Put cauliflower into blender and puree, adding cooking water a tablespoon at a time as needed..

In the sauce pan, heat olive oil over medium heat. Sautee onions and garlic 3-5 minutes until translucent. Add flour, salt and pepper and stir over medium heat for another minute or two to make a roux. (For gluten free, skip the roux making and just add seasonings at this point).

Remove from heat and slowly pour in milk whisking until smooth. Return to heat and cook for a few minutes until thickened. (For gluten free, add corn starch with milk and whisk thoroughly). Remove from heat.

Sprinkle cheese over milk mixture and mix until smooth.

Stir in cauliflower.

Separate eggs. Whisk yolks into milk mixture. Add pepper sauce to taste.

Gently fold whites into cauliflower mixture.

Pour into an ungreased 1 quart baking dish. Bake 35-40 minutes, or until top is golden brown and set in the center. Let cool 5 minutes before serving.
Notes
when the puff is first removed from the oven it will be fluffy like a soufflé then will collapse a bit in the middle. This is supposed to happen. Cauliflower Puff before it falls
Until next time, happy eating.
~Audrey