Jump to Recipe
Print Recipe
Gluten Free Nutella Swirled Black Bean Brownies - brownies made with black beans instead of flour for a high protein and fiber gluten free treat.
What would you make if you were given black beans and mayonnaise and told to create a dish with them? Why black bean brownies, of course. And to make them even more fabulous, how about Nutella Swirled Black Bean Brownies.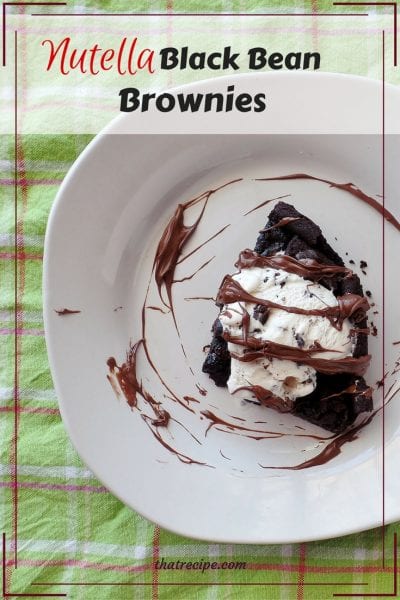 This recipe is part of the Crazy Ingredient Challenge. Which is sort of like a bloggers' version of Chopped. We pick two ingredients from two sets of lists then all try to make a recipe with them. Be sure to scroll below the recipe to see what the other bloggers made.
I have made Black Bean Coconut Brownies before and I figured I would just swap the mayonnaise for the egg and oil, because what is mayonnaise except beaten eggs with oil whipped in it (my recipe is here if you don't believe me).
If you don't want to use the mayonnaise just use 2 eggs, 1/2 teaspoon of oil and 1 tablespoon of milk for the liquid.
You'd think without the flour there wouldn't be a problem with overbeating the mix like there is with traditional brownies. Oh how wrong I was. I didn't mash the beans down in the blender so it took forever to blend and the result was sunken brownies.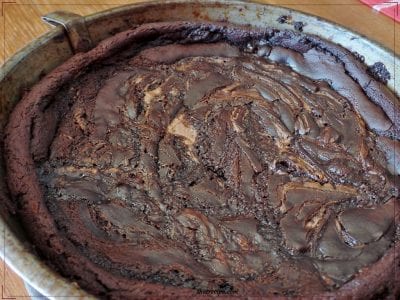 Makes you want to cry, doesn't it? But they still tasted fabulous. Just learn from my mistake and blend this just until smooth.
[click_to_tweet tweet="Delicious, ooey gooey gluten free Nutella Swirled Black Bean Brownies. So goooooood! #glutenfree #brownies #chocolate" quote="Delicious, ooey gooey gluten free Nutella Swirled Black Bean Brownies. So goooooood! " theme="style2″]
Nutella Swirled Black Bean Brownies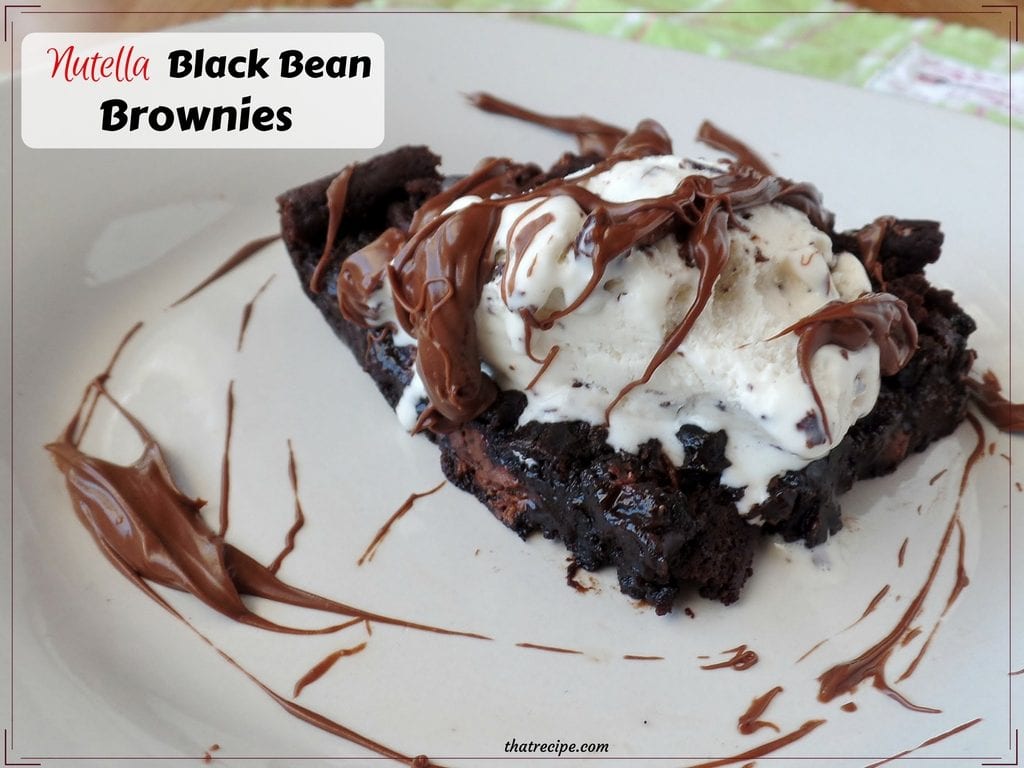 Ingredients
1/3

cup

mayonnaise

1

teaspoon

vinegar

(any kind)

1

teaspoon

vanilla extract

1

can

14 ounce size black beans

(drained and rinsed)

1/3

cup

cocoa powder

3/4

cups

coconut or light brown sugar

1/2

teaspoon

baking powder

1/2

teaspoon

baking soda

1/4

teaspoon

instant coffee or espresso powder

1/3

cup

chocolate hazelnut spread

(aka Nutella)
Instructions
Preheat the oven to 350 degrees F. Lightly oil a 9″ x 9″ baking pan.

Put the mayonnaise, vinegar, vanilla and black beans in the blender. Mash the beans a little with a spoon or spatula. Then blend until mixture is smooth.

Add the cocoa powder, sugar, baking soda, baking powder, and coffee. Blend just until smooth. DO NOT OVERMIX! Learn from my mistake...

Pour batter into the prepared pan.

Drop the chocolate hazelnut spread by tablespoonful around the batter and swirl with a knife.

Bake for 18 to 20 minutes until brownies are set up and a toothpick tests clean. Allow brownies to cool 15 minutes before cutting into them.
Notes
This recipe was made with mayonnaise for a Crazy Ingredient Challenge. Instead of the 1/3 cup mayonnaise you can use 2 eggs, 1/2 teaspoon oil (coconut or vegetable) and 1 tablespoon milk (any kind) as appeared in the original recipe.
Until next time, happy eating.
~Audrey