I am not going to tell you this Quinoa Chocolate Cake is "healthy", because that depends on who you ask. I will tell you it is a simple recipe to create and thoroughly delicious.
The flour is replaced with cooked quinoa, but it still contains a fair amount of sugar . I could have gone with coconut sugar to make it low glycemic, or even a stevia blend, but I went with good old fashioned cane sugar because I wanted to.
I got a bit overwhelmed today working on this recipe and one coming on Tuesday trying to make it "perfect" for every diet. Gluten Free, Vegan, Raw, Paleo! Is soy sauce okay for  Paleo diet? How about vinegar? Does baking powder have gluten? AAAUUUGH!
And then the words to one of my favorite Ricky Nelson songs started playing in my brain.
Ya can't please everyone, so you got to please yourself.
If you research the story behind Garden Party it is quite apropos that I thought about it. He knew he had to write and perform songs that he wanted, and not what certain people told him to do. I don't have the time or energy to try to fix each recipe to please every specific diet out there. I have enough trouble trying to please the three palates in this house.
Personally, I follow the "eat what I want, just not too much of it diet." If you are following a specific diet, feel free to alter this recipe and any others on the site to suit your needs, because that's what any recipe should be: an inspiration to make something you and your family will enjoy.
And I think most people will enjoy this recipe. It is dark and moist and lightly sweet. Doubled it would make a great layer cake with your choice of frosting or other topping. I went with some chocolate syrup, because that's how I roll (translation, that's what was in the house).
[click_to_tweet tweet="Quinoa Chocolate Cake moist and delicious cake made with quinoa instead of flour. #glutenfree #chocolatecake" quote="Quinoa Chocolate Cake moist and delicious cake made with quinoa instead of flour. " theme="style2"]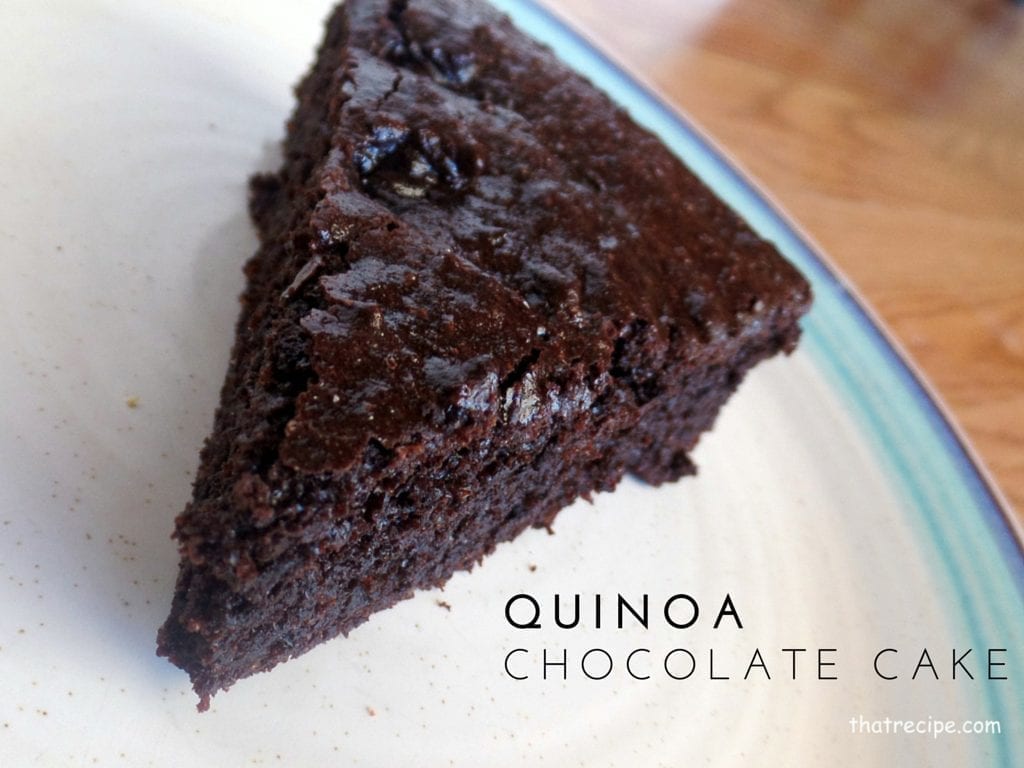 Ingredients
⅓

cup

quinoa

⅔

cups

water

3

tablespoons

milk

2

large

eggs

½

teaspoon

vanilla

6

tablespoons

coconut oil

(melted)

⅛

teaspoon

espresso powder

(optional)

¾

cups

sugar

½

cup

cocoa

¾

teaspoon

baking powder

¼

teaspoon

baking soda

¼

teaspoon

salt
Instructions
Bring water to a boil, add quinoa. Reduce heat, cover and simmer until quinoa is completely cooked, about 20 minutes.

Preheat oven to 350 degrees. Grease an 8" round cake pan.

In blender, pulse milk, eggs and vanilla until combined.

Add quinoa, coconut oil and espresso powder. And blend until smooth, 3-5 minutes.

In a medium bowl, whisk dry ingredients.

Add wet ingredients to the bowl and stir until thoroughly combined. Pour into prepared pan.

Bake at 350 degrees until toothpick comes out clean, about 40 minutes.
quinoa chocolat
Until next time, happy eating.
~Audrey