There is something magical about home baked bread. And this Oat Nut Bread, loaded with whole oats and molasses, is a beautiful hearty bread that is sure to please.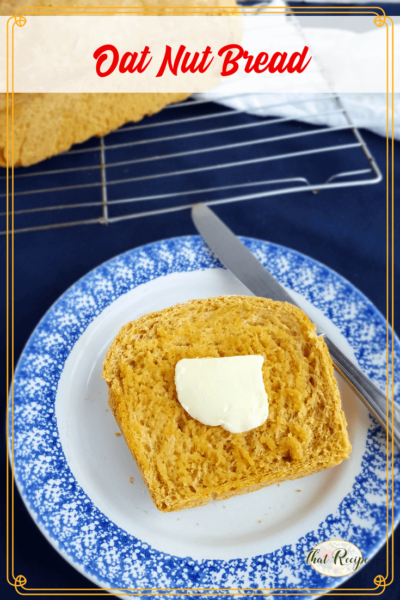 I have been bemoaning the fact that I couldn't find my favorite Oatmeal Bread recipe for the last few weeks. I originally found it in my parent's 1965 copy of Joy of Cooking. It was removed by the time my 1988 version was printed. I could never understand why. Ma'am wrote it out and gave it to all of us that had a copy of her original printed on a dot matrix cookbook as an addendum. I vividly remember the paper copy, but I have not been able to find it anywhere.
Sick of listening to me whine (or happy to find a gift I'd appreciate) she ordered me a copy online. It arrived in "like new" condition. Which is ironic considering my other copy (newer version that I have had for 20+ years) is falling apart at the seams.
As soon as I freed the book from its cardboard shipping cocoon I searched for my missing recipe. Steel-Cut Oat Bread page 561. steel-cut oats?! No wonder I never found it online, I didn't remember the "steel-cut" part – I always just used old-fashioned oats. And that is probably why the recipe was removed. Steel-cut oats would not have been an easy find 20-30 years ago.
But now they are trendy so you should be able to find them in many well stocked supermarkets as well as health food stores. They are also called Irish or Scotch Oats. Or just use old-fashioned oats. Do NOT use quick cook oats unless you want mushy bread (I am only guessing what would happen, I would never waste ingredients to try it).
[clickToTweet tweet="There is something magical about homebaked bread and this wholesome Oat Nut Bread is definitely tantalizing. #homebakedbread #oatbread " quote="There is something magical about homebaked bread and this wholesome Oat Nut Bread is definitely tantalizing. " theme="style2″]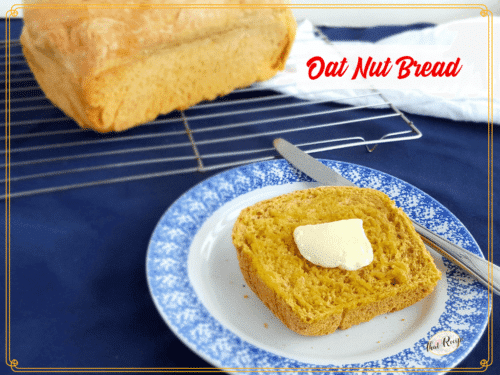 Oat Nut Bread
From book
Joy of Cooking,
1965 edition
Makes two 1-pound loaves (8.5 x 4.5 loaf pans).

Ingredients
1

cup

steel-cut or old-fashioned oats

NOT quick cooking

1/4

cup

dark molasses

NOT blackstrap

1

tablespoon

shortening

3/4

teaspoons

salt

2

cups

boiling water

4

cups

sifted all purpose flour

divided use

1

packet active dry yeast

2 1/4 teaspoon

1/4

cup

warm water

about 85 degrees

1

cup

broken pecan pieces

optional
Instructions
In a medium bowl, add oats, molasses, shortening and salt. Pour in boiling water and stir in 2 cups of flour. Set aside to cool for 10 minutes (old-fashioned oats only need to soak about 5 minutes, steel-cut at least 10).

In a small bowl dissolve yeast in 1/4 cup warm water. Mix yeast mixture into oat/flour mixture and add in remaining 2 cups flour and nuts (if using).


Knead dough with a dough hook (preferred because it will still be warm and dough is a bit sticky) or by hand until smooth and satiny, about 10 minutes. Add extra flour if necessary, but dough should be a little sticky.


Place dough in greased bowl, cover with a towel and place in a warm draft free place to rise until doubled, about 1 hour.

Punch down dough and knead again for a few minutes. Divide in half, shape into loaves and place into two greased loaf pans and let rise again until almost doubled.

Bake at 375 degrees for about 40 minutes until brown on top and loaf sounds hollow if you gently thump on the top and the loaf has started to pull away from the sides of the pan.
—
Until next time, happy eating.
~Audrey