Today we have a confluence of events almost as spectacular as the Super Blood Moon Lunar Eclipse this past week (I hope you got to see it where ever you live, I thought it was pretty spectacular!):
October 1st is National Homemade Cookie Day.
October is National Cookie Month, National Dessert Month and National Caramel Month – which go perfectly with my cookie.
Our Fill the Cookie Jar theme is Halloween or other Fall treat.
Put all of those things together and you get these SpoOKy (or not) Witch's Cauldron Cookies…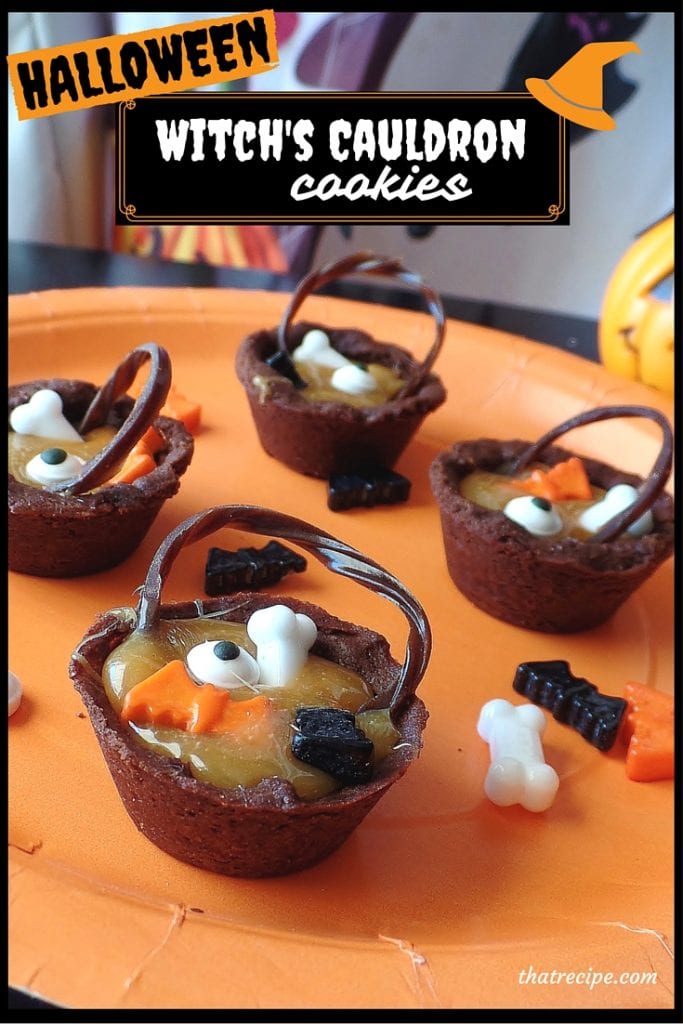 "Eye of newt, and toe of frog,
Wool of bat, and tongue of dog,
Adder's fork, and blind-worm's sting,
Lizard's leg, and howlet's wing,–
For a charm of powerful trouble,
Like a hell-broth boil and bubble."

-Macbeth (IV, i, 14-15)
If Halloween isn't your thing, leave off the candies, maybe add some nuts, and the Chocolate Caramel Cups would be equally delicious.
I saw these in a cookbook I have had for awhile, and thought they would be fun and easy.
Who knew the hardest part would be finding the licorice whips for the pot handle. I tried at least three stores and struggled to even find black licorice! Red vines and Twizzlers galore, but no skinny black whips. What's the matter with these kids today, don't they like the flavor of licorice?!
Ugh! I had no choice but to cut down some black licorice sticks. I was about to grab a pack when I spied the "chocolate" flavored ones and I noticed my husband's eyes light up as he ogled them, so I grabbed those instead. Truthfully I think it was a far better flavor choice than if I'd use licorice, but they were not quite as cute as if I'd found the whips.
The eyes are readily available a number of places and I happened to have a few packs on hand. And I was THRILLED to find bone and bat candies with the Halloween baking supplies at Target (not a sponsor of the post, just telling you where I found the goods.)
[Tweet "Chocolate and Caramel Witches Cauldron Cookies for #Halloween: cute and easy #cookies"]
[gmc_recipe 10896]
If you are a blogger and would like to join our fun little group, we'd love to have you! Just contact me and I will get you in touch with the right person. Now, let's see what everyone else made this month.
Be sure to subscribe to our weekly newsletter to get your free e-guide: 30 Tips to Choosing Healthy Fats in Your Diet.
[contact-form][contact-field label='Email' type='email' required='1'/][contact-field label='E-mail Format' type='radio' required='1′ options='html,text'/][/contact-form]
Until next time, spooky eating!
~Audrey
Save