Need a fun recipe for a Halloween party? These Cream Cheese Wonton Bats make a simple and festive Halloween appetizer.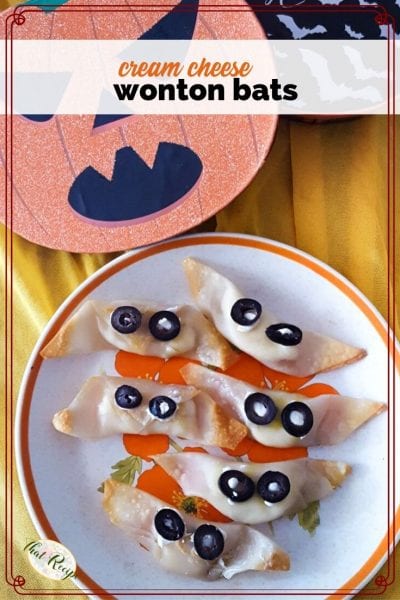 Wow them at your next Halloween party with these cute bat appetizers. They are simply cream cheese wontons, folded over to look like bats.
I served them at our annual neighborhood Halloween block party and they disappeared pretty quickly.
Options for Wonton Bats
Wonton bats are simple to make and versatile too.
You can go with the cream cheese recipe below or maybe a pizza filling like these, or opt for dessert and sweeten the cream cheese with some powdered sugar and use candy eyes.
I baked mine because I did not have enough oil in the house to fry them.
You only need to fry them for a few minutes, just until the wontons crisp up so they do not absorb a lot of fat.
If you have an air fryer, it would be ideal for these.
You can make them ahead of time and re-crisp them in the oven or air fryer for a few minutes before serving.
Halloween Party Recipes
We share Recipes From Our Dinner Table! Join our group and share your recipes, too! While you're at it, join our Pinterest board, too!
Cream Cheese Wonton Bats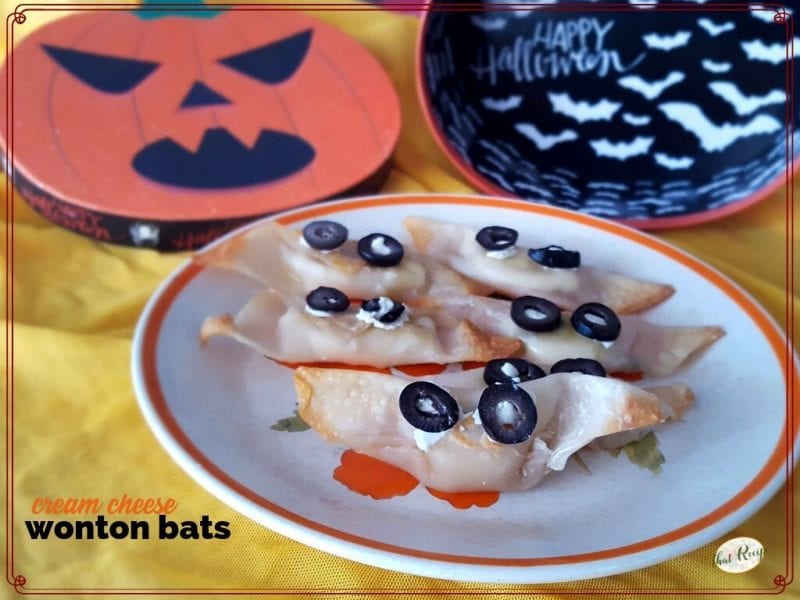 Ingredients
1

package

wonton wrappers

(gluten free if desired)

8

ounce

cream cheese

1-2

green onions

(finely chopped)

hot pepper sauce

(to taste)

oil for frying

(optional)

1

small can

sliced black olives
Instructions
Set aside 2 heaping tablespoons of cream cheese. In a medium bowl beat together the remaining cream cheese, green onions and a few dashes of hot pepper sauce until blended.

Place a teaspoon of cream cheese mixture in the center of a wonton wrapper.

Dip fingers in a small cup of water and moisten around the cream cheese. Fold into a triangle and press to seal. Fold the middle corner down, moistening if needed to get it to stick.

To Bake: Preheat oven to 350 degrees. Spray a baking sheet with cooking spray. Place wontons on sheet and spray lightly. Bake until lightly brown on the outside.To Fry: Heat oil to 375 degrees. Slide wontons into the oil a few at a time and cook until wontons are crispy on the outside 2-3 minutes.

Stick the olive slices on with cream cheese for the eyes.