Jump to Recipe
Print Recipe
Witch's Cauldron Cookies are cute chocolate cookie cups filled with caramel and decorated with candy eyes, bones and bats for a spooky Halloween treat.
These sPoOKy (or not) Witch's Cauldron Cookies are a fun and easy cookie for Halloween time. Or leave out the decorations and you have some tasty chocolate caramel cup cookies.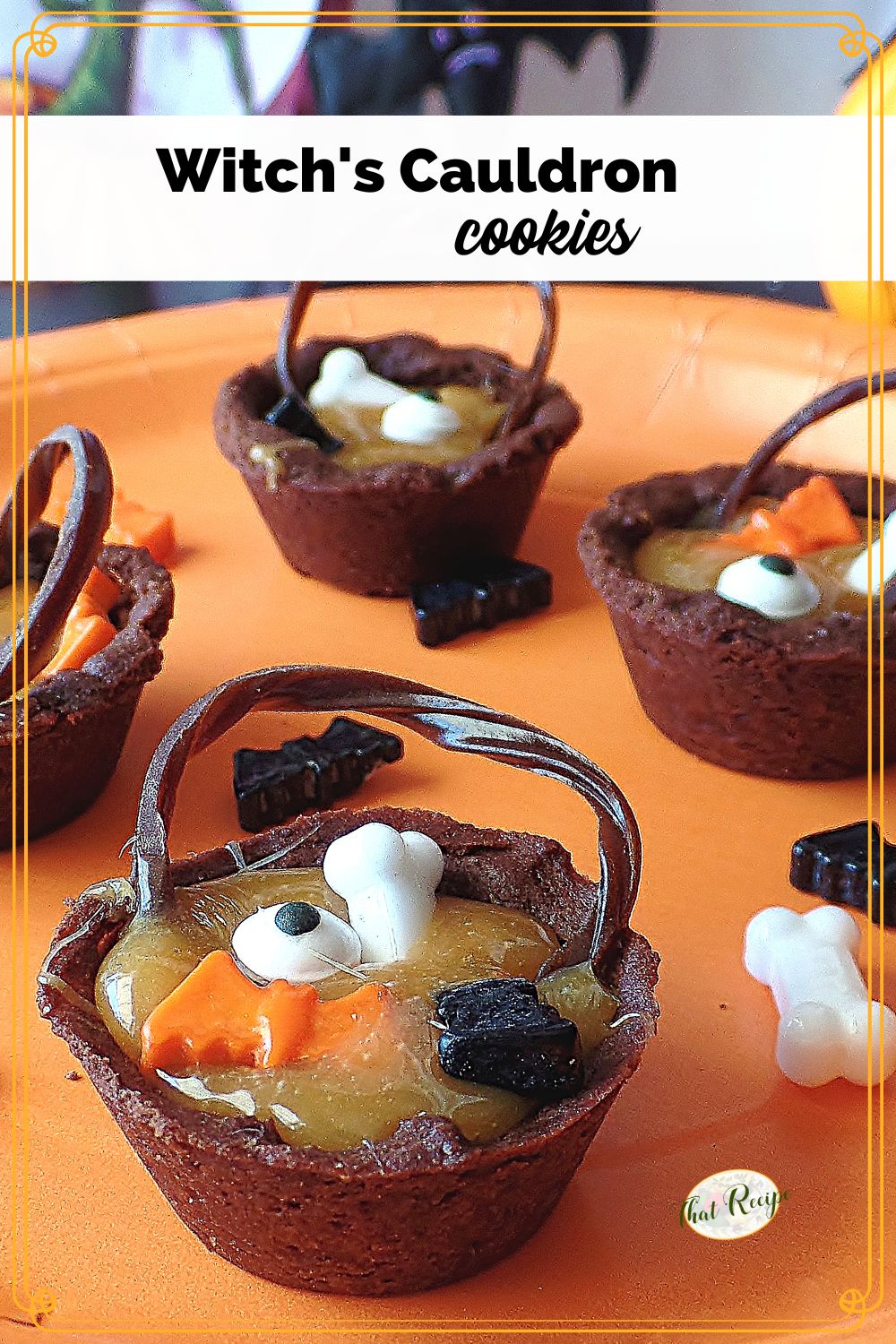 I saw these in a cookbook I scored at a thrift store years ago. I thought they would be fun and easy to make.
Who knew the hardest part would be finding the licorice laces for the pot handle. I tried at least three stores and struggled to even find black licorice! Red vines and Twizzlers galore, but no skinny black laces.
What's the matter with these kids today, don't they like the flavor of licorice?!
Ugh! I had no choice but to cut down some black licorice sticks.
I was about to grab a pack when I spied the "chocolate" flavored ones and I noticed my husband's eyes light up as he ogled them, so I grabbed those instead. Truthfully I think it was a far better flavor choice than if I'd use licorice, but they were not quite as cute as if I'd found the whips.
The candy eyes are readily available a number of places and I happened to have a few packs on hand. And I was THRILLED to find bone and bat candies (like these) with the Halloween baking supplies at Target (not a sponsor of the post, just telling you where I found the goods.)
Chocolate Caramel Witch Cauldron Cookies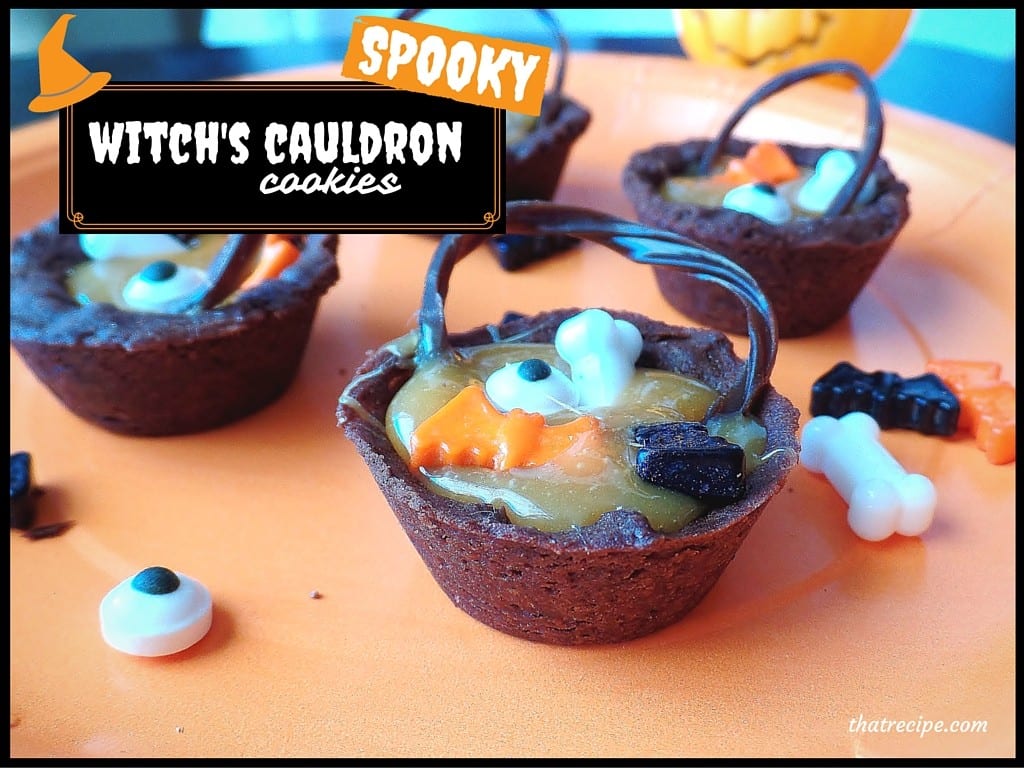 Ingredients
1 ¾

cup

all purpose flour

½

cup

cocoa powder

¾

cups

butter

(salted)

¾

cups

sugar

1

large

egg

1

teaspoon

vanilla extract

1

package

caramel candies

(about 14 ounces (unwrapped))

1

tablespoon

milk

candies for decorations

(eyes, bones, bats, mini M&Ms, etc.)

black licorice laces
Instructions
Combine flour and cocoa powder in a medium bowl.

In a large bowl cream flour and sugar until light and creamy. Add egg and vanilla and beat until mixed.

Add flour mixture and blend on low until just combined. Chill dough for at least 1 hour until firm.

Place a ball of about 1 tablespoon dough into each hole of a mini muffin pan. Press down in the bottom and up the sides. Chill for 15 minutes. Preheat oven to 325° while dough is chilling.

Bake cookies for 8-9 minutes until puffy. Remove from oven, press down in the center and return to the oven for 1 minute.

Cool cookies in the muffin tin for 5 minutes then remove to a wire rack to cool completely.

While cookies are cooling. Melt the caramels and milk in a saucepan over low heat, stirring constantly.

Pour caramel into the center of the cookies, add a piece of licorice whip for the pot handle, and a few candy ingredients in the pot.
Notes
Black licorice laces were impossible to find locally for me, so I cut chocolate flavored licorice very thinly with kitchen shears for the pot handles.
Until next time, spooky eating!
~Audrey
Save