If you are looking for a delicious and healthy snack or breakfast bread that doesn't taste "healthy", you might want to bake up a loaf of this Critically Acclaimed Carrot Bread.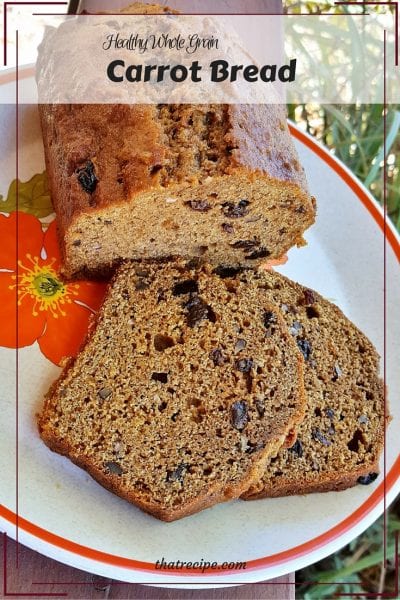 Okay, I admit it. There is only one critic and he is a 3-year old boy. But, if that little boy normally won't eat vegetables and begged to make more when he found out the first batch was already gone, I'd call that critically acclaimed!
Normally, I prefer to link to recipes I get from other places to give them full credit and reward them with a few extra hits on their site. I scoured the Cooking Light site and could not find this carrot bread recipe anywhere. It was originally submitted by reader Sarah Brinkley. Sarah, if you ever read this and want me to take it down I will, but this recipe was such a success I had to share it!
This seems to be pretty similar to one served at Mimi's Cafe if you add nuts and raisins, but a whole lot lighter. I am not sure about the actual recipe, but the one in Top Secret Restaurant Recipes 2 calls for a cup of oil and a cup of sugar plus molasses! eek!
I only made one substitution to the recipe which was plain yogurt and a teaspoon of vanilla for the vanilla yogurt because that is what we had on hand.
The hardest parts about making this with my son were waiting for the carrots to cook and then waiting for the bread to cook and cool before eating! I even cooked the carrots in the microwave to speed it up, but it still wasn't fast enough for him, haha!
Served with a little bit cream cheese on top, we have been enjoying it for snack and breakfast.
[click_to_tweet tweet="A delicious Carrot Bread made with whole grains and less fat and sugar. #carrot bread #quickbread #hiddenvegetables" quote="A delicious Carrot Bread made with whole grains and less fat and sugar. " theme="style2"]
Carrot Bread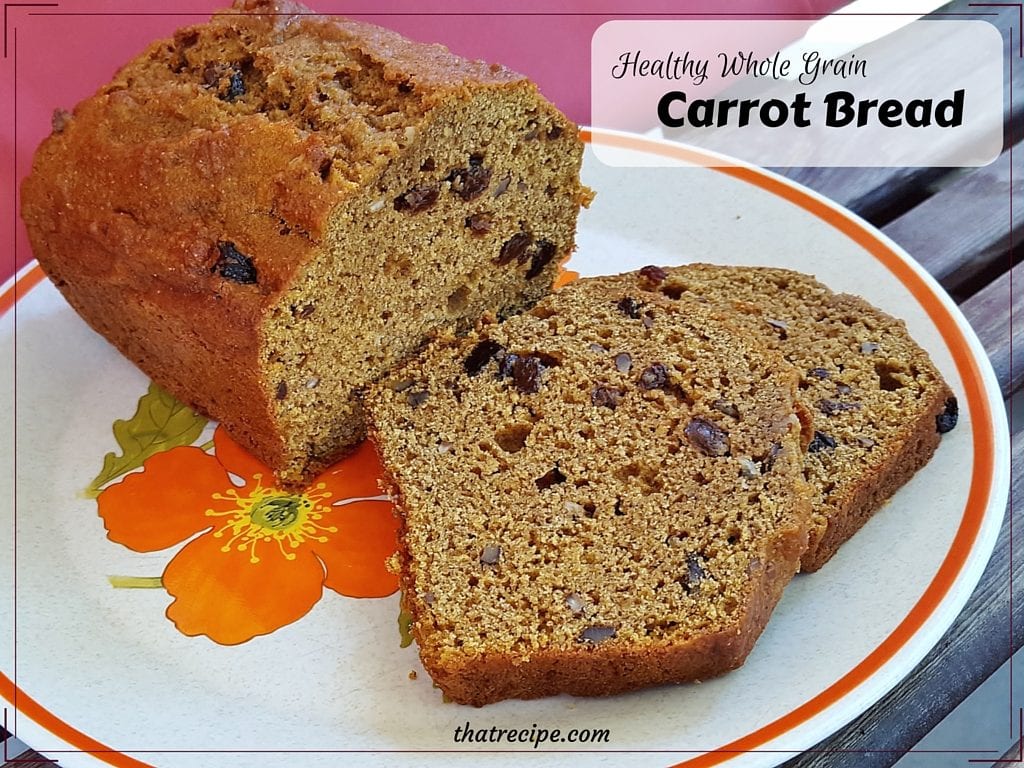 Ingredients
¾

cups

carrots

(sliced in ¼ inch pieces)

1 ½

cup

whole wheat flour

1

teaspoon

cinnamon

¾

teaspoons

salt

½

teaspoon

baking powder

½

teaspoon

baking soda

¼

teaspoon

ginger

¼

teaspoon

ground cloves

⅔

cups

sugar

¼

cup

canola or vegetable oil

¼

cup

vanilla yogurt

(or plain yogurt with a teaspoon of vanilla extract)

1

Large egg

1

Large egg white

½

cup

pecans or walnuts

(finely chopped)

½

cup

raisins
Instructions
Preheat oven to 350 degrees.

Cook carrots in boiling water 15 minutes until tender, drain. Process in food processer or blender using some of the cooking water until smooth. Only use enough water to blend and make it smooth.

In a large bowl, whisk together whole wheat flour, cinnamon, salt, baking soda, baking powder, ginger and cloves.

In a small bowl whisk together carrot, sugar, oil, yogurt, and eggs. Fold carrot mixture to flour mixture, stirring until just combined. Add nuts and raisins.

Pour batter into an 8-inch loaf pan coated with cooking spray. Bake at 350 degrees for 50 minutes or until a wooden toothpick inserted in the center comes out clean. Cool bread in pan for 10 minutes on a wire rack; remove from pan. Cool completely on the wire rack.
Until next time, happy eating!
~Audrey
Save
Save