Jump to Recipe
Print Recipe
Almond Cherry Multi Grain Cereal mix is a simple hot and hearty whole grain cereal mix that puts boring oatmeal to shame. Mix and match your favorite nuts and fruit.
Move over oatmeal! You aren't the only breakfast grain in town. Treat yourself to a hot bowl of multi grain goodness with this Cherry Almond Multi Grain Cereal Mix.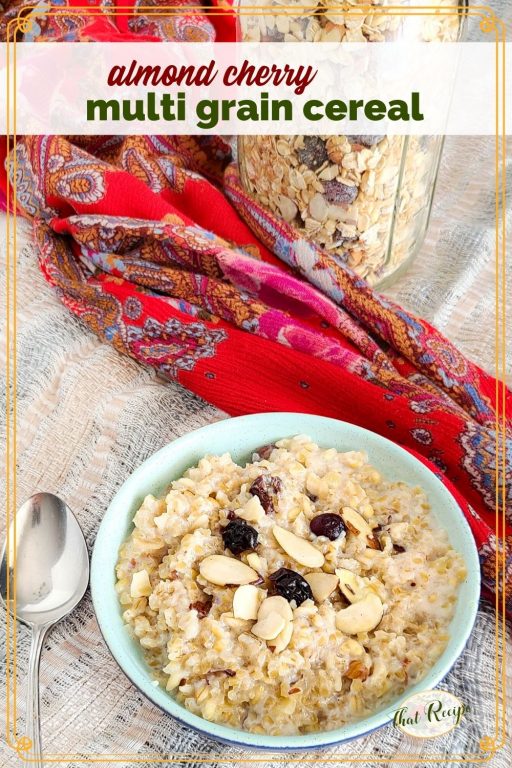 Start with some oatmeal, add in some barley and bulgur wheat along with dried cherries, almonds and spices and you have a fabulous breakfast that cooks up in about 15 minutes. The bulgur and barley give it some texture variation which is great for those that don't care for oatmeal's mushiness.
Don't like cherries and almonds? Mix and match your favorite dried fruit and nuts for variety.
Makes a Fun Homemade Food Gift
The recipe below fills a quart sized mason jar. Write out the instructions and attach them with a pretty bow and you have an easy gift for teachers, neighbors, etc.
When people set up food trains it is usually for dinner, so I always try to sneak in a little something for breakfast like waffles or muffins that can be frozen and heated for an easy breakfast or snack. This cereal mix would be great too, because they can stick it in the pantry and make it when they want.
More Rice and Whole Grain Recipes
September is National Rice and National Whole Grains Month. The fourth week of September is National Wild Rice Week. Whole grains are nutritious and are great to make delicious food right from appetizers, salads, breads, and main courses to desserts. In our #FestiveFoodies, we are celebrating the grains this month by sharing our favorite recipes showcasing any grains and Radha of Magical Ingredients is hosting this event. We are sharing 30 different recipes using whole grains and join us in the celebration.
Monday Whole Grain Recipes
Toasted Brown Rice with Mushrooms by Making Miracles
Almond Cherry Multi Grain Cereal Mix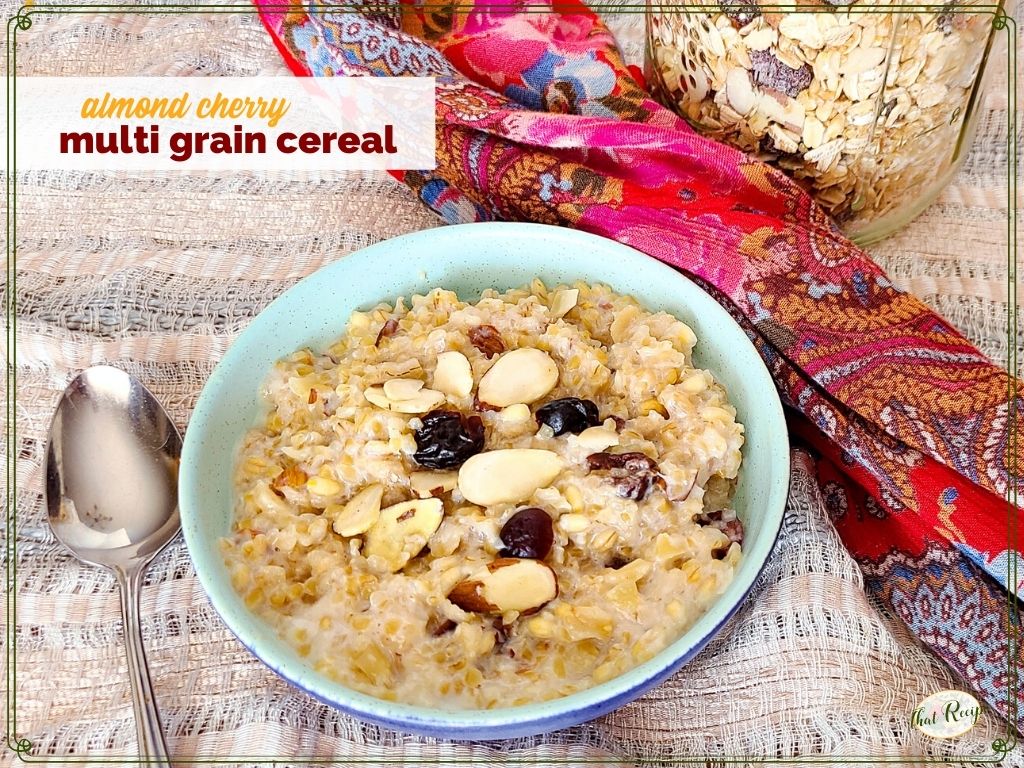 Ingredients
1

cup

old fashioned rolled oats

1

cup

quick cooking barley

1

cup

bulgur

(or cracked wheat)

1

cup

dried cherries

(or other dried fruit)

¾

cup

sliced almonds

(or other nuts)

⅓

cup

sugar or equivalent powdered non-calorie sweetener

1

tablespoon

ground cinnamon

milk

(optional for preparation)
Instructions
In a medium bowl, mix together oats, barley, bulgur, cherries, almonds, sugar and cinnamon. Store in an airtight container for 2 months (can be frozen for up to 6 months).

Stove top preparation: In a small saucepan bring 1 ⅓ cup water to a boil. Add ⅔ cup cereal mix. Reduce heat, cover and simmer for about 15 minutes, stirring occasionally, until cereal reaches desired consistency. Add milk if desired just before serving. (serves 2)

Microwave instructions: In a 1 quart microwave safe bowl, combine ¾ cup water and ⅓ cup cereal mix. Cook uncovered at 50% power for 5 minutes. Stir. Cook another 3-5 minutes at 50% power until cereal reaches desired consistency. Add milk if desired just before serving. (serves 1)
Notes
Do not use milk when preparing the cereal unless you plan to watch over it carefully or like to clean your stove or microwave. Milk has a tendency to boil over quickly (yes, I speak from experience).
Sound fabulous? Share it!
Until next time, happy eating!
~Audrey