This Baked Chicken Parmesan recipe is a delicious weeknight fast dish your family is sure to love.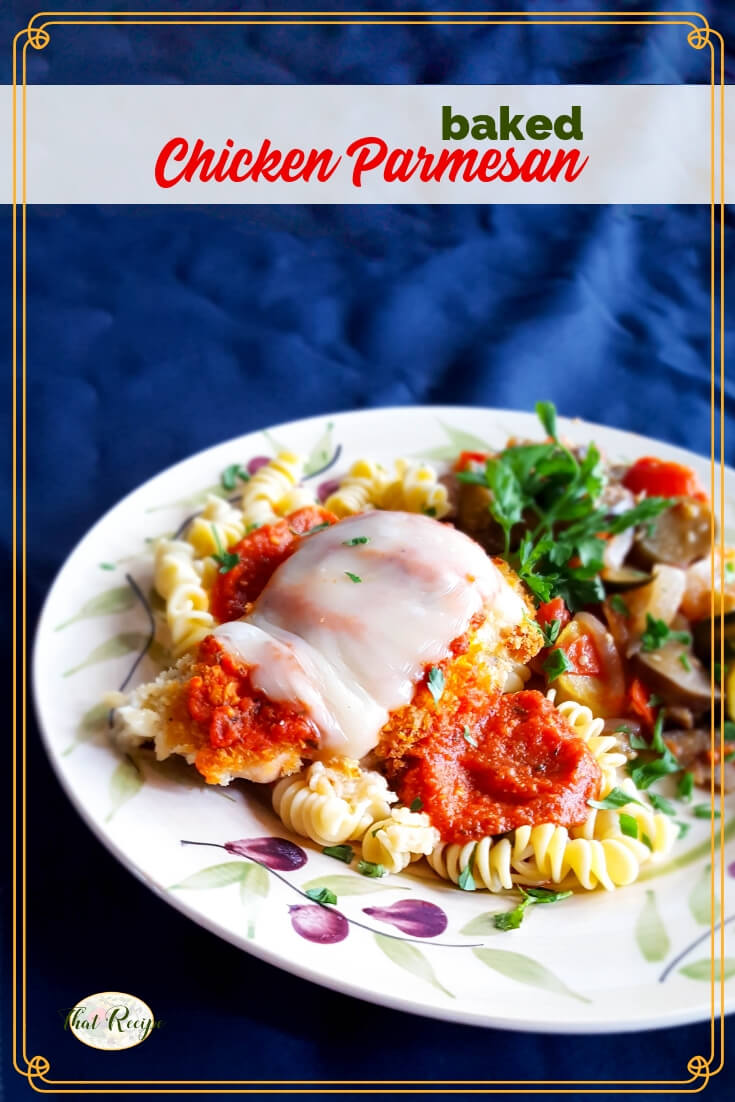 Whenever we go to an Italian restaurant, I carefully look over the menu, surveying all of my choices and carefully weighing all of my options.
My husband orders Chicken Parmesan... every. single. time. Every restaurant. He says that is his way of testing how good the restaurant is, to compare the same dish in different places.
It is a pretty simple dish. Pound out the chicken breasts, "paner" them (dredge in flour, egg wash and breadcrumbs), then pan fry, top with sauce and cheese and finish in the oven.
I do not like to fry, mostly for clean up reason. So, I make a slight alteration to the traditional method and spray the breaded chicken with cooking spray then bake. No, it is not as crispy as pan frying, but it is still delicious.
So how did mine compare to an Italian restaurants? Well, if the fact that there was nothing left but crumbs and I had two full men at the table is any indication, I think it came out pretty well.
Chicken Parmesan Substitutions for Special Diets
Gluten Free: If you want to make it gluten free, you can easily use any kind of flour or bread/cracker crumbs.
Low Carb: Use almond flour and ground pork rinds
Dairy Free: The milk and cheese can be dairy free if desired.
Vegetarian / Vegan: Use any egg substitute. Aquafaba, the liquid from a can of beans would work well here. Then make Eggplant Parmesan by swapping ½ inch thick slices of eggplant for the chicken.
Baked Chicken Parmesan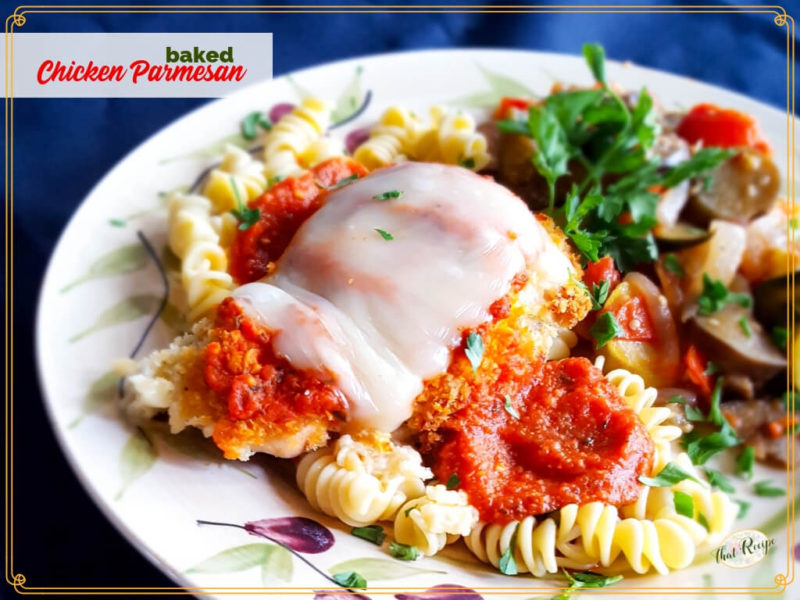 Ingredients
4

boneless skinless chicken breasts

(or chicken thighs)

1

cup

flour

(all purpose or gluten free)

1

teaspoon

Italian Seasonings

2

large

eggs

2

tablespoons

milk

¼

cup

grated parmesan cheese

½

cup

bread crumbs

(gluten free is fine)

½

teaspoon

garlic powder

1

cup

marinara sauce

(or any pasta sauce)

3-4

oz

mozzarella cheese

(grated)

cooking spray
Instructions
Preheat oven to 400° F.  Spray a baking pan with non-stick spray.

Pound chicken to approximately ½" thickness. If chicken pieces are very thick and uneven you may want to slice in half to make two thinner pieces before pounding to an even ½" thickness.

You will need three bowls that will be large enough for each chicken breast to fit easily (pie plates or storage containers will also work). 

- In bowl one: mix flour and Italian seasoning. 

- In bowl two: mix milk and eggs. 

- In bowl three: mix breadcrumbs, garlic powder and parmesan cheese.

Line up your workspace as follows: chicken, flour mixture, egg mixture, bread crumb mixture, sprayed baking pan.

Place each chicken breast in the flour and make sure it is completely coated with flour.

Move the chicken breast to the egg mixture and make sure it is coated.

Coat the chicken with breadcrumbs and move to the prepared baking pan.

Repeat with all breasts. Generously spray the chicken breasts with cooking spray.

Bake at 400°F for approximately 10 minutes, then GENTLY flip over trying not to dislodge the crust. 

Top with marinara sauce and shredded cheese. Bake for another 10 minutes until the chicken is cooked completely and the cheese is melted.
More Weeknight Fast Recipes
Until next time, happy eating.
~Audrey