Jump to Recipe
Print Recipe
TVP Tacos are an easy meatless meal made with texturized vegetable protein for an easy and flavorful high protein, low carb and fat, budget friendly meal.
Looking for a flavorful budget friendly meatless meal? Check out these tasty TVP Tacos. Delicious and healthy and best of all ready in about 30 minutes making it perfect for Meatless Mondays, Taco Tuesdays, Lenten Fridays or any day you are craving some tacos.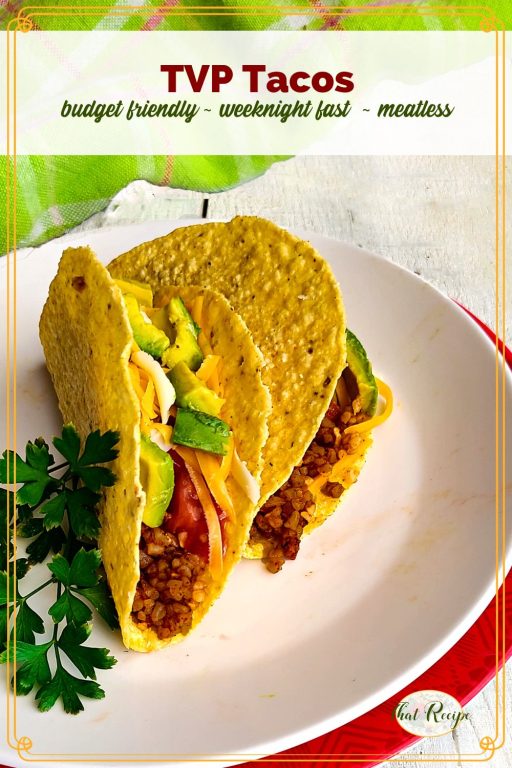 Eons ago, Amway used to offer an incredible meatless taco mix that only needed water added, in addition to your favorite taco toppings. It is no longer available so I decided I had to recreate it.
I made a homemade taco spice mix, but you can use a packaged mix if you prefer. No judgements here!
Once you add the spices to the TVP, the taste and texture are pretty darn close to ground beef tacos. Serve with your favorite taco toppings and you have a quick meatless weeknight meal.
What is TVP?
Texturized Vegetable Protein is a by-product from the production of soybean oil. After the oil is squeezed out the solids form a paste which is formed into various shapes and dried. The result it is high protein meat substitute with little to no fat.
The consumer rehydrates it with water or broth before using. It has a mild taste yet a texture like ground beef making it great for tacos, chili, etc.
WARNING! It may also be made from wheat so be sure to read the labels if you have a soy or wheat allergy. Though, if you have food allergies you probably already do this by force of habit.
It can usually be found in the grocery store (hint: look for the Bob's Red Mill products) and is available in many health or bulk food stores as well.
Most TVP falls in line with a low carb diet, but it is a processed food so those on a Raw or Paleo diet will want to avoid it. And most US soy is GMO so if you are avoiding genetically modified ingredients, skip this one.
As an added benefit, TVP is less expensive than ground beef or turkey and since it is a dry product you can keep it in your pantry to grab whenever you need it.
More Budget Recipes from #OurFamilyTable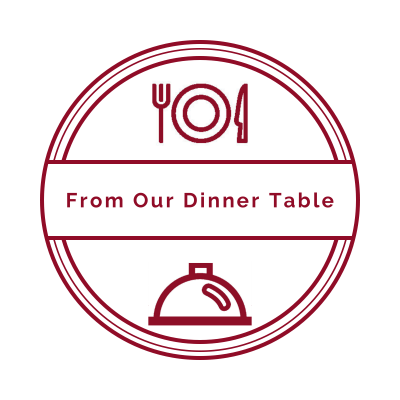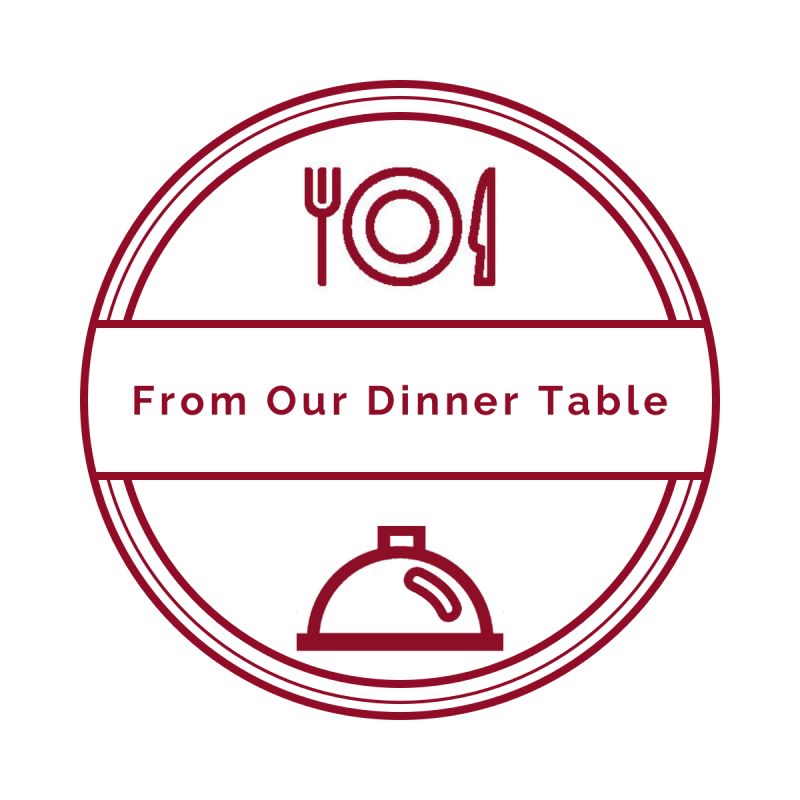 When money's tight, but you still want to eat great, check out these budget friendly recipes from some of my favorite bloggers.
Budget Friendly Meals

We share Recipes From Our Dinner Table! Join our group and share your recipes, too! While you're at it, join our Pinterest board, too!
TVP Tacos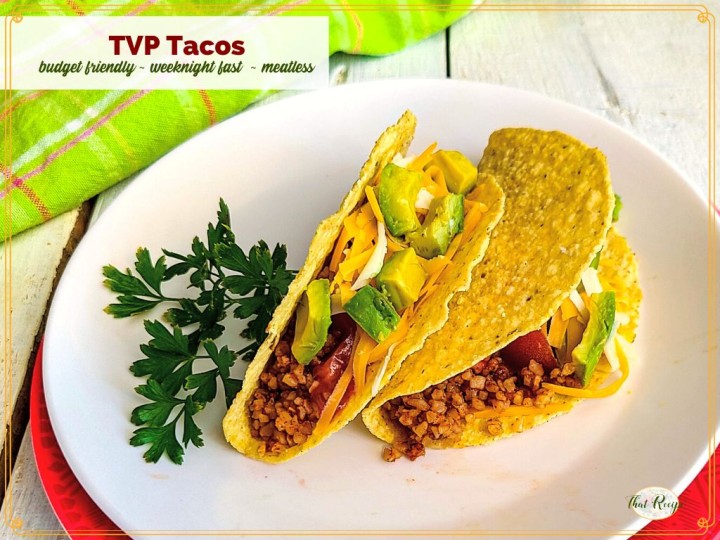 Ingredients
1½

cup

Texturized Vegetable Protein

1½

cup

boiling water or stock
Seasoning Mix
½

cup

onions

(chopped)

2-3

teaspoons

chili powder

(start with 2 add more if desired)

1½

teaspoon

garlic

1½

teaspoon

ground cumin

1

teaspoon

paprika

1

teaspoon

corn starch

(or arrowroot)

½

teaspoon

oregano

½

teaspoon

onion powder

½

teaspoon

Kosher or sea salt
Serving Suggestions
taco shells or tortillas

cheese, grated

(cheddar, Monterey Jack, Mexican blend, etc.)

tomatoes, chopped

avocado, sliced

onions and/ or radishes, chopped

fresh cilantro

sour cream, salsa, guacamole
Instructions
In a large measuring cup or bowl, add boiling water to TVP, stir and let sit for 5-10 minutes until rehydrated.

In a large skillet, sauté onions until translucent.

Combine all spices in a small bowl.

Add TVP to the skillet with the spices, and ¼ cup water. Simmer for approximately 5 minutes until desired consistency.

Serve with tortillas or taco shells and your favorite taco toppings.
Sound fabulous? Share it!
Until next time, happy eating!
~Audrey