Jump to Recipe
Print Recipe
Southwestern Black Bean Burgers combine a flavorful black bean and mushroom burger with herbs and spices served with grilled onions and peppers and optional cheese for a delicious vegetarian burger.
Loaded with spices and mushrooms for texture, could someone really think these Southwestern Black Bean Burgers are made with ground meat?
Not for a minute. But they are absolutely delicious in their own right.
I saw the recipe in a past issue of Cooking Light and immediately knew I had to make them. I learned awhile ago that black beans are amazingly versatile. They can substitute for flour in the Black Bean Coconut Brownies or for ground beef in these burgers. And I love the extra boost of fiber they add to a recipe.
The original recipe called for an 11 ingredient tomatillo/chile pepper relish that I had no interest in going to the effort of making.
A simple half of a canned chile that I blotted dry and charred a little with the onion was perfect for me. And I went with a little heartier four patties instead of the six they made. More calories than their version, but more filling too.
I encourage you to give them a try next time you want a meatless meal or are looking for something a little different.
Tips for Black Bean Burgers
These mix up almost as fast as traditional beef burgers.
Just toss the ingredients into the food processor and pulse together. Note that I did not say grind into a paste.
You want to be light on the trigger here and only lightly pulse. You want bits of the beans and mushrooms to give these burgers a little texture. Otherwise it will be like you are eating bean dip. Delicious bean dip, but not exactly what we are going for here.
The entire recipe takes less than 30 minutes to prepare, so as an added bonus, it is weeknight fast. Gotta love that.
Variations for Southwestern Burgers to suit different diets
You can easily convert these to:
gluten free - use gluten free bread crumbs and buns
dairy free - omit the cheese or use a dairy free one.
vegan - omit the cheese (or use a Vegan cheese) and an egg substitute such as arrowroot powder or potato starch to bind the ingredients together.
unapologetic carnivore - use a pound of ground beef instead of the beans and mushrooms.
Southwestern Black Bean Burger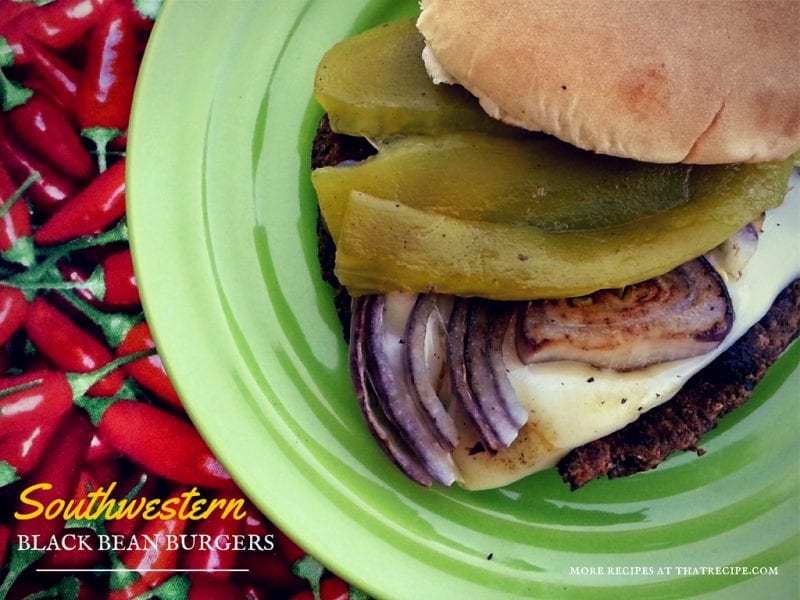 Ingredients
4

Slices

red onion

(approximately ½ inch thick)

4

ounce

cremini mushrooms

(washed)

2

cloves

garlic

15

ounce

can of unsalted black beans

(drained and rinsed)

½

cup

whole wheat Panko breadcrumbs

1

tablespoon

fresh oregano

(chopped)

1

teaspoon

ground cumin

½

teaspoon

kosher salt

¼

teaspoon

chipotle or ancho chile powder

1

large

egg

2

ounse

monterey jack cheese

(cut in to 4 slices)

1

jar

whole chiles

(drained and sliced in half if desired)

4

hamburger buns
Instructions
Heat cast iron skillet over medium heat. Brush onion slices with a bit of olive oil and cook in skillet until slightly charred on both sides, about 3-4 minutes a side. Lightly toast buns in skillet or in toaster oven.

While onions are cooking, combine mushrooms, garlic and black beans in the food processor and pulse until mixture is coarsely chopped. Do not pulverize! You want a little texture, not a paste.

Add Panko, oregano, cumin, salt, chile powder and egg and pulse just until combined. Repeat: Do not pulverize! You want a little texture, not a paste. Shape into four ½ inch thick patties.

Lightly oil the skillet and cook the patties approximately 12 minutes, turning once. Add cheese to the top of the burgers the last two minutes, cover the pan to assist melting.

Place patty on toasted bun, top with onion slice and a half chile slice (or more if desired).
Notes
To make them gluten free - use gluten free bread crumbs. For Vegan/Vegetarian use your favorite egg substitute such as 2-3 tablespoons of arrowroot powder or potato starch and vegan cheese (or omit). For an extra spicy kick, use pepper jack cheese.
Until next time, happy eating.
~Audrey