Jump to Recipe
Print Recipe
Chipotle Honey Mustard is the perfect blend of sweet and spicy to jazz up any meal. Flavorful and so easy-to-make.
Tantalize your taste buds with this spicy sweet Chipotle Honey Mustard Recipe!
This amazingly easy condiment combines the smoky-sweetness of chipotle peppers and the nutty flavor of honey mustard, creating an unforgettable combination that will elevate any dish from ordinary to extraordinary.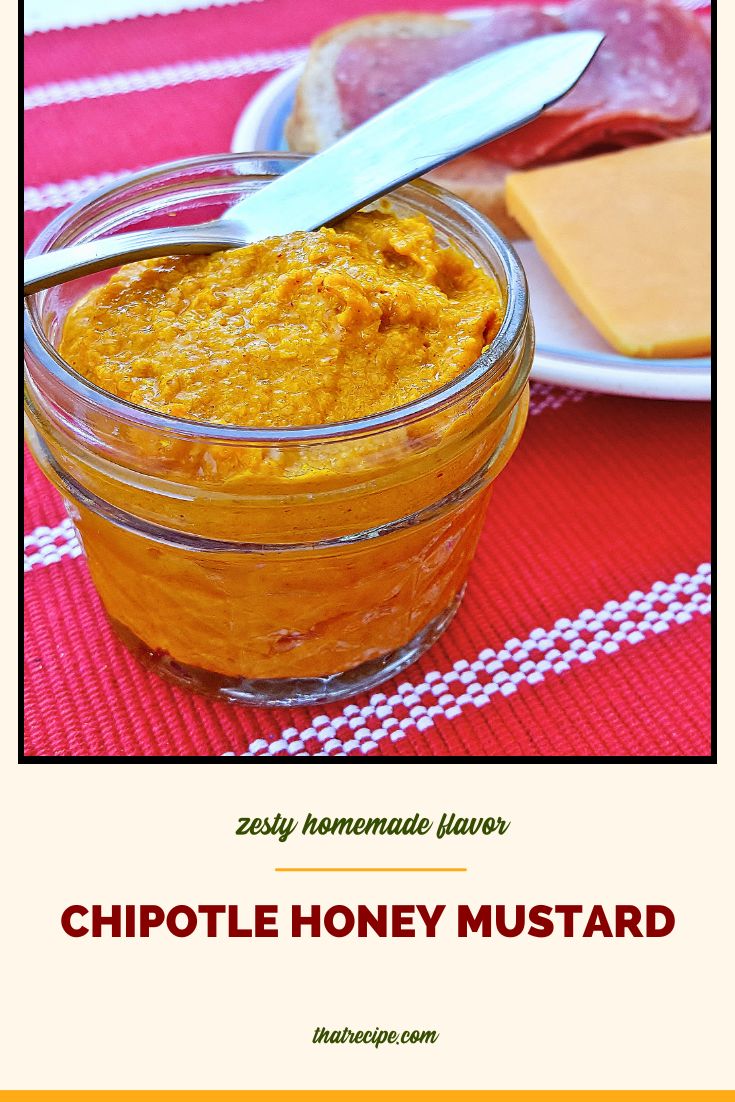 Have you ever made your own mustard? If you are not a foody the question may seem odd. Yes, mustard can be made at home.
Oh my! Could it be any easier? Dump ingredients into a blender and mix.
The best part of making your own is you can make it in small batches and experiment with different flavor profiles and textures.
Ingredients for Chipotle Honey Mustard
You actually only need two ingredients to make mustard sauce: mustard and liquid.
But, the other ingredients help create an almost endless number of variations.
I made a chunky style using whole mustard seeds, but you can use mustard powder for a smoother product. Or a combination of the two.
I only had yellow mustard seeds in the house which are milder than brown or black seeds.
For the liquid, I chose a mild rice wine vinegar so it would not detract from the mustard, honey and chipotle. But, you can use almost anything from beer to grapefruit juice to cognac!
I like honey and mustard together, but you can use sugar (like in Bavarian mustard) or another sweetener or no sweetener at all (like classic American yellow mustard).
It's not the "yellow" mustard seeds that makes traditional American mustard bright yellow. They actually look grayish brown when pureed. When mustard was first mass produced someone got the bright idea to add turmeric to turn it yellow in order to differentiate it from prepared horseradish. Turmeric adds a lovely color and subtle taste.
I also added some chipotle chili powder, for smoky heat, and a little salt, which helps to preserve it a little longer.
Adjusting the heat of your mustard
By adjusting the two main ingredients you can vary the heat of your homemade mustard.
Mustard seeds aren't all the spicy if you eat one or two whole ones. It is the cracking or crushing of them that brings on the heat by releasing an enzyme called myrosinase which causes that spicy sensation in our taste buds.
As stated above not all mustard seeds are created equal when it comes to bringing the heat. Yellow or white seeds are the mildest. Brown or black mustard seeds will be hotter.
Then there is the liquid. Water will produce a spicier mustard, but the heat will not last very long, It gets milder after about 15 to 20 minutes. Acidic liquids will produce a milder heat that will last longer.
And then there is the temperature of the liquid. Warm liquid will dissipate the myrosinase more quickly than cold liquid.
You can get more details on this at Serious Eats.
Chipotle Honey Mustard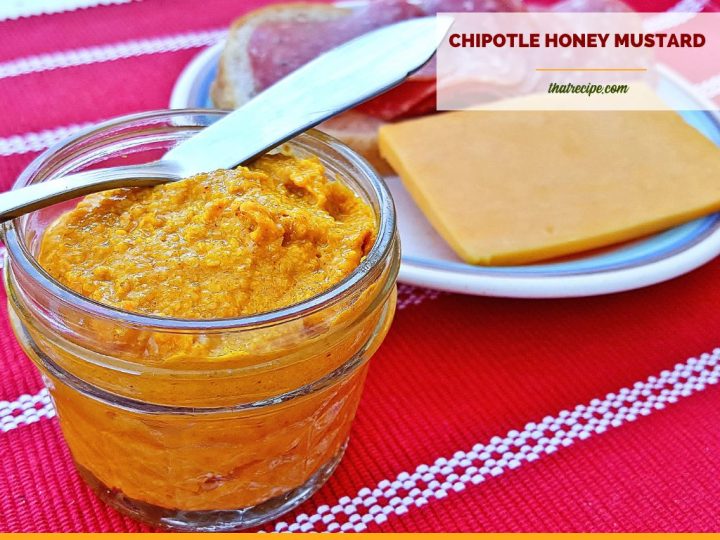 Ingredients
1

ounce

mustard seeds

(yellow, brown or a mix of both)

¼

cup

rice vinegar

2

tablespoons

honey

¼

teaspoon

chipotle chili powder

(more or less to taste)

¼

teaspoon

turmeric

pinch

salt
Instructions
Add all ingredients to a blender, starting with about ⅛ teaspoon of chipotle chili powder. Puree until smooth but still a bit chunky.

Taste, add additional chipotle powder if desired. If the mustard seems too thick you can thin it with a little more vinegar or water.
Sound fabulous? Share it!
Recipes with Mustard