Jump to Recipe
Print Recipe
Chocolate Chip Brownies are a rich chocolatey treat everyone chocoholic will love, with or without nuts.
Looking for a celebratory chocolate treat? These Chocolate Chip Brownies are rich and decadent and worthy of any celebration. Heck, the brownies themselves deserve their own celebration. Yup, they are that good.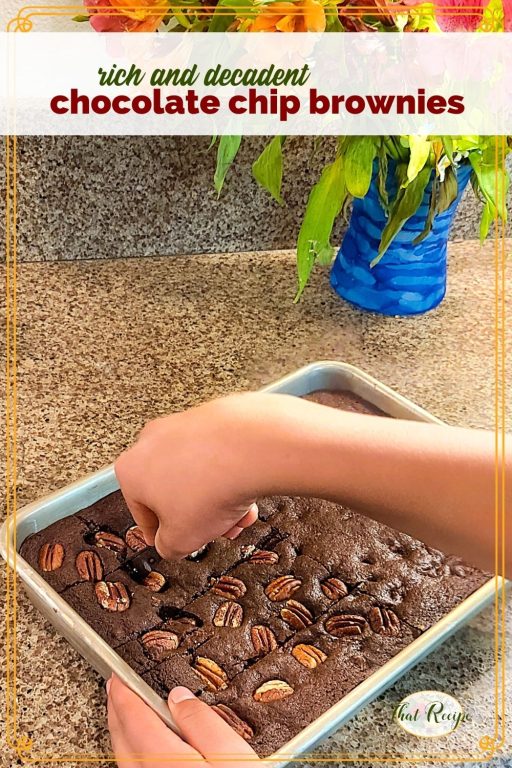 One look at the ingredient list will let you know these are not your typical box brownie mix brownies.
A cup of butter, 2 ½ cups of sugar and 6 eggs! Not exactly low calorie.
But they are so delicious! The brownies are rather thick, so you might want to cut them into 24 pieces to help prevent yourself from eating too much at once.
Luckily when I made them it was for an impromptu get together with some dear friends and I left half of the leftovers with them to help us all avoid the temptation to eat them all at once.
I wasn't sure if everyone liked nuts, so I only added them to half of the pan. And of course I taste tested both just to be sure they were equally delicious. They are.
Espresso Powder in Brownies?!
No, these are not mocha flavored brownies. You do not taste the coffee flavor at all. TRUST ME, my coffee hating teen loved these.
The pinch of espresso powder in here just amps up the chocolate flavor in wonderful ways. I always try to keep a jar on hand (the brand I use) to use any time I bake brownies, chocolate cakes or muffins.
Or when I need a quick shot of espresso.
Chocolate Week
More Chocolate Recipes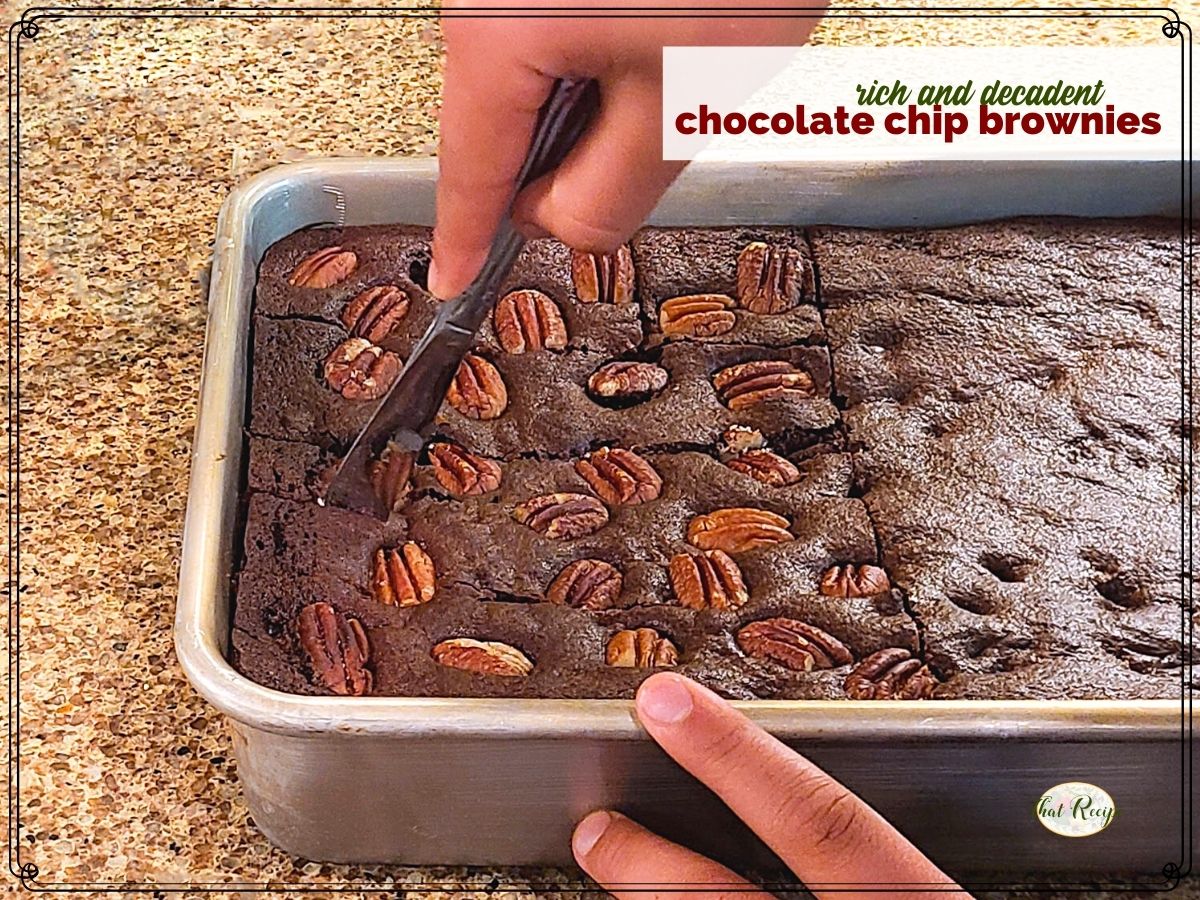 Ingredients
1

cup

butter

(melted)

1½

cups

granulated sugar

1

cup

brown sugar

6

large

eggs

1

tablespoon

vanilla

2

cups

all purpose flour

1

cup

cocoa

(plus more for pan)

1

teaspoon

baking powder

1

teaspoon

baking soda

½

teaspoon

salt

¼

teaspoon

espresso powder

(optional)

1

cup

semi sweet chocolate chips

1

cup

pecans or other nuts
Instructions
Preheat oven to 350°F. Grease a 9x13 inch pan and sprinkle with cocoa powder.

In a large bowl, combine melted butter, sugars, eggs and vanilla.

In a medium bowl, whisk together flour, cocoa, baking powder, baking soda, salt and espresso powder until combined and light.

Slowly fold the flour mixture into the butter mixture.

Set aside a few tablespoons of chocolate chips and pecans for the top of the brownies. Stir the rest into the batter.

Spread the batter into the pan and sprinkle with remaining chocolate chips and pecans.

Bake at 350°F for 40-45 minutes. Let cool before cutting.
Sound fabulous? Share it!
Until next time, happy eating!
~Audrey