Brownie Pie is a delicious match up of two chocolatey desserts. Why choose brownies or pie when you can have the best of both worlds.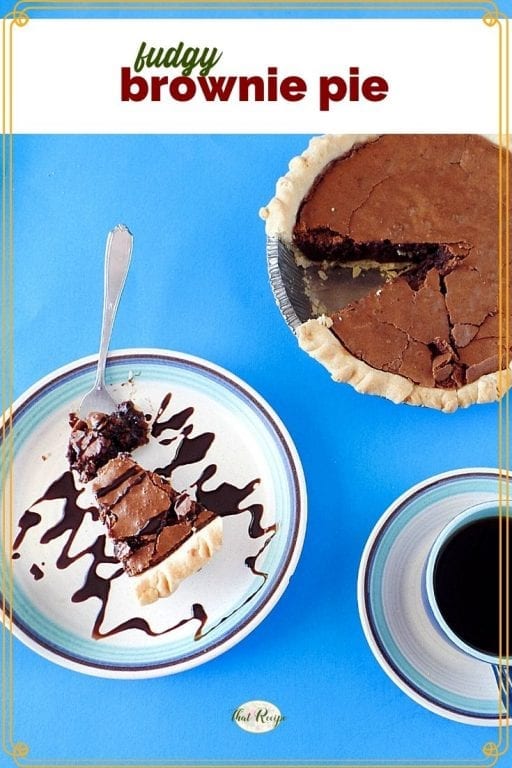 This dessert is simple to make up but no one needs to know. Make our Hot Water Pie Crust, or use a store bought crust. Fill it with a quick one bowl brownie recipe and the result is a decadent fudgy chocolate pie.
Fudgy Brownie Pie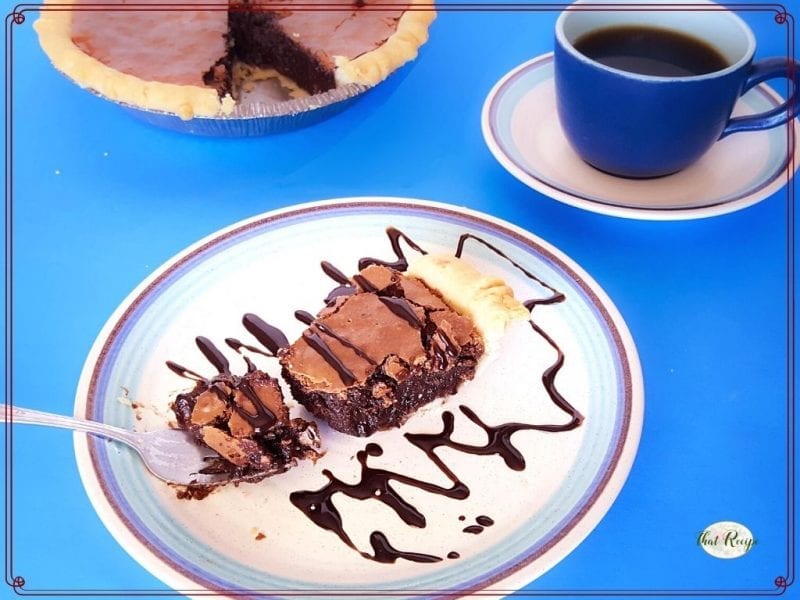 Ingredients
1

unbaked single pie crust

½

cup

butter

2

oz

unsweetened chocolate

1

cup

sugar

2

Large eggs

1

teaspoon

vanilla extract

¾

cups

all purpose flour

pinch

salt

1

cup

chocolate chips
Instructions
Preheat oven to 350 degrees. Put pie crust in a pie pan (decorate edges if desired).

Melt butter and unsweetened chocolate in a small pan on the stove or in the microwave. Let cool slightly.

In a bowl, combine chocolate mixture and sugar. Beat in eggs and vanilla.

Add flour, salt and chocolate chips stirring until just combined. Pour into pie crust.

Bake at 350 degrees until brownies are set in the middle, about 20-25 minutes.
Choctoberfest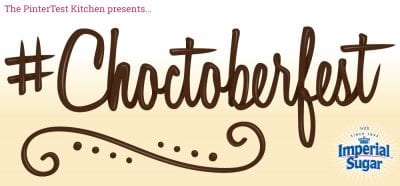 Over 70 bloggers are participating in #Choctoberfest 2017 and will be posting 200+ chocolate recipes over the next week. Keep your eyes peeled, visit any of the blogs listed below, or use the #Choctoberfest hashtag on Instagram, Twitter, and Facebook to follow along. You can also check out our #Choctoberfest Pinterest board, where we post chocolate recipes all year long.
Here is a complete list of all the bloggers participating in #Choctoberfest 2017, so you can see the recipes they are posting throughout the week:
The PinterTest Kitchen ♥ Fix Me a Little Lunch ♥ Savory Moments ♥ Crumbs in my Mustachio ♥ House of Nash Eats ♥ Bake It With Love ♥ That Recipe ♥ Hardly A Goddess ♥ Cooking With Carlee ♥ A Kitchen Hoor's Adventures ♥ Body Rebooted ♥ Cindy's Recipes and Writings ♥ The Redhead Baker ♥ Faith, Hope, Love, & Luck Survive Despite a Whiskered Accomplice ♥ Sweet Coralice ♥ Seduction in The Kitchen ♥ Cooks&Books&Recipes ♥ Everyday Eileen ♥ Under My Apple Tree ♥ Family Around The Table ♥ Bottom Left of the Mitten ♥ The Spiffy Cookie ♥ Fairyburger ♥ Join Us, Pull up a Chair ♥ Jonesin' For Taste ♥ Jane's Adventures in Dinner ♥ Take Two Tapas ♥ Jennifer Bakes ♥ The Unlikely Baker ♥ Hostess At Heart ♥ Karen's Kitchen Stories ♥ Kate's Recipe Box ♥ Kelly Lynns Sweets and Treats ♥ Wildflour's Cottage Kitchen ♥ Chocolate Slopes ♥ Little House Big Alaska ♥ Makes, Bakes and Decor ♥ 2 Cookin Mamas ♥ That Skinny Chick Can Bake ♥ Books n' Cooks ♥ Mildly Meandering ♥ Living Ideas ♥ Restless Chipotle ♥ Get the Good Stuff! ♥ The Weekday Gourmet ♥ An Affair from the Heart ♥ West Via Midwest ♥ Cookie Dough and Oven Mitt ♥ The Bitter Side of Sweet ♥ Cookaholic Wife ♥ Daily Dish Recipes ♥ For the Love of Food ♥ The Saucy Southerner ♥ Cook's Hideout ♥ By the Pounds ♥ Tramplingrose: Cooking, Baking & Ranting in Small-Town South Dakota ♥ Sarah Cooks the Books ♥ Chef Sarah Elizabeth ♥ Fantastical Sharing of Recipes ♥ Sarah's Bake Studio ♥ The Pajama Chef ♥ Frankly Entertaining ♥ Long Distance Baking ♥ Palatable Pastime ♥ The Freshman Cook ♥ The Food Hunter's Guide to Cuisine ♥ A Day in the Life on the Farm ♥ Wendy Polisi ♥ Tampa Cake Girl ♥ My Southern Sweet Tooth ♥ Canning and Cooking at Home ♥ Full Belly Sisters ♥ SuperSizeGuy.com ♥ Our Good Life ♥