This Chocolate Eclair Cake combines all of the flavors of a chocolate eclair into an easy to assemble cake.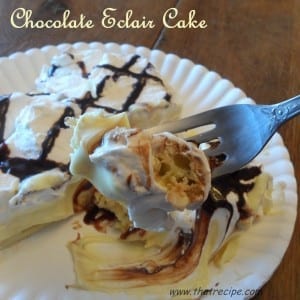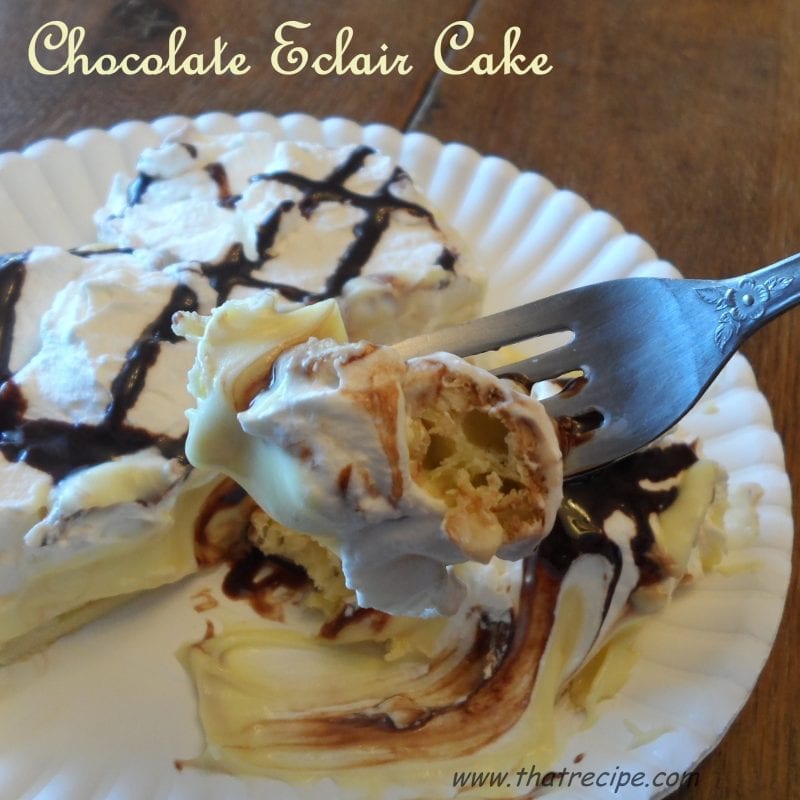 I have spent the last week finally catching up on photo albums from the last 4 years in order to take advantage of a sale, coupon and gift cards. Six books ended up costing me $1.37 out of pocket, but I am buggy eyed from staring at the computer so much. I haven't done much cooking let alone blogging. Sorry about that, I will be catching up on that soon.
Luckily, my favorite neighbor and dear friend, Cori brought me three pieces of this amazing Chocolate Eclair Cake. Ooops, I was supposed to share them with M & J? They wouldn't have appreciated it as much as I did.
When I posted the picture on my Facebook page, I got numerous requests for the recipe and Cori quickly delivered.
[click_to_tweet tweet="Chocolate Eclair Cake - All the taste of chocolate eclairs in an easier to make cake. #chocolate #eclair" quote="Chocolate Eclair Cake - All the taste of chocolate eclairs in an easier to make cake. #chocolate #eclair" theme="style2"]
Chocolate Eclair Cake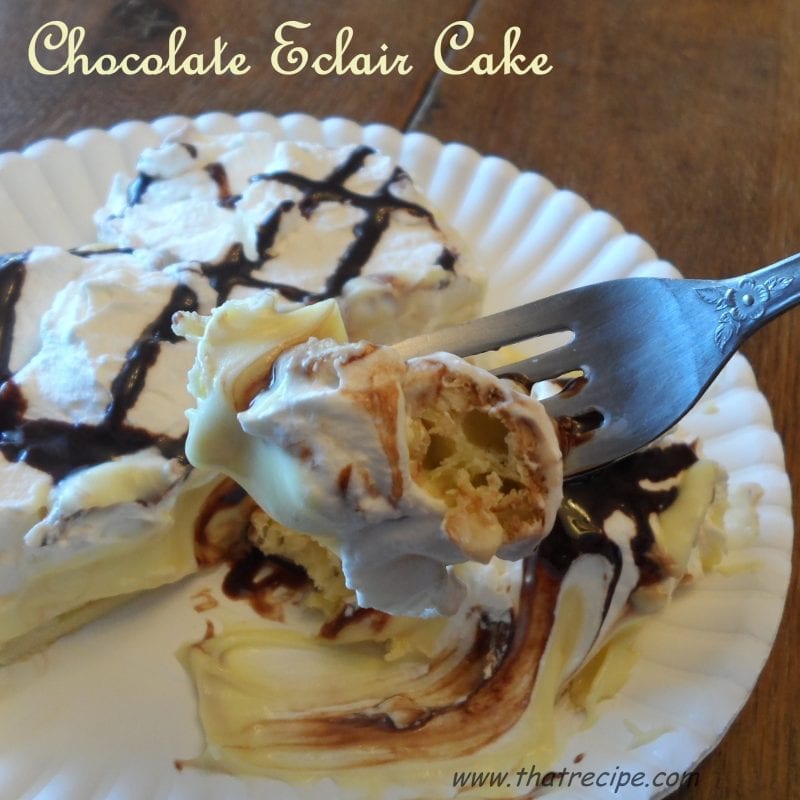 Ingredients
1

cup

water

½

cup

butter

1

cup

flour

4

large

eggs

8

ounce

cream cheese

1

box

vanilla instant pudding (5.1 ounce)

3

cups

milk

1

carton

non-dairy whipped topping

(or homemade whipped cream)

chocolate syrup

(for decoration)
Instructions
Preheat oven to 400. Lightly grease a 9″ x 13″ glass baking pan. If the sides of your pan are too greased you won't be able to get the mixture to stay up the sides so make sure to just lightly grease.
Eclair Crust:
In a medium saucepan, melt butter in water and bring to a boil. Remove from heat. Stir in flour. Mix in one egg at a time, mixing completely before adding another egg. Spread mixture into pan, covering the bottom and sides evenly.

Bake for 30-40 minutes or until golden brown (Mine only took 25 minutes.) You may want to check it occasionally – you don't want to overcook the crust, it will ruin the cake! Remove from oven and let cool (don't touch or push bubbles down).
Filling:
Whip cream cheese in a medium bowl. In separate bowl make vanilla pudding. Make sure pudding is thick before mixing in with cream cheese. Slowly add pudding to cream cheese, mixing until there are no lumps. Let cool in fridge.
Assembly:
When the crust is completely cooled, pour in filling.

Top with layer of whipped topping however thick you want it and serve with chocolate syrup. *If you want to make this even better use homemade whipped cream.
Until next time, happy eating.
~Audrey