Do you like home baked bread, but want it in a hurry? This delicious Cinnamon Raisin Bread has all the flavor of a long rising yeast bread in about an hour.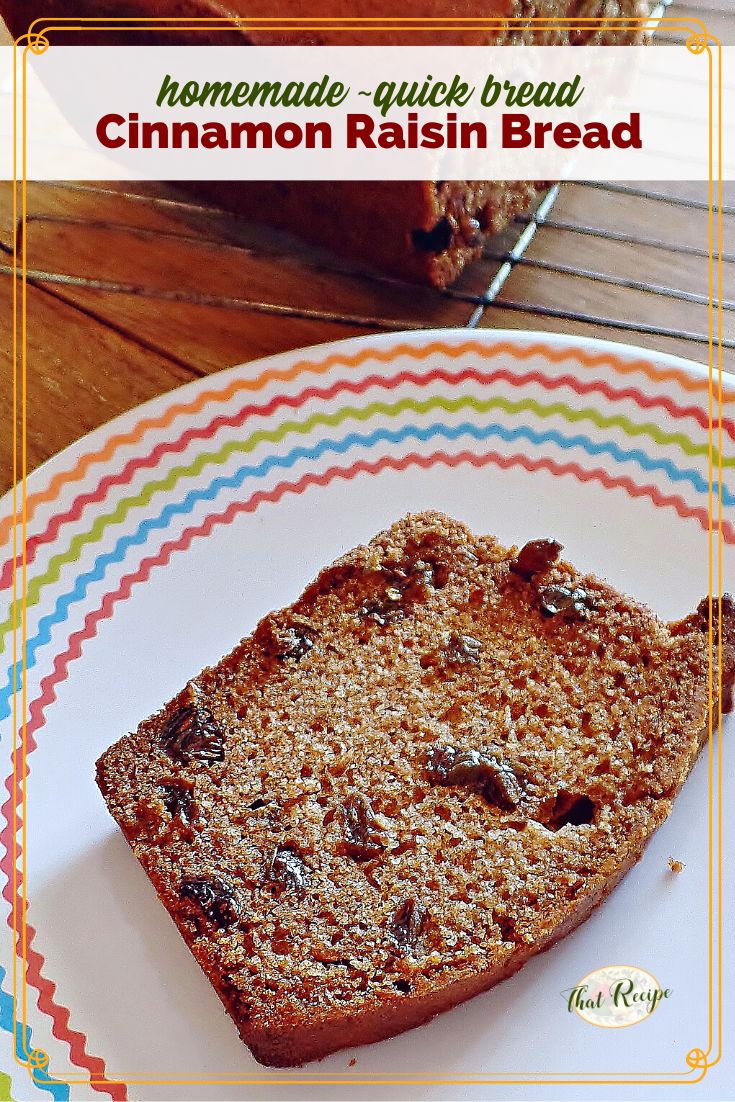 I had been craving Cinnamon Raisin Bread for a few weeks when I happened to purchase some High Altitude Hungarian Flour. I spied this recipe on the bag when I was trying to figure out exactly what High Altitude Hungarian Flour was.
This is a "quick bread" using baking soda for leavening instead of yeast. Yeah for no rising time! Though here's a recipe for Cinnamon Swirl Raisin Bread made with yeast if you'd prefer.
What is High Altitude Hungarian Flour?
From my limited research (the bag, plus a quick internet search), the high altitude refers to wheat that is grown at high altitude in Colorado, Montana and the Dakotas. The wheat is harder than that grown at lower altitudes since it needs to be able to withstand the cold.
The term has nothing to do with baking better at higher altitudes.
The wheat is then milled using the "Hungarian" process which is ground finer and removes more of the bran, resulting in a flour with more protein in it and better able to absorb water (which is great for bread making purposes!)
I didn't notice much of a difference in the feel or look, but one of my favorite sites Sourdough.com did some testing if you want to read more.
Ingredients for Quick Cinnamon Raisin Bread
Flour: you can use any all purpose flour here, of course the better the quality of the flour the better the result. Since it is a quick bread, bread flour isn't really necessary.
Brown Sugar: I used light brown sugar, but dark would give it a bit more molasses taste.
Honey: I prefer to use local raw honey because of its superior nutritional content. Plus, each bottle of raw honey can taste slightly different depending on what the bees ate (avocado and orange blossoms are two of my favorites).
Raisins: I make my own raisins from grapes I grow in my back yard. "Store bought is fine." (hahaha! did you read that in an Ina Garten voice).
Buttermilk: I keep this buttermilk powder on hand for baking. You can also add a tablespoon of lemon juice or vinegar to milk and let it sit for a few minutes to curdle. Or use half plain yogurt and half milk.
Walnuts: or you can leave them out or use your favorite substitute nut or seed.
Other ingredients: eggs, butter, baking soda, ground cinnamon, ground cloves, salt.
Quick Cinnamon Raisin Bread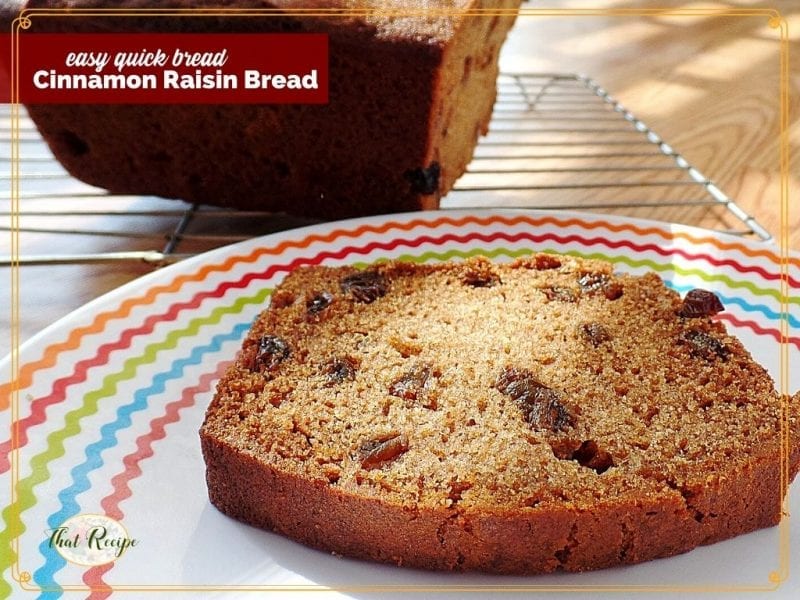 Ingredients
½

cup

butter or margarine

½

cup

packed brown sugar

2

large

eggs

½

cup

honey

½

cup

buttermilk

2

cups

all purpose flour

1

teaspoon

baking soda

1

tablespoon

ground cinnamon

½

teaspoon

ground cloves

¼

teaspoon

salt

1

cup

raisins

½

cup

walnuts

(chopped)
Instructions
Preheat oven to 325°F. Grease a loaf pan.

Cream butter and sugar until blended. Add eggs one at a time and beat until fluffy. Blend in honey and buttermilk.

In a separate bowl, whisk together flour, baking soda, cinnamon, cloves and salt until combined and fluffy.

Add dry ingredients to the butter mixture. Stir in raisins and nuts. Spoon into loaf pan.

Bake until toothpick inserted in the center comes out clean, about 1 hour. Cool in pan for 10 minutes then turn onto cooling rack to cool completely.