Jump to Recipe
Print Recipe
Coconut Curried Eggs is an easy curry dish made with boiled eggs and topped with toasted coconut. Great use for leftover Easter eggs.
Do you have a fridge full of leftover Easter Eggs and want something a bit more exciting than egg salad or deviled eggs? Or maybe you are looking for an easy meatless weeknight dinner. Well, I have a simple tasty recipe for you: Coconut Curried Eggs.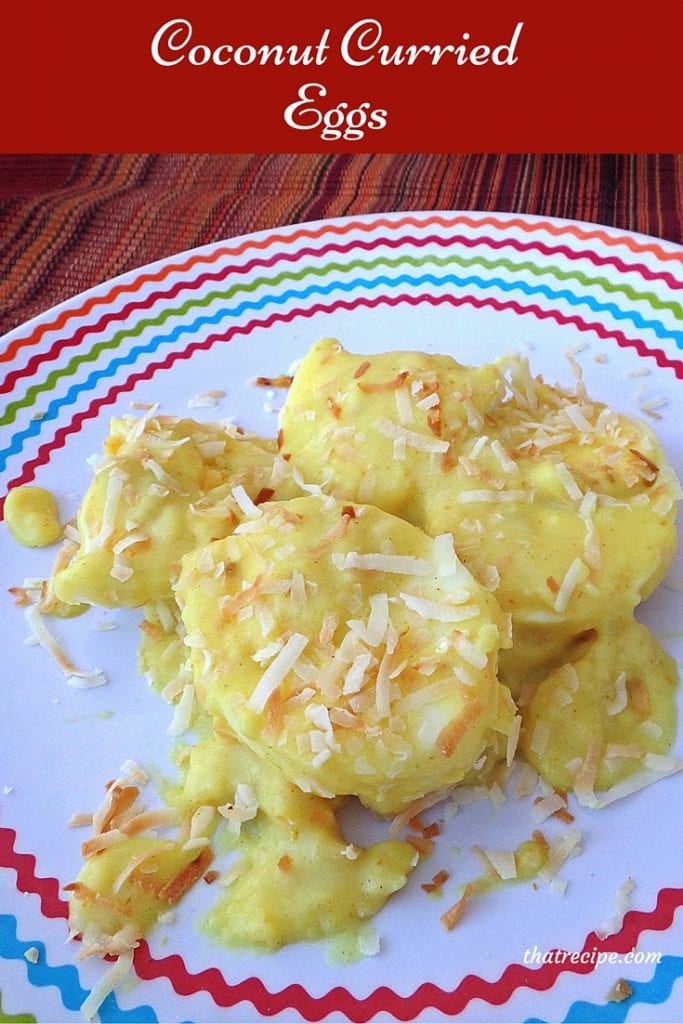 This dish whips up in under 30 minutes, is ovo-vegetarian (use coconut oil instead of butter), gluten free, customizable to your diners tastes and is just plain delicious. What is not to love? Just make up some rice or couscous or quinoa to go along with it for a great weeknight meal.
I like mine with toasted coconut, raisins, peanuts and green onions on top. Sir Snubs a Lot likes his plain, including no onions in the sauce. Sometimes he will have the toasted coconut, but it has to be toasted and not soft and moist (probably a texture thing).
If it isn't post-Easter when you are reading this, go ahead and boil up eggs just for this dish. You can do them ahead of time and keep them in the fridge or add an extra 20 minutes to your cook time that night. You are still out of the kitchen in 45 minutes.
Coconut Curried Eggs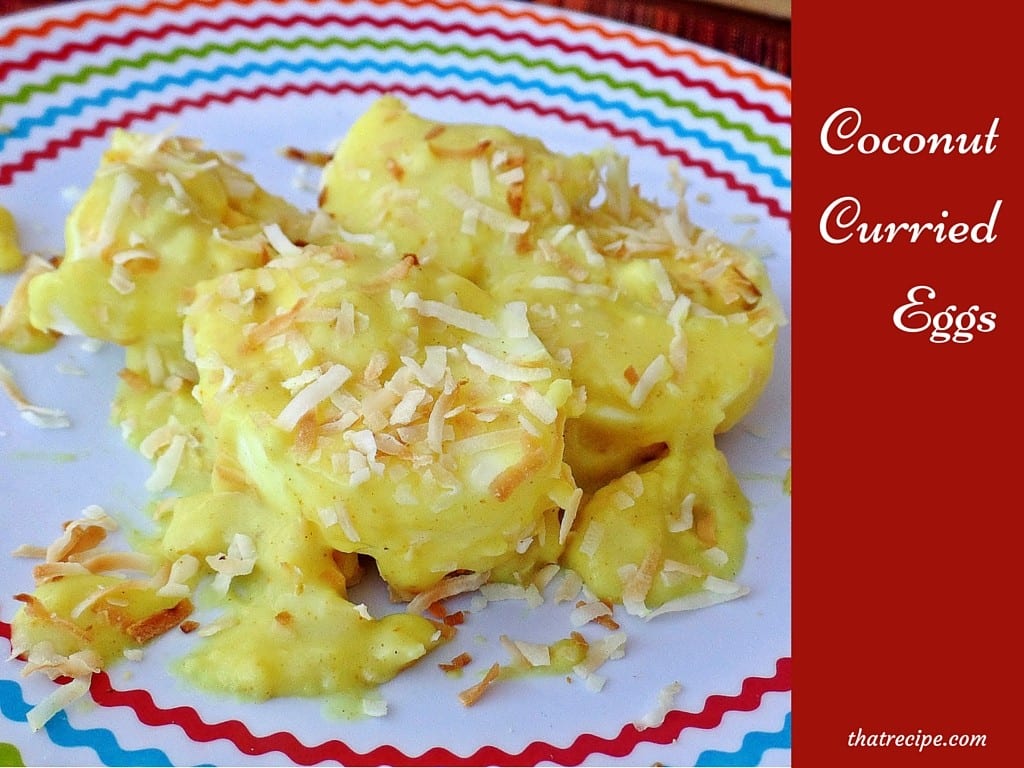 Ingredients
8

boiled eggs

1

ounce

butter or coconut oil

½

cup

onion

(chopped)

1

teaspoon

ground cumin

2

teaspoons

curry powder

1

tablespoon

cornstarch

1

cup

chicken stock

1

cup

coconut milk

2

tablespoons

lemon juice
Instructions
Preheat oven to 350°. Peel and cut the eggs in half lengthwise. Place in a ovenproof dish.

Melt butter or coconut oil in sauce pan, add onion and cook over medium heat until translucent. Add cumin, curry and cornstarch. Stir and cook 1 minute.

Add stock, coconut milk and lemon juice to the spice mixture in saucepan. Cook, stirring constantly, until mixture boils and thickens, approximately 1 minute.

Pour over eggs and bake covered for 20 minutes.

Serve with condiments listed in the notes.
Notes
Serve with the following condiments on the table to allow diners to add their favorites:
raisins
chopped salted peanuts
bacon bits
chopped sweet or sour pickles
toasted coconut flakes chutney
chopped green onion
chopped fresh cilantro
chutney
Until next time, happy eating.
~Audrey