Jump to Recipe
Print Recipe
Coffee crisps are simple crispy cookies made with almond flour and ground coffee. Quick, easy and delicious
You've heard of coffee with cookies, but have you ever put it in cookies? If you are a coffee lover you will love these Gluten Free Coffee Cookies made with almond flour for extra deliciousness.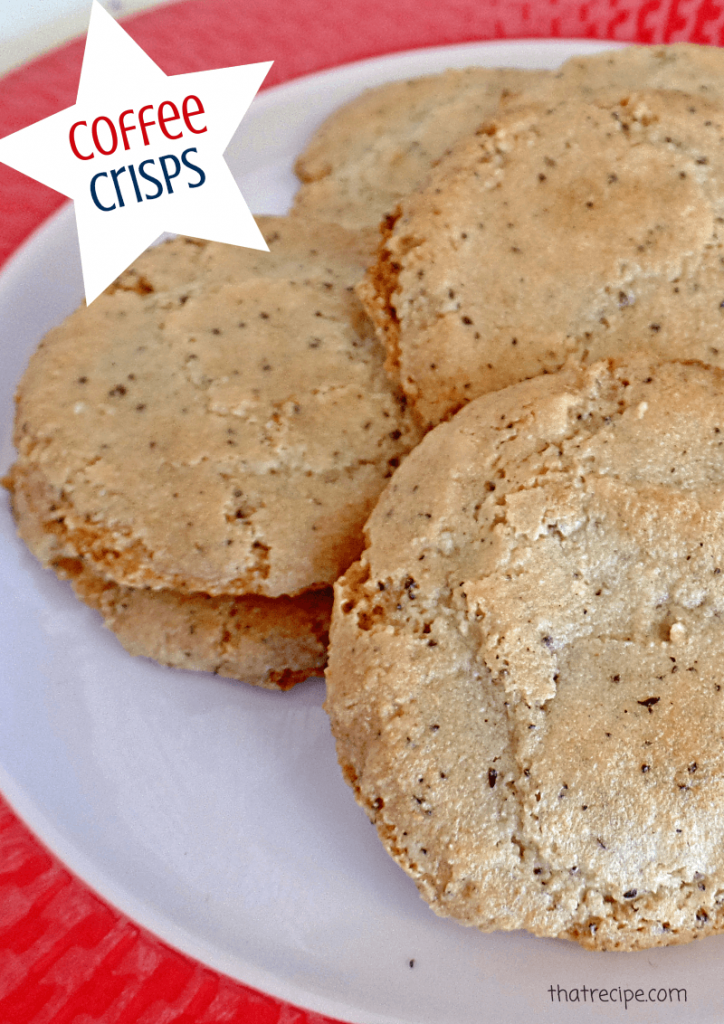 On the first Thursday of the month, I join some other awesome bloggers for a virtual cookie party. We each make a cookie based on a theme and link up our recipes. Scroll to the bottom to see what the other's made for our patriotic/summer theme.
How is coffee "patriotic"?
I hope you aren't an American and asking that question. The Tea Act of 1773? Taxation with Representation? The Sons of Liberty? The Boston Tea Party? Any of this sounding familiar? In the years leading up to the American Revolution, Americans started boycotting tea on principal, with John Adams even declaring it a "traitor's drink". And for the most part we haven't gone back.
These cookies are great for summer too because they are ready for the oven in a matter of minutes. I actually had to wait on the oven to preheat they were that quick to whip up.
This recipe came from The Chocolate and Coffee Bible, which ironically is a British cookbook. Luckily it has American ingredients, measurements and temperatures as well. They call this Coffee and Hazelnut Macaroons. These do not look like any "macaroons" or "macarons" I have seen. So I changed the name because I didn't want to confuse anyone.
The cookies come out crisp and a bit caramel-ly and I ate the first batch all by myself. The second batch, I tested one and gave the rest to my mother. Despite the picture of J stealing a cookie, he tried a bite and was immediately put off by the coffee flavor and texture. If you don't like coffee you probably won't like these.
But if you do like coffee, oh my!
Coffee Crisps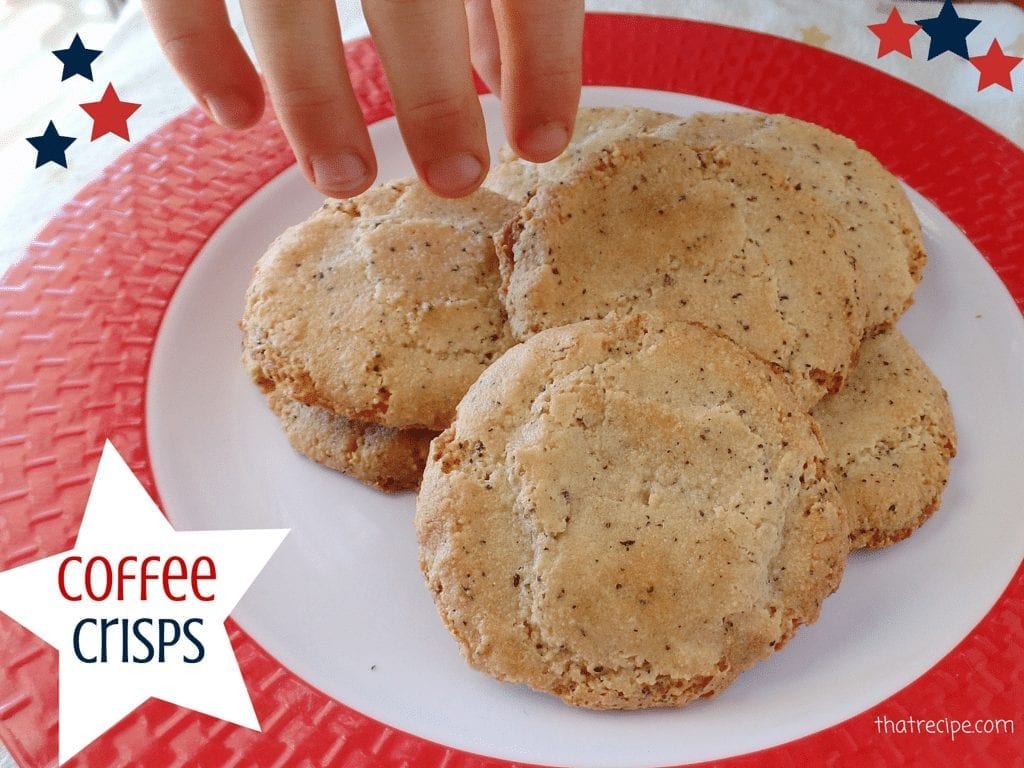 Ingredients
⅔

cups

almond or hazelnut flour

1

cup

superfine sugar

(also called caster sugar)

2

teaspoons

coffee grounds

(preferably espresso grind)

2

large

egg whites

superfine sugar

(for sprinkling)
Instructions
Preheat oven to 350 degrees F. Line a cookie sheet with parchment paper (not waxed paper!)

Combine flour, sugar and coffee in a bowl.

Mix in egg whites to form a thick paste.

Drop by tablespoonfulls on parchment paper in a round shape about 1 inch apart. Sprinkle a pinch of sugar on top of each cookie.

Bake at 350 degrees for 15-20 minutes until cookies turn golden. Move to a cooling rack immediately to cool.
Until next time, happy eating.
~Audrey