Jump to Recipe
Print Recipe
Cranberry Oat Cookie Bars - crispy oatmeal cookie with a tangy sweet layer of cranberry sauce. Delicious Fall cookie bar
Who doesn't need an easy cookie recipe or quick gift idea this time of year? Anyone? Anyone? Bueller? Cookie exchanges, parties, potlucks, gifts for teachers, neighbors, friends , etc. etc, etc.
These Cranberry Oat Cookie Bars are your answer whether you bake the cookies or just layer the dry ingredients into a jar for a sweet gift that even the baking phobic folks will appreciate.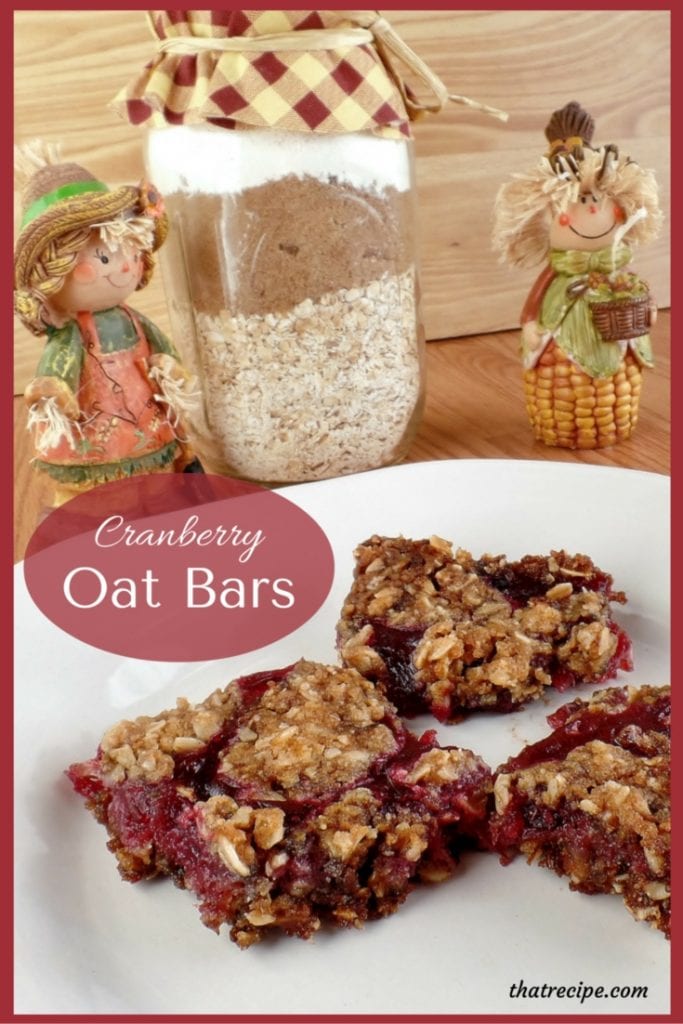 I really struggled to come up with a Thanksgiving (or Fall) cookie for our monthly Fill the Cookie Jar post this month. I don't know if my fellow bloggers had the same dilemma. Be sure to scroll below the recipes to see what they created. Suddenly, the vision of sugar plums danced in my head. Ok, that's Christmas and I used cranberries, not plums. But you get the picture. A jar mix cookie.
I love jar mixes for gifts, both giving and receiving. They make great hostess gifts and are good for teachers and busy parents and just about anyone else you can think of. Most of them involve dumping the ingredients in the jar in a pot or bowl with a few other ingredients and BAM! simple semi-homemade dinner (like the Lentil Soup Mix) or dessert like this one.
The original recipe called for strawberry pie filling, which you could use if you prefer. Or cherry or apple or peach. But to go along with the Thanksgiving theme I chose cranberry sauce. It made them slightly less sugary than the pie filling would have been - which was great. I made my own from the instructions on the pack of cranberries, making sure to mash the berries as it cooked so there weren't any big pieces of cranberry.
Cranberry Oat Cookie Bars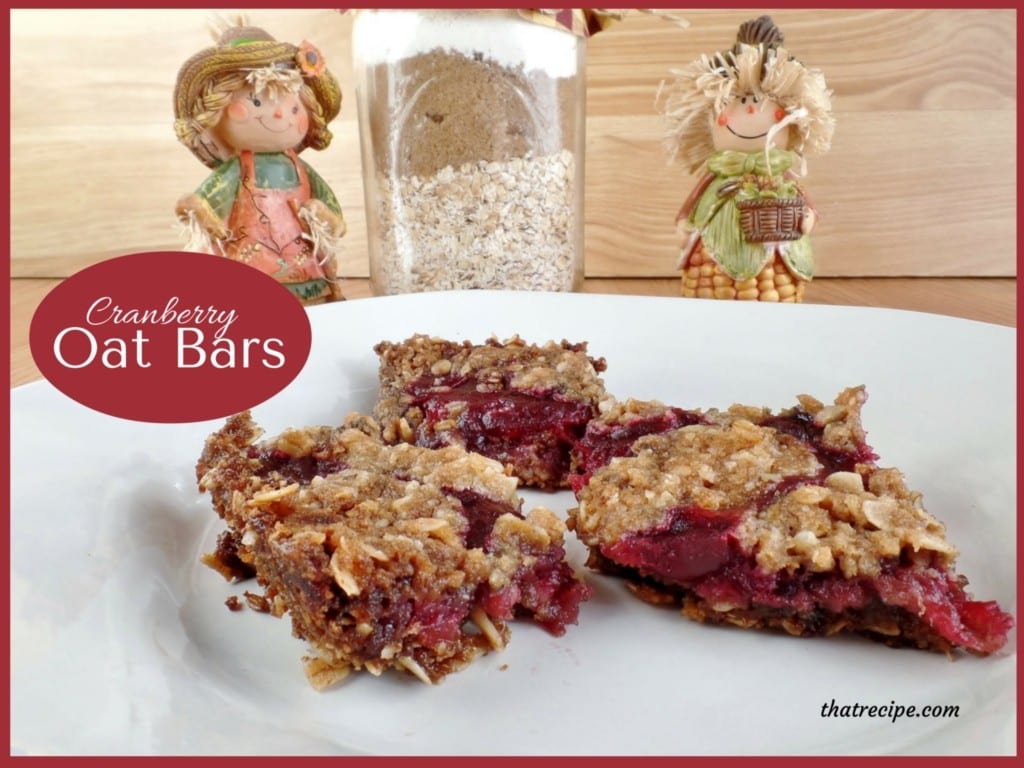 Ingredients
1

jar Cranberry Oat Cookie Bar Mix

⅔

cups

butter

(softened)

2

cups

Whole Berry Cranberry Sauce

(or 21 ounce jar of fruit pie filling - cherry, strawberry, apple, etc.)
Instructions
Preheat oven to 375 degrees.

Combine butter and Oat Bar Mix until blended.

Press ⅔ of crumbs onto the bottom of a 9x13 pan.

Bake 15 minutes, let cool for 5 minutes.

If using fruit pie filling or canned cranberry sauce, blend briefly in blender until slightly chunky.

Pour cranberry sauce/pie filling over baked crust.

Crumble remaining crumb over the top.

Bake 20-25 minutes. Cut into bars
Cranberry Oat Cookie Bars Mix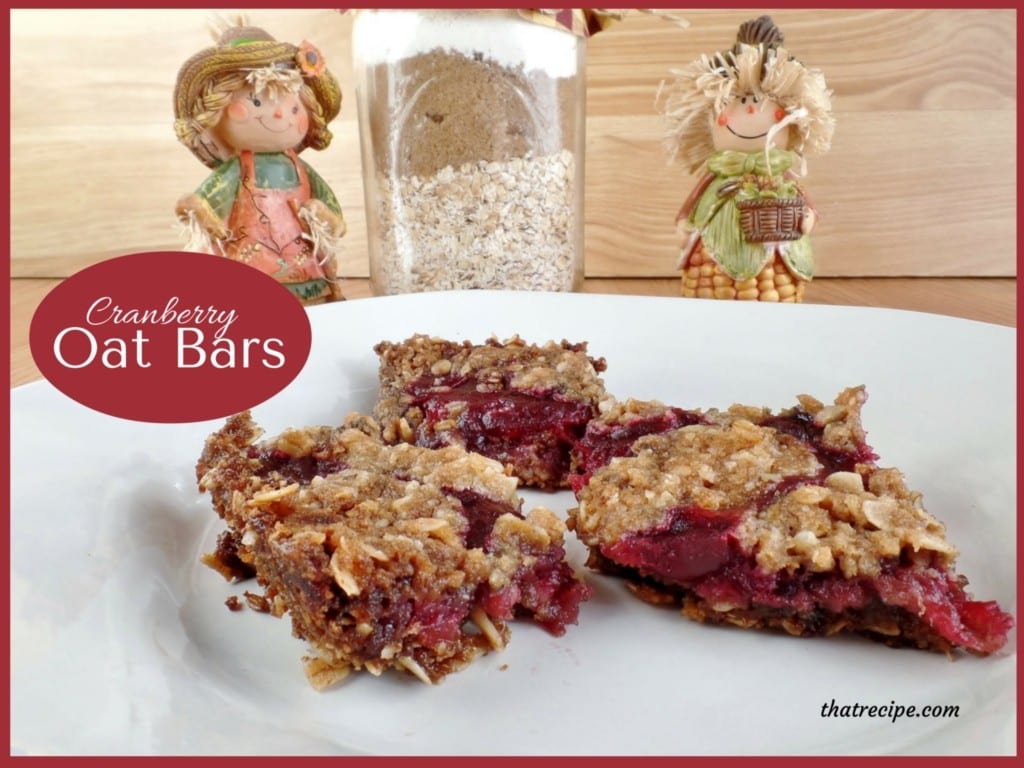 Ingredients
2 ¼

cups

uncooked quick oats

1

cup

packed light brown sugar

1

cup

all purpose flour

2

teaspoons

baking soda

½

teaspoon

cinnamon

¼

teaspoon

salt
Instructions
In a one quart jar layer ingredients in the order given.

Top with fabric and ribbon as desired. Attach a copy of the baking instructions to the jar.
Until next time, happy eating.
~Audrey