Jump to Recipe
Print Recipe
Easy Homemade Hot Pepper Jelly is a spicy sweet jelly that is delicious as a glaze for grilled meats, or spice up some drinks or appetizers.
Hot Pepper Jelly is a delightful way to preserve summers chili peppers and makes a great homemade gift for family and friends.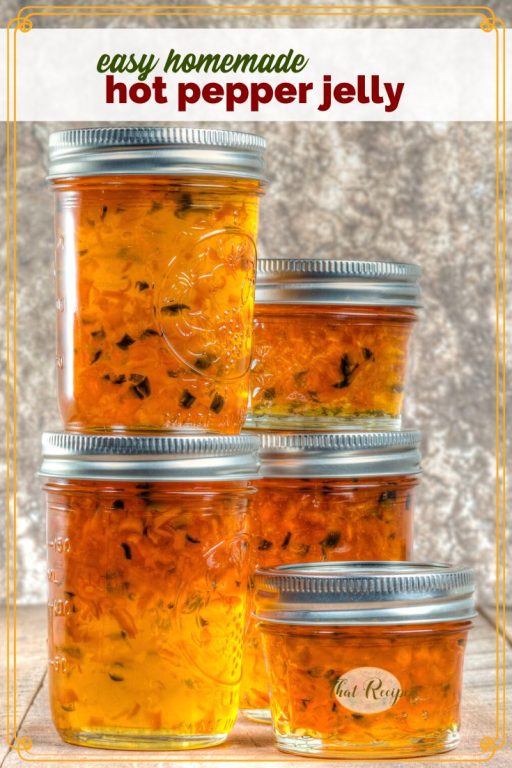 When life, or your CSA or garden, gives you a bunch of peppers all at once it's time to make some hot pepper jelly.
If you aren't familiar with this southern treat it is a delightful spicy sweet jelly jam combination - part spicy pepper, part vinegar and part sugary sweet. It might sound like an odd combination but it all comes together wonderfully.
If you are new to jam or jelly making this is a great recipe to start with since you add liquid pectin to get it to gel. It takes the guess work out of reaching the gelling point.
What kind of peppers should I use?
As I say so often on the blog, use what you like or what you have on hand. Here's a peak at the Scoville Scale (aka "hotness or "spiciness" scale).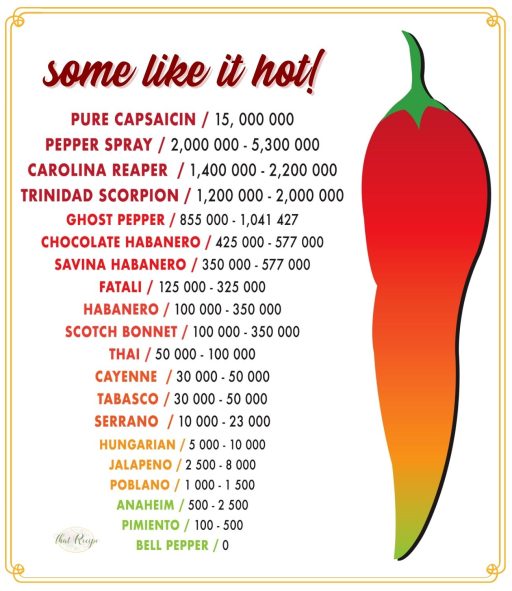 The hotter the peppers, the hotter the jelly. I usually prefer my peppers in the Anaheim to Serrano level, but if you want to go for Carolina Reaper, enjoy!
Leaving in the seeds and membranes will also make the jelly hotter.
While you can mix green (unripe) and red (ripe) peppers, the color of the finished jelly could be somewhat unappetizing. Better to make two different batches, one of each color.
How to Use Hot Pepper Jelly
You can use pepper jelly any way you would use any other jam or jelly, but a few special ways to use it:
pour over a block of cream cheese or brie and serve with crackers or sliced baguettes.
glaze chicken or fish then broil or grill
add to a margarita
as a dipping sauce for shrimp, chicken pieces, meatballs, etc.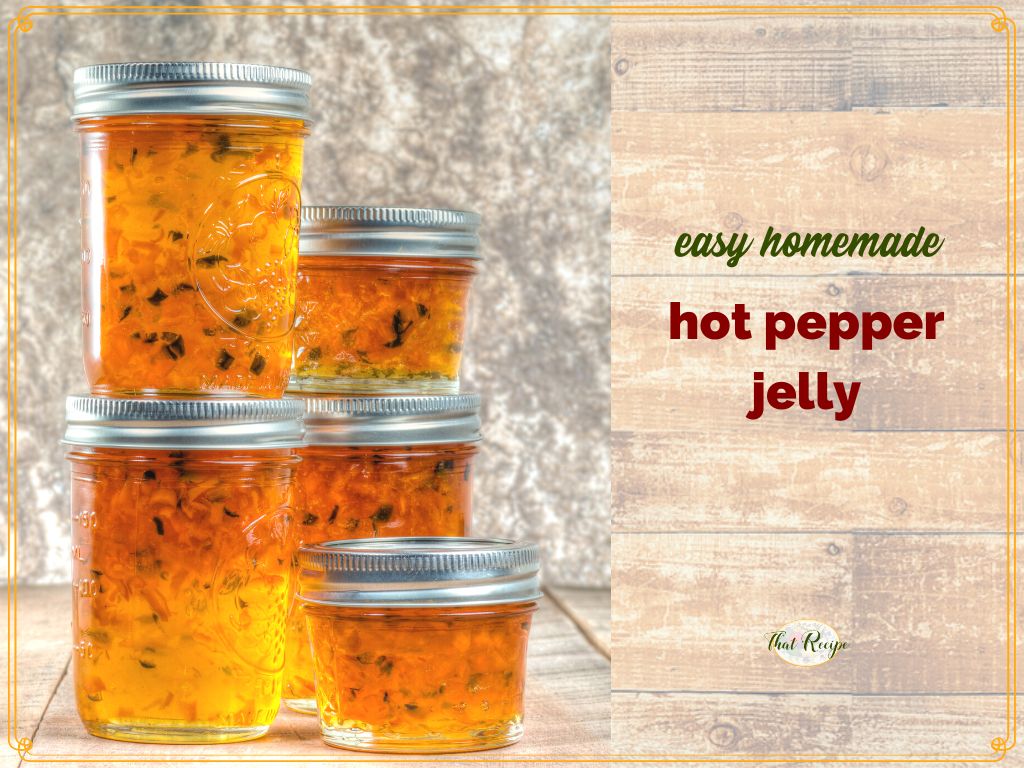 Ingredients
1

pound

fresh chili peppers

(jalapeno, cayenne, poblano, anaheim, etc.)

2

cups

apple cider vinegar

6

cups

sugar

2

pouches

3 ounce size liquid pectin
Instructions
Wear gloves, cut off stem and remove seeds and membranes from peppers. Leave membranes and seeds for a hotter jelly.

Puree peppers in food processor or blender with 1 cup cider vinegar until smooth. Do not strain.

In a large stock pot combine puree with remaining 1 cup cider vinegar and sugar. Bring to a boil over high heat. Boil 10 minutes, stirring frequently.

Add liquid pectin. Continue boiling for 1 minute, stirring constantly. Remove from heat. Add food coloring, if using, and skim foam if necessary.

Ladle jelly into half pint jars, adjust 2 piece lid.

Process in a boiling water canner for 10 minutes.
More Fresh Pepper Recipes