Jump to Recipe
Print Recipe
Lemon Herb Shortbread Cookies combine crisp buttery shortbread with a boost from tangy lemons and peppery basil for a melt in your mouth burst of flavor.
These simple Lemon Basil Shortbread cookies feature tangy lemons and kick of peppery basil for a fabulous combination.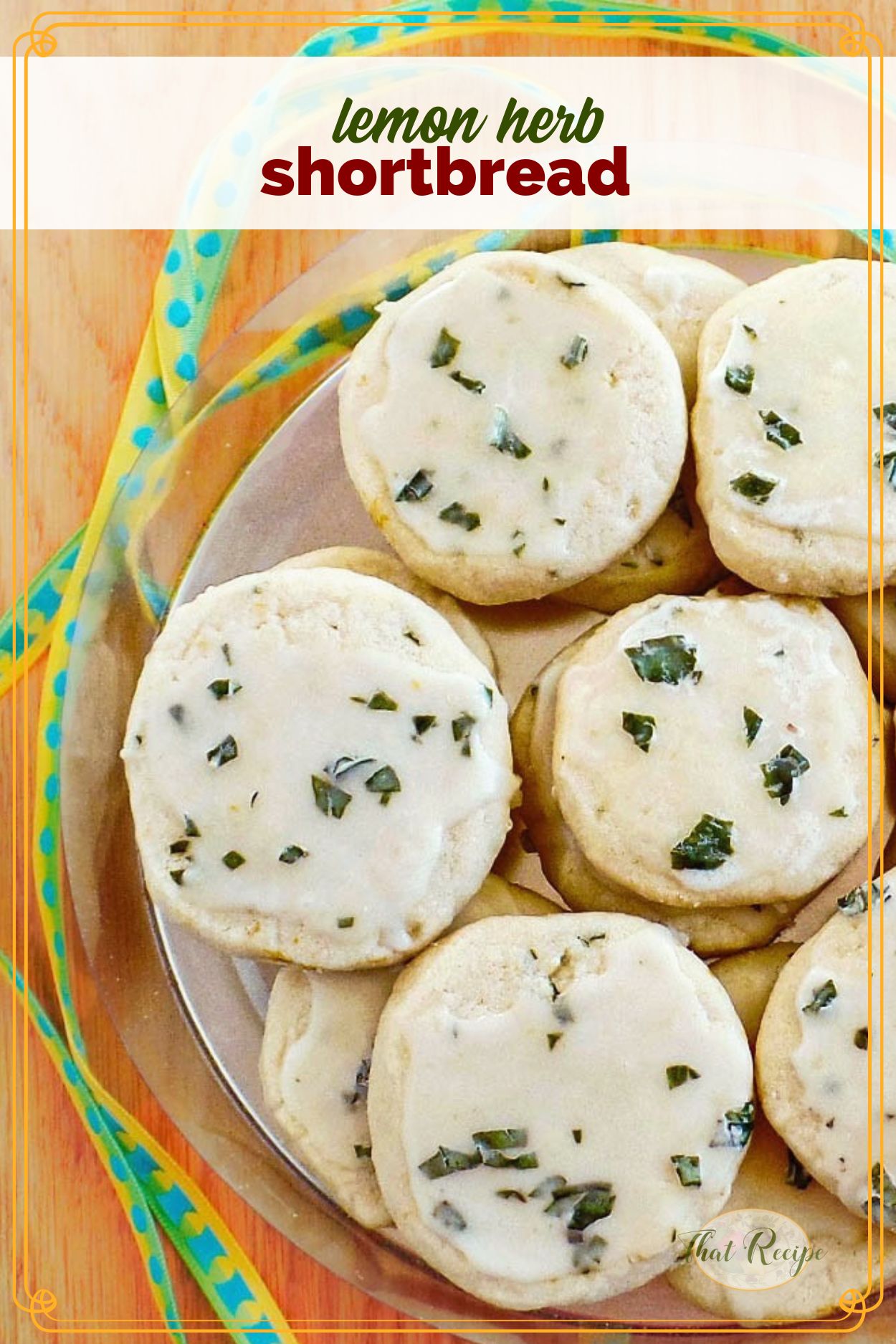 I used to make my mom shortbread cookies of some variation for her birthday and she would taste one then hide the rest from my dad.
These are not a "mindless eating" type of cookie. Love you Dad, but you know it's true.
Shortbread cookies are meant to be savored. Pure simple ingredients.
Ingredients and Options for Lemon Basil Shortbread
Classic shortbread has only 3 ingredients: flour, sugar and butter. Well, if you use unsalted butter, it is four ingredients because you need a little salt.
It is intentionally simple and the flavors blend together perfectly.
If you want to start swapping different flours, sugar substitutes or butter substitutes you are welcome to try. I cannot guarantee the results.
This is one recipe I will not tamper with the basics. But, I will add in ingredients for extra flavor.
I used fresh basil for these, but you can use other fresh herbs. Lemon rosemary and lemon lavender are another two of my favorite flavor combinations.
Instead of lemon you could go with another citrus such as lime or orange or even grapefruit. Toss in a nice complimentary herb (rosemary, thyme, lavender, etc.) and you have a simple and delicious cookie. Or is it a simply delicious cookie?
Lemon Basil Shortbread
Ingredients
1

lemon

(or preferred citrus)

2-3

tablespoons

fresh basil

(or preferred herb)

1

pound

salted butter

1

cup

granulated sugar

4

cups

flour

1

cup

powdered sugar
Instructions
Using a fine grater or other zesting tool, zest the lemon. Finally chop the basil leaves.

Cube butter into roughly ½ inch cubes. Put in a large bowl with flour, sugar and half of the lemon zest and basil.

Gently combine with your fingers to make a soft dough. Roll into 2 cylinders about 2-3" wide and refrigerate for at least 30 minutes.

Slice cookies ¼" thick and place an inch apart on cookie sheets.

Turn down oven to 275°F and bake until cookies turn a slightly rosy color (just as they begin to brown). Allow to cool completely

Juice the lemon into a small bowl or cup. In a small bowl add powdered sugar and remaining zest and basil. Thin to desired consistency with lemon juice.

Spoon glaze over each cookie, allow to harden.
Notes
You can make these with any combination of citrus fruit (limes, oranges, tangerines) and fresh herbs (rosemary, lavender, thyme).
Sound fabulous? Share it!