I wanted a quick and easy recipe to cook with my son, mostly to occupy him on a rainy day. If it tasted good, all the better. So, I pulled out a recipe I stumbled across in Parents magazine a few years ago for Three Ingredient Peanut Butter Cookies.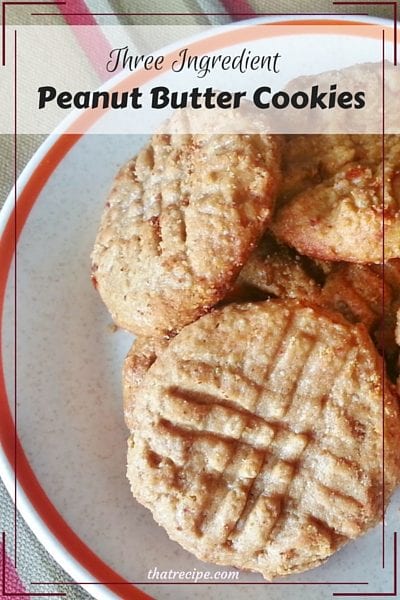 And luckily for me flour isn't one of those ingredients! I am almost out and wanted to save it for dinner tonight (my "company chicken") and maybe some sourdough bread or biscuits tomorrow.  Plus, being flourless makes these a gluten free treat for those that eschew gluten.
J helped put the ingredients in the bowl - I mixed it with the mixer - then rolled the dough (well, he tried) and pressed the fork on with some guidance.  when he wasn't looking I prettied them up a bit before I slipped them into the oven, ssshhhhhh!
With just peanut butter, sugar and egg the peanut flavor really shines! Especially if you use natural peanut butter (just gournd peanuts with maybe a little salt). Both J and Daddy gave them 2 thumbs up.
[Tweet "Three Ingredient Peanut Butter Cookies - loaded with peanut butter flavor. #glutenfree #peanutbuttercookies"]
[gmc_recipe 12524]
Until next time, happy eating!
~Audrey