Jump to Recipe
Print Recipe
Peanut Butter Cookies made with just three simple ingredients, the peanut butter flavor shines through even more!
Attention all peanut butter lovers! This is the peanut butter cookie recipe you have always wanted. Quick easy and loaded with that peanut butter flavor you crave.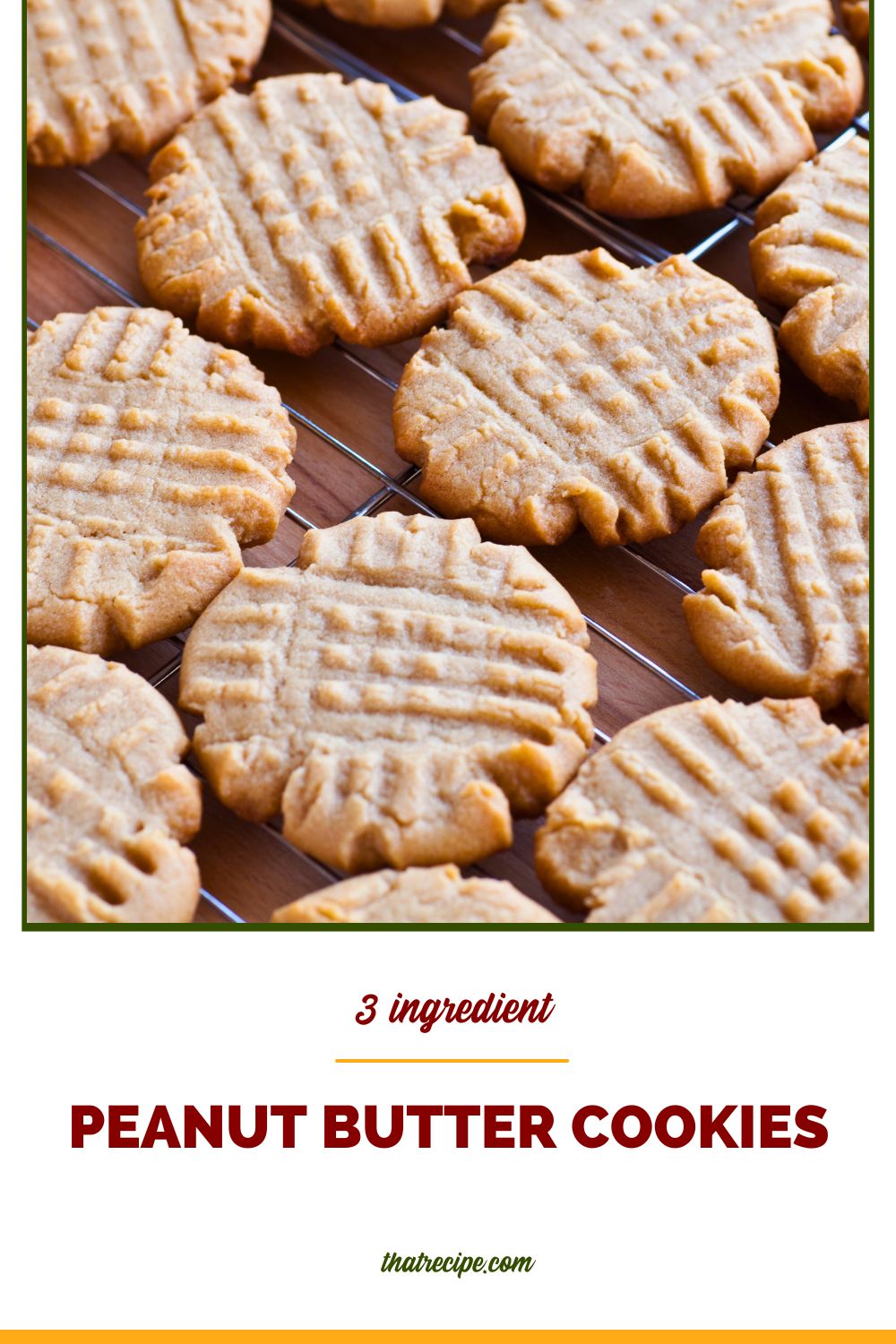 I wanted a quick and easy recipe to bake with my preschooler, mostly to occupy him on a rainy day. If it tasted good, all the better.
So, I pulled out a recipe I stumbled across in a magazine - one that only needed three ingredients.
Luckily for me flour wasn't one of those ingredients! I was almost out and wanted to save it for a recipe for dinner.
Plus, being flourless makes these a gluten free treat for those that eschew gluten.
Ingredients and Substitutions for Peanut Butter Cookies
With three ingredients you might think there wouldn't be many options for these peanut butter cookies, but you would be oh so wrong!
Peanut Butter is obviously needed for Peanut Butter cookies. Or is it? Switch it up and use any seed or nut butter you want. Peanut or tree nut allergies? No problem! Swap in tahini (sesame seeds) or sunflower butter.
Choose creamy or crunchy butter depending on if you like your cookies with bits of nuts or not.
Sweeten them with sugar or a no-calorie sugar substitute for baking. I like to use a stevia sugar blend that gives it the sweet taste and color of full sugar without as many calories. Because of consistency issues, I would stick with powdered sugar substitutes instead of liquid.
The egg binds the peanut butter and sugar together and acts as a leavener. These become vegan if you choose to use a commercial egg substitute or one of these homemade substitutes:
3 tablespoons aquafaba (liquid from a can of garbanzo or other beans)
1 tablespoon flaxseeds soaked in 3 tablespoons water for 5 minutes
You don't need to stop with these three ingredients either. Change up the recipe by tossing in some extra goodness: chocolate chips, chopped peanuts, chopped candy bars (hello peanut butter cups!), candy pieces (Reese's pieces or M&Ms), you get the idea.
3 Ingredient Peanut Butter Cookies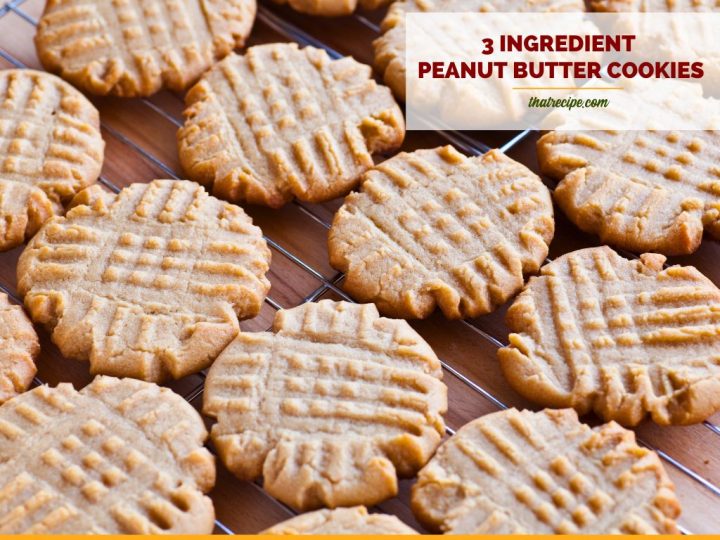 Ingredients
1

cup

peanut butter

(smooth or chunky style)

1

cup

sugar

1

large

egg
Instructions
Preheat oven to 375°F

Mix peanut butter, sugar and egg together until smooth.

Divide into 24 balls. and space 2 inches apart on baking sheets

Use a fork to make criss cross pattern in each cookie.

Bake at 375°F until done, about 5-7 minutes. Let cool on cookie sheet for 2-3 minutes before moving to cooling racks to prevent cookie falling apart.
Sound fabulous? Share it!
More Peanut Butter Recipes
Until next time, happy eating!
~Audrey