Jump to Recipe
Print Recipe
Homemade Pumpkin Gnocchi served with a creamy bacon Alfredo sauce makes a delicious and decadent autumn meal.
Are you looking for a delicious and comforting autumn meal? Look no further than this homemade Pumpkin Gnocchi with Bacon Alfredo.
This fantastic dish combines the comforting flavors of pumpkin, bacon, and cheese into a savory and mouth-watering pasta treat.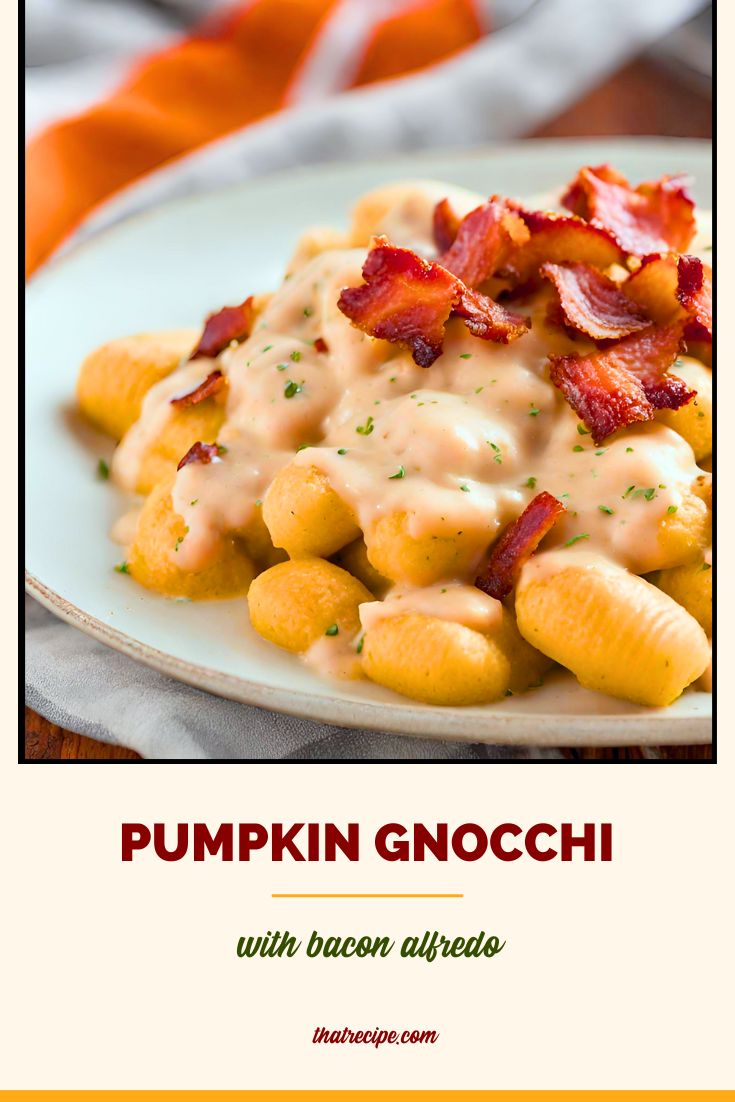 What is gnocchi?
Gnocchi (pronounced nyo-kee) is a simple little potato dumpling that is boiled and served like pasta.
If you want to try it without the potato, here is a Roasted Butternut Squash version that is equally delicious.
Variations for Pumpkin Gnocchi
I added pumpkin puree and some cinnamon and nutmeg to a traditional gnocchi recipe.
If pumpkin isn't your thing use another vegetable puree. Skip the spices if you choose.
For the flour in both the gnocchi and the sauce, I used a gluten free blend. You can use that or all purpose flour as you see fit.
Variations for Bacon Alfredo Sauce
Alfredo is a very simple sauce to make at home: just make a roux then add half and half and boil until thick then mix in the cheese.
I made my own alfredo sauce using the bacon grease instead of the traditional butter for more bacony goodness.
You can use a jarred sauce, or if you want a healthier alternative you can try a faux-fredo made with cauliflower or white beans. Both can be made with a non-dairy milk and no parmesan for a vegan alternative.
Use any type of bacon you like: pork, bacon or turkey. Or go with tempeh or leave it out entirely for a meatless version.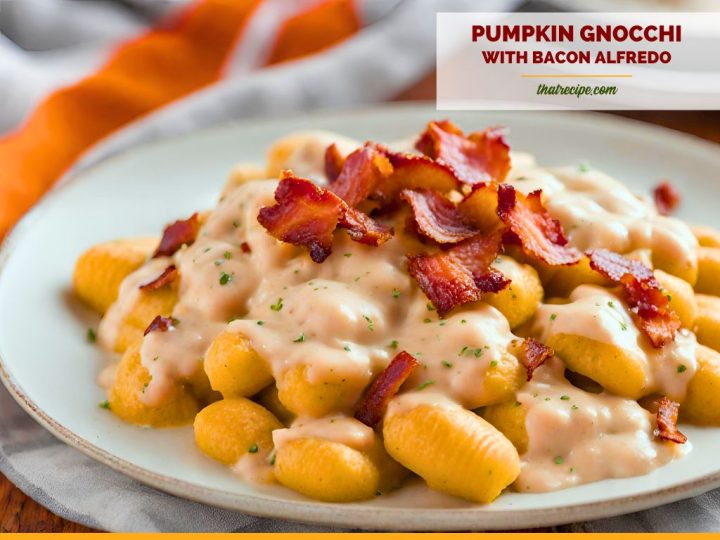 Ingredients
1 ½

pound

Idaho potatoes

(about 3 large)

⅓

cup

pumpkin puree

¼

cup

finely grated Parmesan cheese

1

large

egg

¼

teaspoon

cinnamon

¼

teaspoon

nutmeg

1½ - 2

cups

flour

(all-purpose or gluten free)

6-8

pieces

bacon

(cut into small pieces)

1

cup

half and half

(milk is okay, but it won't be as creamy)

2

cups

Parmesan cheese

(finely grated - plus extra for serving)

nutmeg

(to taste)
Instructions
In a medium saucepan, cook bacon pieces. With a slotted spoon, remove bacon and put on a paper towel. If you have less than 2 tablespoon of bacon grease add a little olive oil or butter. Add half and half and stir with a whisk until completely combined. Bring to a boil and cook for 5 minutes. Remove from heat, add bacon and Parmesan cheese.

Peel and chunk potatoes, place in a large pot and cover with water. Boil until just fork tender. Drain water, put potatoes in a large bowl.

In a large bowl, mash potatoes until smooth. Let cool until room temperature. Add pumpkin puree, Parmesan, egg and spices.

Slowly add in flour until a smooth, slightly sticky dough is formed. Knead briefly.

Fill a large pot about half full of water and bring to a boil.

Divide dough into six balls. Roll each into a thin rope (about ½ inch thick) and slice into ½ inch pieces.

In small batches, drop pieces into boiling water. Gnocchi will sink to the bottom and then rise to float on the top. Boil for 2-3 minutes after they have risen to the top. Remove with a slotted spoon and put on a plate. Continue with all of the dough.

Serve gnocchi topped with bacon alfredo sauce and sprinkle with extra Parmesan cheese and nutmeg if desired.
Until next time, happy eating.
~Audrey