Let your preschooler make this fun yet simple Roly Poly Sandwich for their lunch.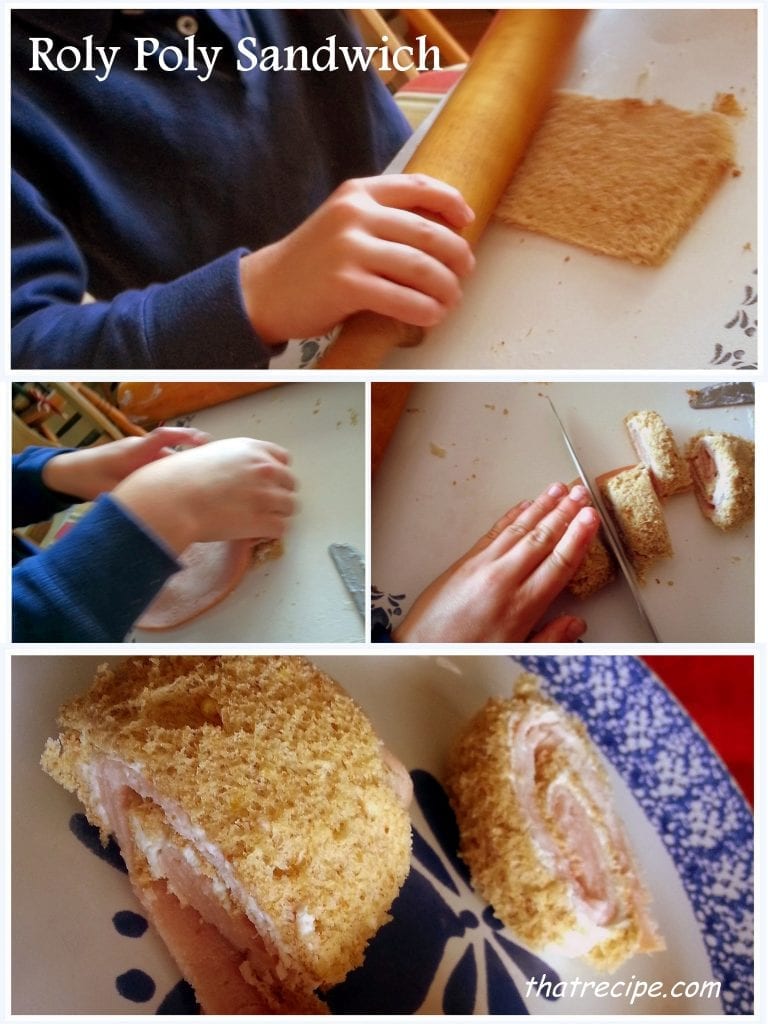 M started his full schedule last week and we barely see him Monday through Thursday. Knowing the transition was going to be tough on J, I tried to come up with plenty of activities to keep him busy. And one of his favorites is cooking.
I handed him a new cookbook, Cook School by Amanda Grant (affiliate link, I may receive a few pennies for any purchase at not cost to you). Luckily we had the ingredients to make this one.
This fun book is divided into lessons for three different age groups: preschool, early elementary and upper elementary. It is written for the child to read and follow along. Which is a bit odd for the early lessons considering that age group cannot typical read. But, I suppose for the sense of continuity it makes sense.
Luckily, this is not an issue for J. He read through the recipe and starting getting out the ingredients, barking orders when he couldn't reach things. Sigh, my temperamental little chef.
We got out the bread and cream cheese and some sliced turkey because we don't have smoked salmon, plus a rolling pin and table knife. That's all we needed. The steps are equally simple (all to be done by the child):
Cut off the crust
Roll the bread flat
Spread the cream cheese on the bread
Add the salmon (turkey)
Roll the bread
Slice into 4 pieces
And he insisted on doing it all by himself. "GO AWAY Mommy!" He condescended to let me take some pictures, but I could not interfere.
Not an easy thing for me considering he cut himself with a plastic knife on Apple Day in September and I am still hearing about it! And then the table knife wouldn't go through the turkey (d'oh! that's why she used easily sliceable salmon).
"Let me get a big knife and help you cut it," as I brought over one of my chef's knives.
"Gimme. Now, go away, Mommy. I can do it myself!"
"But, can't I please..."
"No!"
Deep breath, deep breath, "Okay, but please be VEEERY careful to move your fingers out of the way this knife is VERY sharp and I don't want you to..."
Phew! All fingers 100% intact! He had so much fun he wanted to make me one too. Aww, how sweet! A few tips from our experience:
If using cream cheese, soften it first or your little one will likely rip the bread trying to spread it. Better yet, use mayo or mustard or something infinitely more spreadable.
Salami and luncheon meat do not cut easily with a table knife. Chicken, tuna or egg salad or PB&J are better choices if your little one wants to cut and you are afraid to let them handle a knife.
You may need to assist them with getting the roll started depending on their dexterity. J folded them almost in half and couldn't figure out why it roll like the picture.
I guess I need to start letting him do more in the kitchen without my help. But I am still going to hover when there are sharp knives involved. Luckily he has a healthy fear of fire so I don't have to worry about him wanting to get near the stove or oven yet.
Until next time, happy eating. ~Audrey