Jump to Recipe
Print Recipe
This Monte Cristo Sandwich casserole is a heavenly blend of savory ham, gooey cheese, and fluffy bread, all baked to perfection.
Tired of the same old ham leftovers? Spice up your meal plan with a delicious baked Monte Cristo Sandwich casserole.
This meal is the perfect balance of savory, sweet, and cheesy. A combination of French toast, ham, and cheese will tantalize your taste buds and have you coming back for more.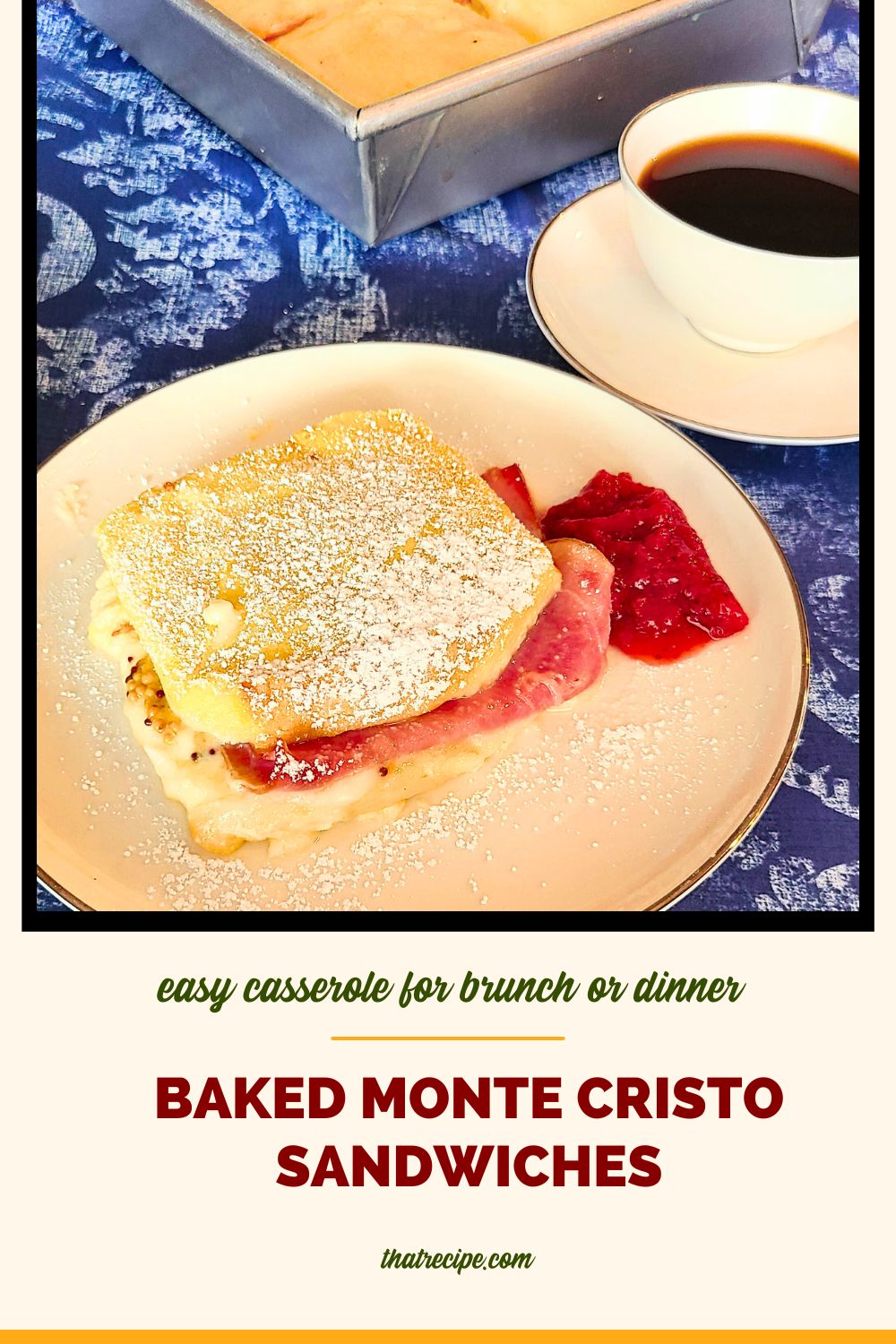 If you need a new way to serve leftover holiday ham, this casserole is a great choice. You can serve it for brunch, at a luncheon or a make ahead dinner.
This recipe came from our lovely neighbor growing up, Marilyn Webb. She had two sons, and often pampered me as an "almost daughter" until her boys married.
Quick note about the preparation time:
This recipe layers together very quickly, BUT it needs to set up for a few hours to let the bread absorb the milk and eggs.
You can make it the night before for breakfast, or whip it up in the morning and bake it when you get home.
Ingredients for Monte Cristo Sandwich Casserole
softened butter or margarine
sandwich bread, soft white bread works best
Swiss cheese (thinly sliced) - or cheddar or your preference
prepared mustard, I used whole grain on half and left the other half plain for my mustard haters
ham slices, or if you have bits and pieces of ham left, finely chop it by hand or in a food processor and spread it on
eggs
milk
salt
A few tips on the bread. It works best if the bread fits snugly together in your pan. I found barely trimming some thickly sliced Italian bread worked well. You may need to have 1 half sandwich in order to get the bread to fit in your pan.
What type of pan to use?
I cut the recipe to ⅔, using 4 slices of bread, 3 eggs and 2 cups milk. This fit nicely in a 9 inch square pan.
For 6 sandwiches, use a 9 x 13 inch pan.
How to Serve Monte Cristo Sandwich Casserole
The original recipe recommended serving with chopped boiled eggs and pimento on top.
I prefer the more traditional Monte Cristo choice of powdered sugar with a side of strawberry jam.
Pan Fry Monte Cristo Sandwiches Instead of Baking
Traditionally, these sandwiches are cooked like French toast or a grilled cheese sandwich.
Prepare the sandwiches as below but, pour the milk and egg mixture into a pie pan or other similar dish. Dip the sandwiches for about 20-30 seconds a side to allow the bread to absorb the liquid.
Cook on a hot griddle or skillet coated with butter, until golden brown on both sides and cheese has melted.
More Sandwich Recipes from #OurFamilyTable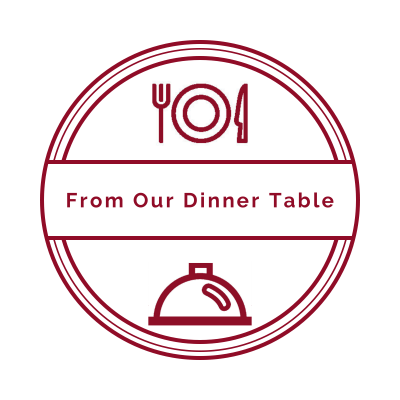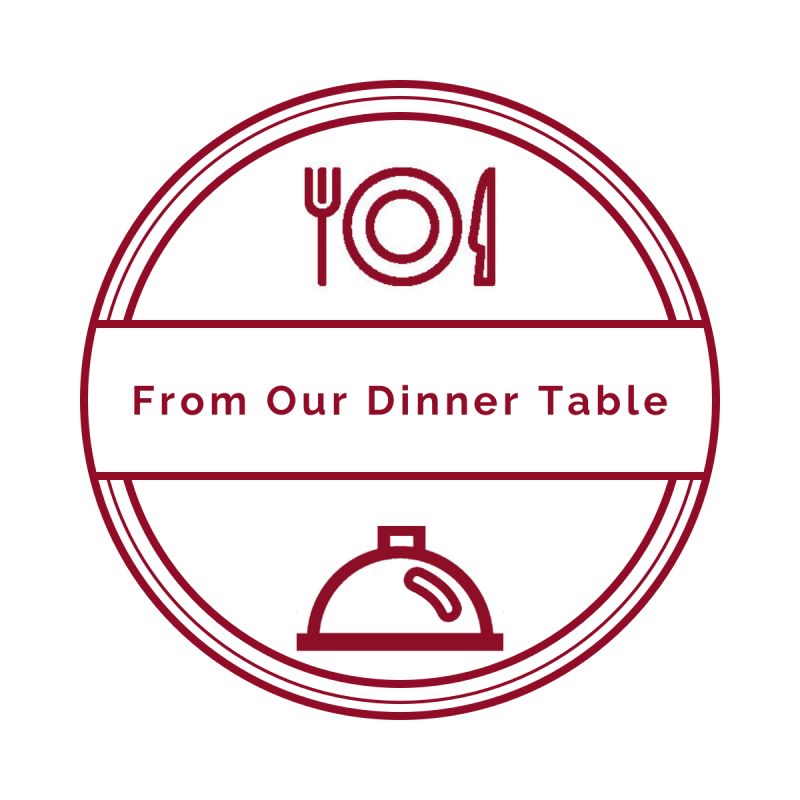 Sandwiches are great for any meal. Here are some delicious choices to try.
Sandwiches are the Star

We share Recipes From Our Dinner Table! Join our group and share your recipes, too! While you're at it, join our Pinterest board, too!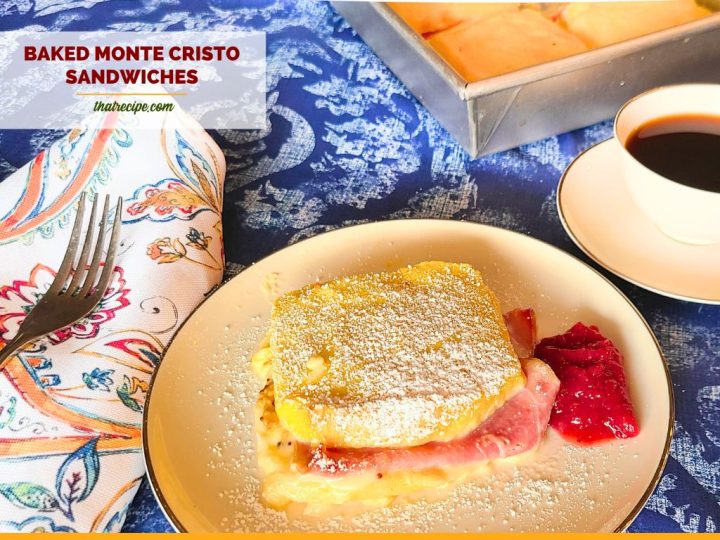 Ingredients
softened butter or stick margarine

12

slices

sandwich bread

½

pound

Swiss or American cheese

(thinly sliced)

prepared mustard

½

pound

ham, thinly sliced

(or finely chopped)

4

eggs

3

cups

milk

½

teaspoon

salt
Instructions
Grease a large (enough to hold 6 slices of bread in one layer without over lapping) shallow pan with butter.

Cut crust off bread and place 6 slices in bottom pan. Cover with cheese slices and spread with mustard. Place ham evenly over top. Butter remaining bread slices and place buttered side up on top of ham.

Beat eggs slightly. Add milk and salt. Pour mixture over sandwiches. Let stand several hours so mixture is absorbed into bread.

Bake at 300° for 1 hour.

Cut into 6 squares and dish out with an egg turner or spatula.
Sound fabulous? Share it!
Until next time, happy eating!
~Audrey