Jump to Recipe
Print Recipe
Easy Beef Tamales made with shredded beef simmered in a rich deep sauce wrapped in soft flavorful masa. All made faster in the pressure cooker (Instant Pot)
Flavorful and simple Shredded Beef Tamales made faster with a pressure cooker.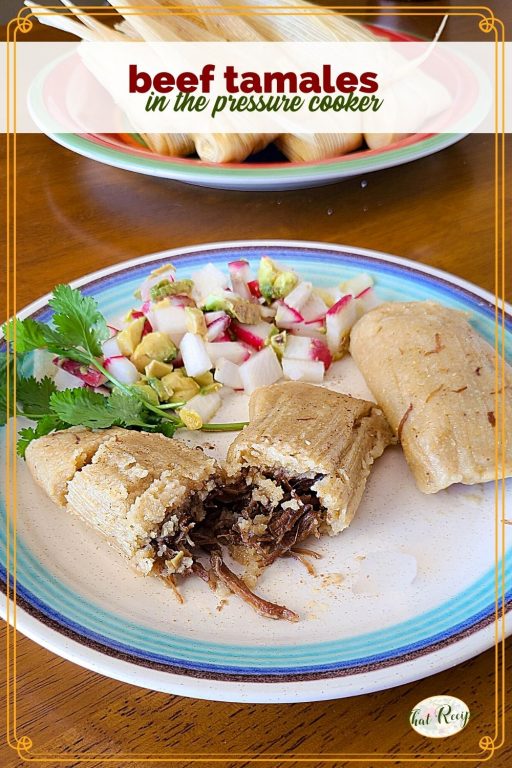 As simple as shredded beef tamales are, they are a but time consuming to make. Traditional recipes will cook the beef on the stove for hours until it is so tender it falls apart and then another hour steaming them.
A pressure cooker will speed up both processes.
Unfortunately, the pressure cooker cannot speed up the rolling process. I recommend you recruit some help for that part. You could also cook the meat one day and roll them the next.
Freezing Shredded Beef Tamales
If I am going to the trouble to make them, I'll make a double batch and freeze the extras before steaming for an easy dinner on another night.
How to freeze: Spread the uncooked tamales out in a single layer on a sheet pan and freeze. Move to zip to lock bags for storage This way you can pull out as many as you want from the bag without having them all frozen together.
How to cook: Remove frozen tamales from the zip to lock bags and place in the pressure cooker as directed below, adding another 5 minutes to the steaming step.
More Cinco de Mayo Recipes
In honor of Cinco de Mayo here are some Mexican favorites that are delicious any time of year.
Beef Tamales in the Pressure Cooker by That Recipe
Copycat Taco Bell Mexican Pizza by Making Miracles
Instant Pot Black Beans by Devour Dinner
Key Lime Margaritas by Hezzi-D's Books and Cooks
Mexican Chopped Salad by A Day in the Life on the Farm
Queso with Chorizo by Books n' Cooks
Quinoa Burrito Bowl by Magical Ingredients
Tacos Dorados by Palatable Pastime
The Best Beef Enchiladas with Homemade Enchilada Sauce by Blogghetti
Ingredients
Filling
3

pounds

beef stew meat

(or chuck roast cut into 2 inch cubes)

2

teaspoons

adobe seasoning

(or your favorite seasoned salt)

2

teaspoon

unsweetened cocoa powder

2

teaspoon

chipotle powder

1

teaspoon

instant espresso powder

(or finely ground coffee)

1

teaspoon

garlic powder

1

teaspoon

onion powder

1

teaspoon

celery flakes

(crushed)

1

teaspoon

smoked paprika

½

teaspoon

cumin

1

bay leaf

1

quart

beef broth

(or water)
Masa
4

cups

instant masa mix

2

teaspoons

baking powder

2

teaspoons

salt

1 ⅓

cup

lard or vegetable shortening
Tamales
corn husks

kitchen twine and scissors

(optional)
Instructions
Trim off an inch or two of fat from the beef add to to the pressure cooker and turn to sauté (or medium high heat if using stove top). Brown the beef on all sides in 2 or 3 batches.

Add remaining Filling ingredients. Close pressure cooker and switch to high pressure for 30 minutes. Let pressure release naturally.

With a slotted spoon, remove the beef and shred. Reserve the cooking liquid. Discard the bay leaf.

Soak corn husks in warm water for at least 15 minutes.

In a medium bowl, combine masa mix, baking powder and salt. Add 3 cups of reserved cooking liquid to make a soft dough.

In another bowl, whip lard or shortening with a beater until fluffy. Beat into the masa dough until smooth.

Tear one or two corn husks into long thin strips for tying (or use kitchen twine) Spread masa mix on the corn husks. Add a tablespoon of beef to the middle. Add a teaspoon of cooking liquid on top of the beef.

Close the husks folding toward the inside. Fold the bottom up and tie with the corn husk strip (or twine) to secure. One side will remain open.

Place tamales open side up on a trivet if large enough or in a steamer basket that will fit in the pressure cooker.

Add 2 cups of hot water to the bottom of the pressure cooker. Pressure cook for 20 minutes on high. Let pressure release naturally.
Sound fabulous? Share it!
Until next time, happy eating!
~Audrey