This Spicy Chocolate Marinated Grilled Tri Tip recipe is sponsored by Divine Chocolate. The recipe and opinions expressed in the post are my own.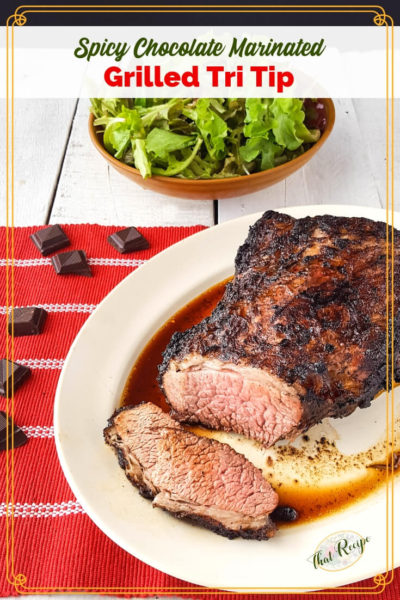 I thought I'd try something new for Choctoberfest: a savory chocolate recipe. I once rubbed a prime rib with cocoa and it was magnificent. Chocolate adds a wonderful depth of flavor to the beef.  The weather had been nice here so I decided to grill. If the weather isn't conducive to grilling where you are and when you want to enjoy it, you can bake this in an oven.
Tri tip is a very popular cut of beef here in California, but not so much in other parts of the country. It may also be called: a triangle roast, sirloin tip roast or sirloin butt. There are few important tricks to tri tip:
DO NOT OVERCOOK, keep it medium rare or it will turn tough.
if grilling, indirect heat is best, especially with this marinade.
pay attention to the grain when slicing, it will change halfway through.
#Choctoberfest 2018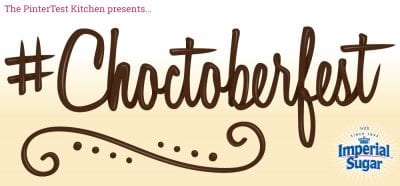 This recipe is part of a week long celebration of all things chocolate brought to you by over 100 bloggers and some amazing sponsors. Be sure to keep scrolling to the bottom of the page to see what some of the other bloggers are sharing on their blogs today.
Be sure to head over to my Mexican Hot Chocolate post to enter the Choctoberfest giveaway for a prize package of:
A 100-Piece Cake Decorating Kit from our blog sponsors The PinterTest Kitchen. This set includes a cake turntable, piping bags, piping tips, flower nozzles, scrapers, and more.
An Instant Pot and a 40-Pound Case of Granulated Sugar from our gold sponsor Imperial Sugar. Imperial Sugar provides high-quality sugar and sweetener products and over 100 years of time-tested recipes. Sweet things happen when people come together in the kitchen, and that's why Imperial Sugar has been at the heart of family traditions and celebrations for generations.
Coconut Oil and Chocolate Silk Greens from our silver sponsor Barlean's, your trusted source for chocolatey goodness superfood nutrition. Barlean's has a commitment to staying ahead of the innovation curve in providing the absolute highest quality product.

A Chocolate Gift Pack from our silver sponsor Forte Chocolates. You'll receive 12 of their most popular chocolate bars. With Forte Chocolates, you can celebrate life through chocolate. They also have a line of chocolate developed specifically to use in savory recipes.
A Chocolate Gift Pack from our silver sponsor Divine Chocolate. You'll receive one of each of their baking bars, a white chocolate bar, and their top 5 everyday bars. Divine Chocolate is the only Fairtrade chocolate company in the world that is owned by cocoa farmers. Their baking bars are also a delicious vegan option.
A Selection of Sprinkles from our silver sponsor Sprinkle Pop. Sprinkle Pop's bespoke sprinkle creations are one of a kind, just like you! At Sprinkle Pop, you can also order a custom sprinkle mix; there isn't a sprinkle mix that you can dream up that they can't create.
Divine Chocolate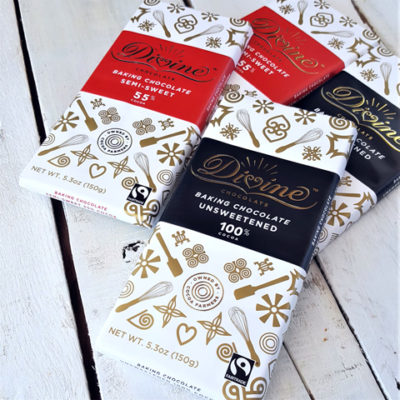 Not only do the folks at Divine Chocolate make fabulously delicious chocolate, they do it with a conscience. They are Fairtrade certified and the company is co-owned by the farmers that grow the chocolate. And they are non-GMO. And their baking bars are 100% vegan.
And did I mention the chocolate is delicious too?
I was lucky enough to get to try the 100% Unsweetened Baking Bar which worked perfectly for this recipe. With no sugar in the bar, I got to control the amount in the marinade, which was only a small touch in this case.
I will be placing an order with them soon so I can get ready for my holiday baking. Visit their site for recipes and to order some for yourself.
You can follow them on social media ~ Facebook ~ Twitter ~ Instagram ~ Pinterest. And be sure to check out the hashtag #MakeSomethingDivine on social media for more recipes with their baking bars.
[click_to_tweet tweet="This spicy chocolate marinated grilled tri tip will delight the whole family. #chocolatemarinade #savorychocolaterecipe #grilledtritip" quote="This spicy chocolate marinated grilled tri tip will delight the whole family. " theme="style2"]
Spicy Chocolate Marinated Grilled Tri Tip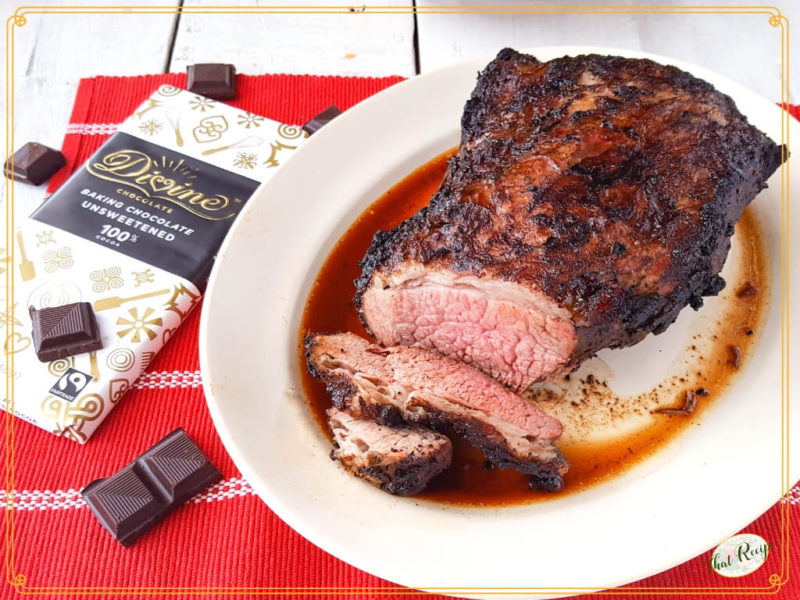 Ingredients
3

pound

tri tip roast

2

ounces

unsweetened baking chocolate

(melted)

¼

cup

soy sauce

2

tablespoon

chipotle pepper in adobo

4

cloves

garlic

(chopped)

1 ½

teaspoon

dried oregano

¼

teaspoon

pepper

1

lime

(juiced)
Instructions
Put roast in a zip to lock bag. Combine remaining ingredients and add to the bag. Seal and marinate in the refrigerator for 1 hour, turning after 30 minutes.

Sear the tri tip for 5-7 minutes a side.

Turn the heat to medium and cook for 25-30 minutes, turning a few times, until internal temperature reaches 140 degrees Fahrenheit.

Remove from heat, cover with a tent of aluminum foil and allow to rest for 10 minute

Cut roast in half where the meat grain changes direction. Slice each half thinly.
Notes
To bake in an oven instead of grilling:
preheat oven to 350 degrees
in a large ovenproof skillet, heat a few tablespoons of olive oil
sear both sides of the tri tip, about 3-4 minutes a side
roast in the oven about 10 minutes a pound until instant read thermometer reads 140 degrees