We know the worth of water.
BENJAMIN FRANKLIN, (1706-1790), Poor Richard's Almanac, 1746
I admit it. I take water for granted. I turn on the tap and safe clean water comes out. I wash my body, my clothes, my dishes. I drink it, I cook with it. I flush my toilet and the water and waste goes away. I pay the bill and don't think twice about it. I take it so much for granted that I don't even list it as an ingredient in most of the recipes on the site. Yes, we are truly blessed to have easy access to safe water.
But, the reality is water is necessarily for life.  Last week we drove through the California Central Valley and countless farms had billboards along the freeway protesting the political decisions that were effecting the amount of water the famers had available. I don't know all the facts, so I am not taking sides, just emphasizing that even here in the United States, decisions about water supply are critical.
In other parts of the world, it is even more vital and the wars are not just of words. This article in AlJazeera details the looming political implications of water shortages throughout the world. Those that control the water can control lives. Scary thought.
I could go on about water bourne diseases and other depressing thoughts, but I am sure you get the picture. So, we know it is a problem and "someone" needs to do something about it. One organization is doing something immediate and direct. Waves for Water isn't waiting for the politicians to have their debates and eventually get help to the people. They are providing water filters directly to groups and individuals. One such project that is being championed by cyberbuddy, Jamie Grummet, is called Waves for Awassa to benefit an area of Ethiopia that is near and dear to her heart.  They hope to raise $10,000 which should directly benefit over 20,000 people. A mere $25 can provide a filter to supply clean water to 14 people for a year. Stop and think about that for a moment.  For me that is a charitable donation that has a lot of bang for the buck.
I know there are many charities that are imploring you for your hard earned money right now. My mother taught me that you can't change the world by yourself, so pick and choose a charity or two that are important to you and devote your resources to that. As a mother the mission statement speaks to me:
We believe safe drinking water is a basic human right – that children around the world shouldn't have to play Russian Roulette every time they take a sip of water from the local stream, pond, lake or river. And we have the brilliant technology that allows pond, stream, lake and river water to be 100% safe to drink. We invite you to join us in our ongoing attempt to connect talent and resources in America with the grateful, receiving hearts of the Ethiopians we have come to know and love.
The three of us can do with a few less cheap stocking stuffers that we don't need or even really want to help out a cause as vital as this.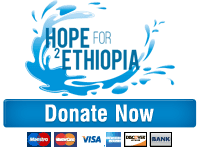 Until next time, happy eating (and safe water drinking!)
~Audrey