A college buddy recently asked on Facebook if her friends cooked dinner every night. Her husband is working some crazy hours lately and she is pretty much a single working mom on most nights.  She likes to serve healthy homemade meals to her kids, but she is getting a bit burned out. More than likely she just needed a few ideas to get her creativity going again.
I am a stay at home mom and a food blogger and I don't cook every night! Well, I guess it depends on how you define "cook". We eat at home most nights, but I do not prepare every single dish from scratch each night. I have a few tricks I use to help me get dinner on the table.
Cook once eat twice: When I make noodles or rice I usually make a double batch.  And I try to cook one or two extra chicken breasts or pork chops, a larger roast then we could eat in a meal, etc. Then a few nights later, I mix and match ingredients for a quick fried rice or chow mein. Leftover chicken or turkey (or frozen shrimp or tofu) can quickly be made in to Turkey Curry.
Or the pasta will be served with meatballs and a tomato based pasta sauce one night, and on another I will make a white sauce, stir in some cheese and the pasta and you have a quick and easy macaroni and cheese. As quick as the packaged kind and healthier. Or spaghetti can be made into Spaghetti Pie.
When I make lasagna, I intentionally make too much, then slice up the extra into individual servings and freeze it. Then I can reheat it down the road.
There are always a few extra eggs in the pot when I boil them up for breakfast. Slice them up with some left over meat and toss them into a salad for a light dinner on a hot night.
I try to keep tortillas (flour or hominy) or crepes on hand. They are simple to make,
but can be time consuming to cook them. So I make a double batch and freeze them. Then, I can pick up a rotisserie chicken from the store or use leftovers for filling. Or grate some cheese, toss in some leftover meat and some vegetables and make quesadillas, or canned beans, leftover rice and cheese for BRC burritos.
And some nights, when my fridge is full of little containers with not enough in them to feed all of us or turn into anything else we have Smorgasbord night and put everything out and everyone gets to pick and choose what they want.
Quick cooking: I have fallen in love with a few quick cooking grains lately: couscous, quinoa and brown rice. Couscous cook in 5 minutes and quinoa in about 15 (plus boiling water time).
Brown rice can actually be made in about 30 minutes and is far better than the steamed method that takes 50 minutes. The trick, from Cook's Illustrated, is boiling it like pasta instead of steaming it. Bring 3 quarts of water to a boil, add 1 ½ cups brown rice and 2 teaspoons salt and stir. Cook for 22-25 minutes, stirring occasionally. I usually taste test a few grains starting at 22 minutes, once they are thoroughly cooked, drain the rice. Every grain will be perfectly cooked, not some crunchy and some mushy like steaming.
French bread and English muffins can be quickly topped and broiled to make such things as Open Faced French Bread Hamburgers, English Muffin Pizzas and Tuna Melts.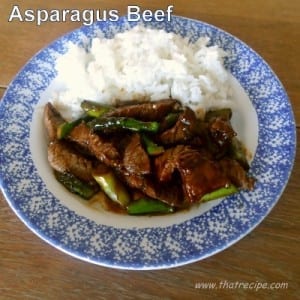 One of my favorite meals (and the folks on Pinterest too, if the number of pins is any indication) is Asparagus Beef, a simple stir fry that is best in the spring when asparagus is in season - otherwise choose another vegetable like broccoli or squash to add to it.
And if you are craving a fresh loaf of hearty whole wheat bread to go along with your meal, One Hour Whole Wheat Bread goes from ingredients to taking the loaf out of the oven in under one hour! Yes, it also works with all purpose flour. I have not tried it with gluten free flours, and I can't even hazard a guess as to whether or not it would rise properly.
Slow Cooker: We actually don't have any instructions for cooking with a crock pot / slow cooker. Which is kind of weird because Mom and I both use one regularly. Put on a pot of beans or a pot roast in the morning on low and come home to dinner. Yum! I will have to write some of them up, especially since it is finally getting to feel like Fall here and those foods always taste better to me in the Fall.
So, those were the ideas I came up with off the top of my head. But like my friend, I could always use more inspiration. Do you have any tips and tricks to share for quick weeknight meals? PLEASE SHARE!
Until next time, happy eating.
~Audrey