Jump to Recipe
Print Recipe
Apple Pecan Brown Rice Salad - a healthy brown rice salad with apples, cranberries, carrots, onions and pecans. vegan, vegetarian, gluten-free
Apple Pecan Brown Rice Salad is a healthy Fall salad loaded with whole grains and fresh produce.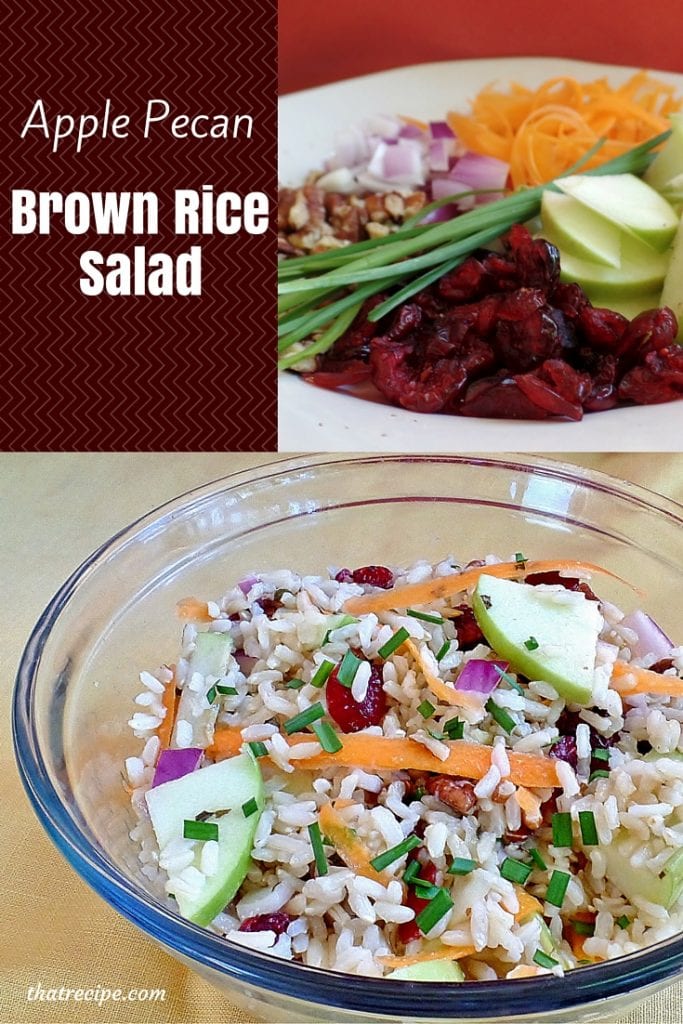 Crazy Ingredient Challenge
Today is October 20th so it is our monthly Crazy Ingredient Challenge recipe posting day. A group of bloggers choose two ingredients that may not normally be paired together, create a recipe and all post about it on the same day. This month we have Apples and Chives. Be sure to scroll to the bottom to see what the other bloggers have created.
Brown Rice Salad Tips
To cook the rice I used a trick I picked up from Cook's Country (or was it America's Test Kitchen? or Cook's Illustrated?). Boil it like pasta instead of steaming it. It cooks in half the time and it cooks evenly. Have you ever steamed brown rice and had some of it mushy and some crunchy? Blech! Because each grain of rice is surrounded with boiling water all of them cook at the same speed.
The next trick is to splash the rice with vinegar or lemon juice while it is still warm. The rice absorbs the flavor as it cools which is perfect for a rice salad. If you have already cooked your rice, no worries, just be sure to let the salad sit with the dressing on it to absorb the flavors for at least an hour if not longer. I do not like gobs of dressing on my salad preferring it as an accent to the salad ingredients. If you do like more dressing, just keep the ratio of oil to vinegar about 50/50 and make more.
I had part of the salad within 30 minutes of making it and it was fabulous. The rest, I let sit overnight and had for lunch the next day. It was even better! I also threw in some leftover chopped chicken for a bit more protein. You could go with tofu or other vegan alternative, if desired. Or just leave it as a nice side dish.
Apple Pecan Brown Rice Salad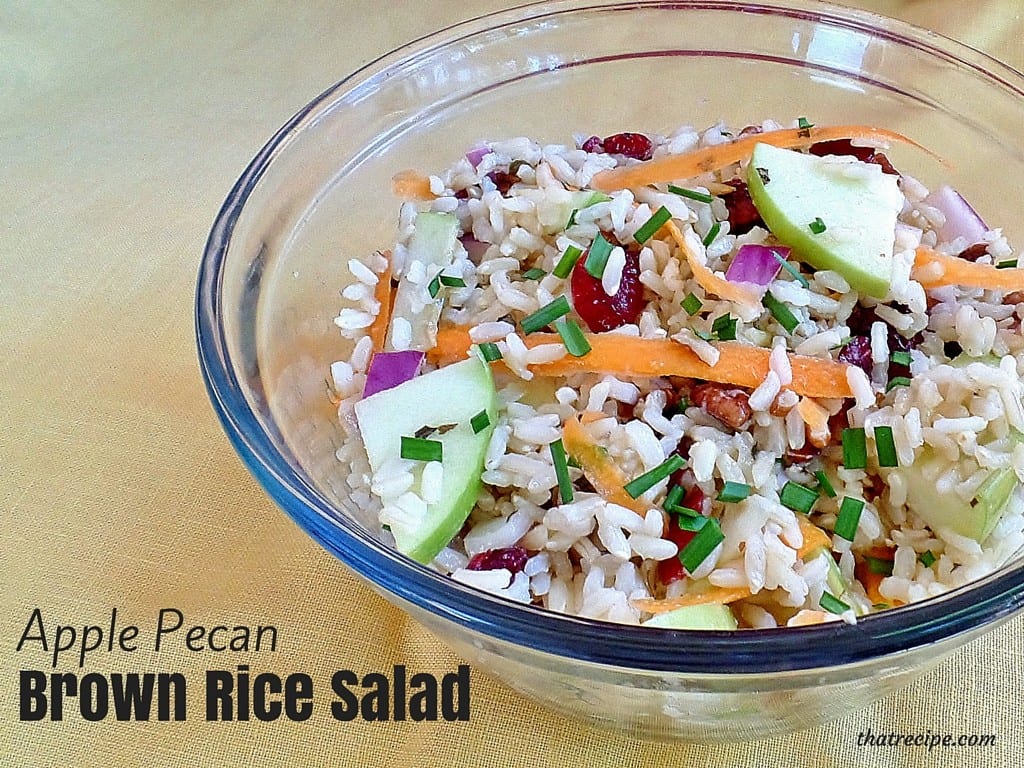 Ingredients
2

cups

brown rice

(uncooked)

2

tablespoons

apple cider vinegar

(or lemon juice)

1

apple

(sliced into thin chunks)

½

cup

dried cranberries

⅓

cup

pecans

(chopped)

⅓

cup

red onion

(chopped)

1

carrot

(grated or cut into matchsticks)

¼

cup

olive oil

¼

cup

apple cider vinegar

(or lemon juice)

2

tablespoons

fresh chives

(chopped)

salt and pepper to taste
Instructions
In a large sauce pan add rice and cover with water at least an inch above the rice level. Bring to a boil, stir, cover and continue to boil for 25 minutes (like you would cook pasta). Add additional water if level gets too low. Test a few grains of rice for doneness, boil for an additional few minutes if needed.

Drain rice. Sprinkle with 2 tablespoons apple cider vinegar (or lemon juice) immediately and stir rice. Cool rice completely in the refrigerator.

While rice is cooking, chop fruit, nuts and vegetables as needed.

In a small jar (like a baby food jar) add oil, remaining ¼ cup vinegar and chives. Shake to combine.

Combine cooled rice, salad ingredients and dressing and stir thoroughly. Put salad in the fridge for at least 30 minutes for flavors to blend.
Until next time, happy eating.
~Audrey
Save