This Asian Chicken Salad is a healthy and delectable salad that can be easily be adjusted to different diets and tastes. From Paleo, Raw to low carb to vegan with a few ingredient swaps.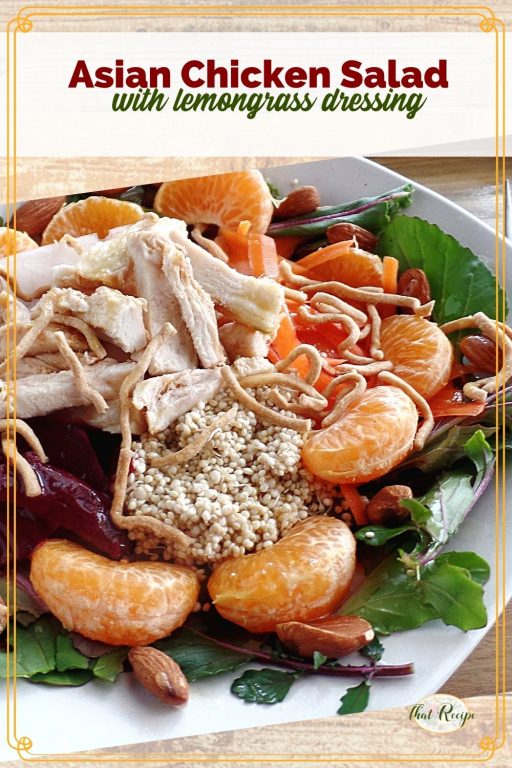 And it is salad , so it is quick and easy to make. Well, with the exception of the Sprouted Quinoa (which is super easy, it just takes 36-48 hours).
Wow! Did we come up with an interesting challenge for ourselves this month with our Crazy Ingredient Challenge: Lemongrass and Quinoa!
To start the salad I made some Quinoa sprouts the day before. By sprouting the quinoa, you reduce the carbs and calories Seeds use up the stored carbohydrates for energy to sprout.
Making your own sprouts is so easy and much more cost effective than buying in the store! It just takes some quinoa (or lentils or beans or...), some water and a jar to put them in. A day or two later you have healthy crunchy goodness. The full instructions for the sprouts can be found here. I decided to go with a simple salad dressing of olive oil, sesame oil, lemon juice, honey and lemongrass. Shake shake shake = salad dressing.
When it was time to make my salad I grabbed together my ingredients: the sprouted quinoa, carrot, beet, daikon, homegrown arugula, tangerine, almonds and some sliced leftover chicken (omit for vegan or substitute salmon or other fish if desired) and the Lemongrass Salad Dressing.
Then I spied the crunchy chow mein noodles in the cupboard and threw a small handful on top. I know, I know, zero health value, processed food, loads of sodium, white flour and other scary ingredients. But, they were tasty. Go for some sesame seeds or nothing if you want.
Oh my, was that a fabulous lunch!
Homemade Lemongrass Dressing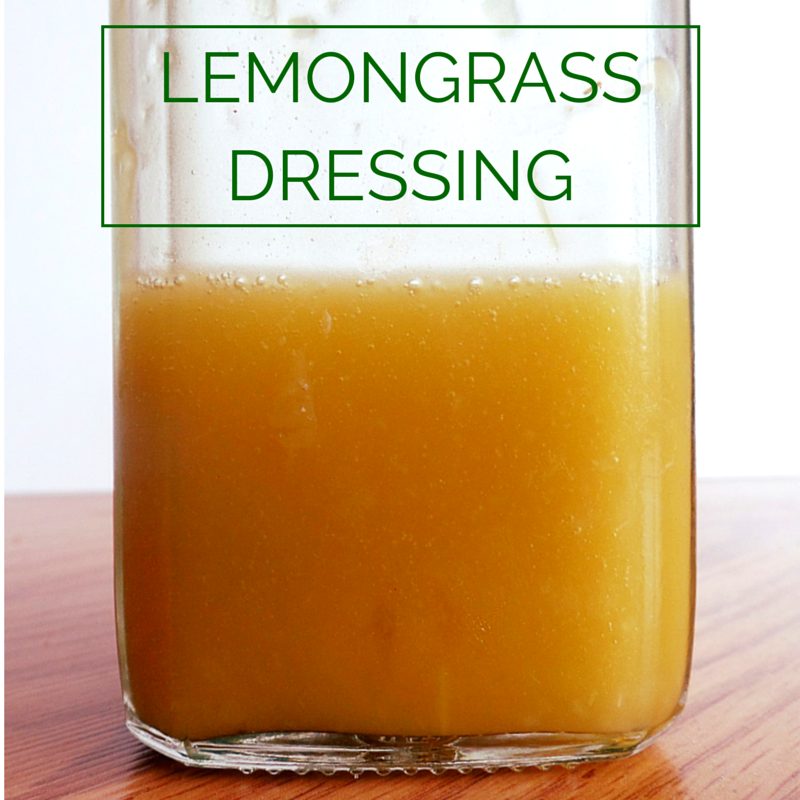 Ingredients
½

cup

olive oil

2

tablespoons

toasted sesame oil

½

cup

lemon juice

1

tablespoon

lemongrass

(crushed)

1

tablespoon

honey
Instructions
In a jar or bottle add olive oil and a little sesame oil. Add an equal amount of lemon juice.

Add lemongrass and honey to taste. Shake until emulsified. Taste and add additional ingredients as needed.
Now it's time to go check out what the other bloggers came up with this month for our Crazy Ingredient Challenge.

Finally, if you can spare some prayers/ happy thoughts for our fearless leader, Dawn, that would be awesome. She is going through some "stuff" right now and I just want her to know I hope life smooths out soon.
Until next time, happy eating.
~Audrey