Jump to Recipe
Print Recipe
Baked Corned Beef with a brown sugar mustard glaze is a delicious way to prepare this Irish American classic.
Baked Corned Beef with a brown sugar mustard glaze is a delicious way to serve this Irish American classic.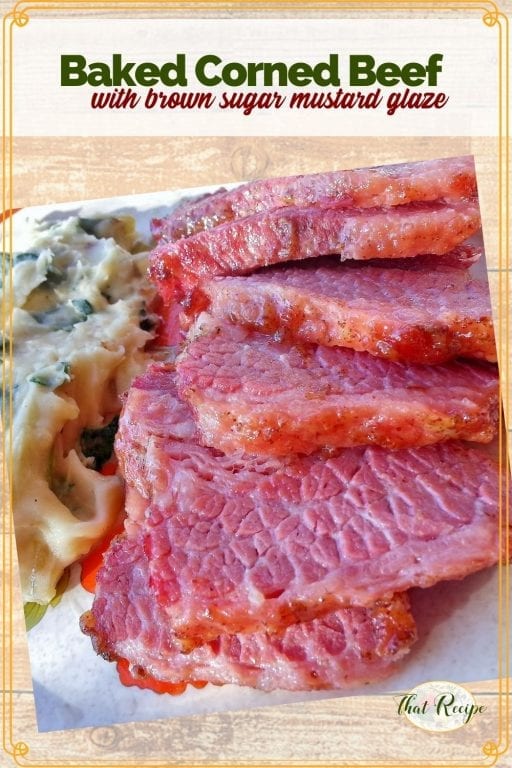 I picked up two corned beef briskets on sale at the store yesterday and decided to try the baking method for dinner last night so I could be sure to get this blog written before St Patrick's Day.
The fact that I had no room in the fridge or freezer for two briskets might have had a little to do with my decision to cook it early.
They recommended adding the spice packet to the top for extra flavor during baking. But, I opted for a spicy sweet glaze of equal parts brown sugar and brown mustard and added the extra step of browning the glaze - an extra 5 minutes, no big deal.
The results were delicious. The texture is a bit firmer than the boiling method. And the addition of the glaze to the top added an extra level of flavor I really enjoyed. Sir Snubs A Lot enjoyed it too, having three helpings!
What to Serve with Baked Corned Beef
If you want to bake potatoes and carrots along with the brisket, add them around (on top of) the foil the last hour of cooking.
I went with a little something different here too and made Colcannon, mashed potatoes with kale and leeks.
I know St. Patrick's Day is on a Monday this year so it might not fit into your schedule to bake a brisket for 3+ hours. But, you can always make it on Sunday or pick up an extra one and try this recipe later.
Baked Corned Beef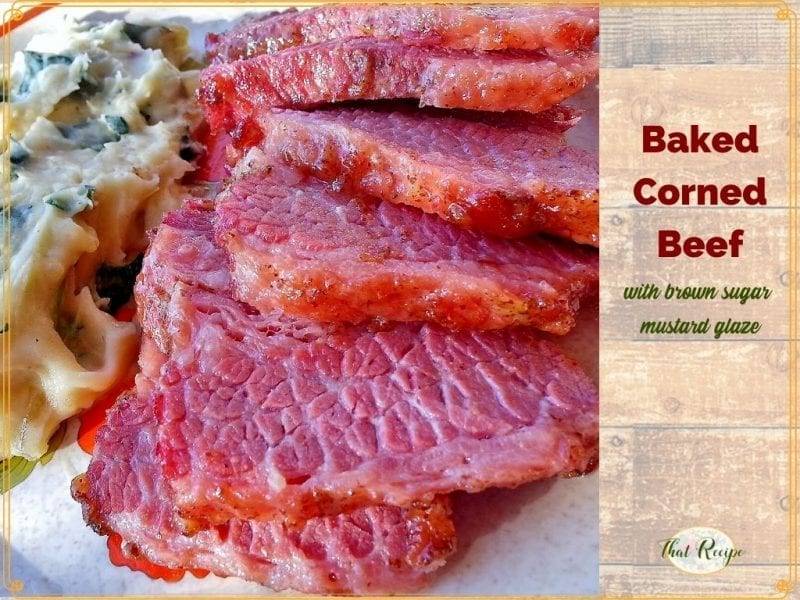 Ingredients
3-5

lpounds

corned beef

¼

cup

spicy brown mustard

¼

cup

brown sugar or honey
Instructions
Preheat oven to 350°F. Place beef in roasting pan fat side up. Add approximately 1 cup of water to the bottom of the pan.

Combine mustard and brown sugar/honey. Spread half of the mixture over the top of the beef. Cover and seal roasting pan with aluminum foil.

Bake for 3 to 3 ½ hours. Remove roast and turn oven to broil. Remove foil and brush the beef with remaining glaze. Return to oven and broil for approximately 5 minutes until glaze turns golden.

Remove from oven, tent with foil and let rest 10 minutes. Slice against the grain.
Until next time, happy eating.
~Audrey