Jump to Recipe
Print Recipe
Gingerbread Cake recipe that is moist, delicious and perfectly spiced. Lovely treat for holiday season or anytime.
Whether you need a fabulous treat for Christmas time or are just looking to spice up a summer week day, this easy Homemade Gingerbread is sure to please.
It is moist and loaded with molasses and warm spices like cinnamon and ginger and bakes up in about 30 minutes. Top with powdered sugar or whipped cream, or bake into layers and frost it.
Write Down Your Family Recipes
My Goddaddy recently sent me an envelope stuffed full of treasures. Old letters written by family members and one handwritten recipe for "My Best Gingerbread".
I knew the handwriting immediately: Aunt Jeanne (his mom).
I also knew that I had to make it right away. And by sheer coincidence I had picked up a jar of molasses from the clearance rack just that morning.
After posting the picture below on Facebook, no one in the family remembered this recipe.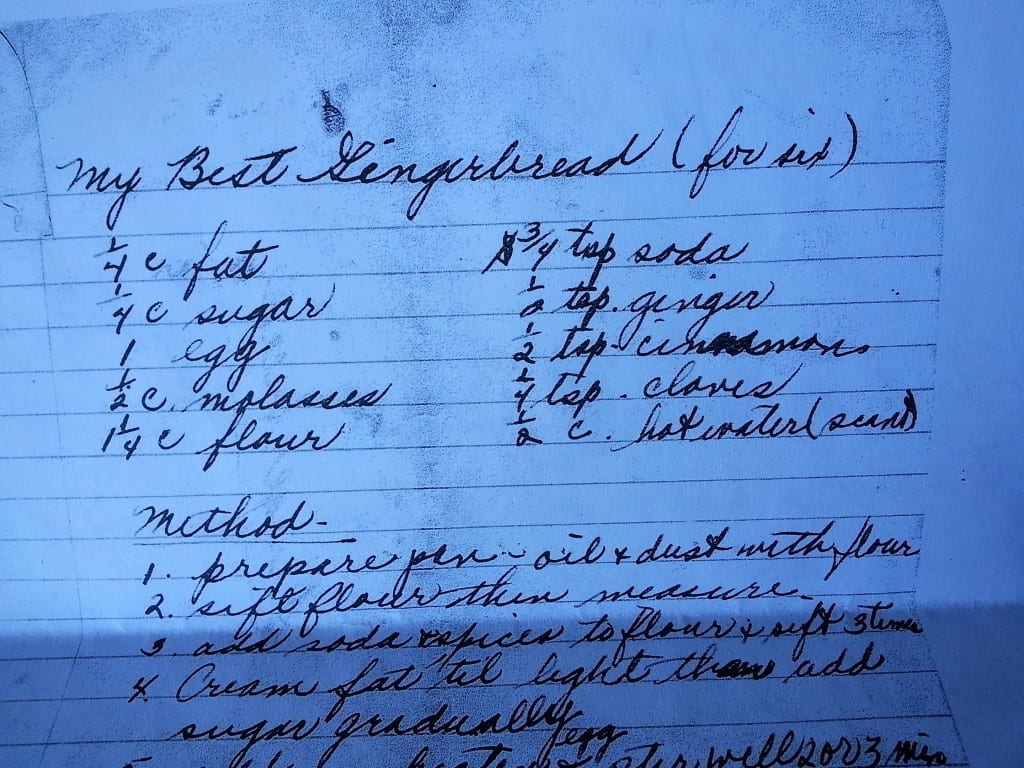 The first problem I found was there is no pan size listed. She might have copied the recipe assuming she would know what to use and not even considering one of us trying to make this years down the road.
Let that be a lesson to you - get the family recipes and verify them before it is too late!!!!!
My mom and I went back and forth on what to use. I was stumped by the fact that it baked "in a moderate oven 325 - 350 degrees F about 10-15 min."
I knew an 8 inch round would take longer, but I tried it anyway. It took longer, probably in the 20-25 minute range.
But, I thought I'd try it again in a 13 x 9 pan to see if that would be closer to the 10-15 minute mark. It took about 20 minutes, and was incredibly thin.
Conclusion, go with a 9" square or 9" round and don't try to match the time on the original recipe. An 8" pan can be used if that's what you have.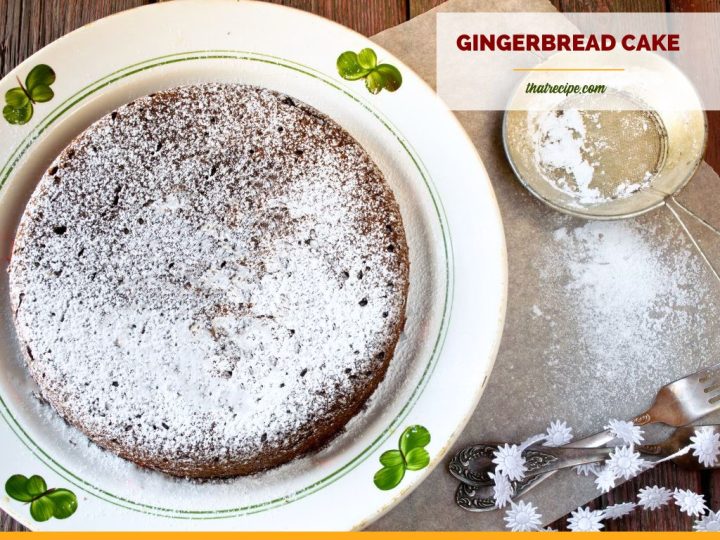 Ingredients
¼

cup

butter

¼

cup

sugar

1

large

egg

½

cup

molasses

1 ¼

cup

all purpose flour

¾

teaspoon

baking soda

½

teaspoon

ginger

½

teaspoon

cinnamon

¼

teaspoon

cloves

½

cup

hot water

(scant)

powdered sugar or whipped cream

(for serving)
Instructions
Preheat oven to 350 ℉. Oil and flour a 9" round or 9" square pan.

In a large bowl, cream butter until light then add sugar gradually until fully incorporated. Add egg and mix for 2 minutes on medium. Add molasses and mix until combined.

Sift flour and then measure in to a medium bowl. Add soda and spices. sift three more times or stir with a whisk for about 30 seconds.

Add dry ingredients to wet ingredients about a third at a time, scraping sides of bowl and fully incorporating each time. Add hot water. BATTER WILL BE THIN!

Bake for approximately 15-20 minutes, until a toothpick inserted in the center comes out clean.

Let cool on a cooling rack. To prevent sticking, cut with a serrated knife dipped in flour.
Until next time, happy eating (and write down the family recipes!)
~Audrey