This is the easiest most delicious no boil lasagna recipe I have made, and the source may surprise you. The back of the Barilla lasagna box.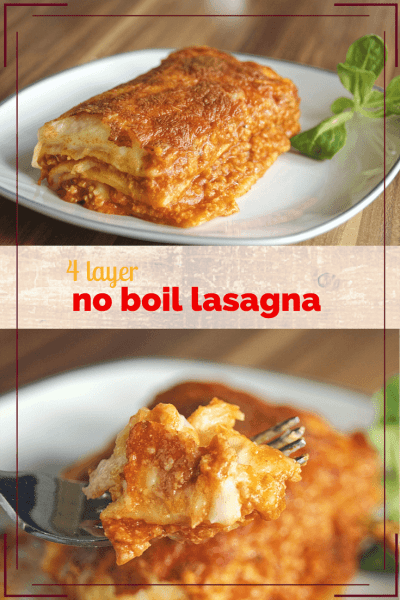 First things first, Barilla is NOT sponsoring this post. I just happen to like the recipe that used to be on the back of the box of their No Boil Lasagne. Now it is a new 5 layer recipe. I prefer this one, mostly because it fits better in my pan. Also, the new one says it bakes in only 30 minutes. I don't want to bash a recipe that I have never tried before, but I am not sure how the noodles will cook and cheese will melt in only 30 minutes.
For the meat, I use ground beef or pork or turkey (whatever is in the house) and spice it up like my husband's grandfather's Italian Sausage before browning. I usually use about 1/4 of the spices omitting the salt for a pound of meat because I like the extra flavor. If you want to go meatless, omit the meat and add a pound of well drained chopped frozen spinach Or any other green or vegetable you want. Feel free to use both meat and spinach – my husband would snub it so I don't add it.
I follow the recipe pretty closely, except for more cheese and sauce. I always seem to run out of both by the time it comes to the final layer.
[Tweet "My favorite no boil meat lasagna recipe. #recipe #lasagna"]
Barilla 4 Layer No Boil Lasagna
Print recipe
4 Layer No Boil Lasagna: the original back of the package recipe from Barilla for deep dish lasagna made with no boil pasta.
Ingredients
1lb ground beef, pork, or Italian sausage
2 eggs
15oz Ricotta cheese
4 cups mozarella cheese (grated)
1/2 cup grated Parmesan Cheese
2 jars 24-ounce pasta sauce (any flavor)
1 box 9-ounce No Boil Lasagne
Directions
Preheat oven to 375 degrees, oil or spray a 13 x 9 x 3 inch pan. If your pan is only 2″ high it may boil over, either make one less layer or place the pan on a baking sheet.
Brown meat, drain and crumble into small bits. In a small bowl beat eggs briefly then combine with ricotta, Parmesan and 2 cups mozzarella cheese.
Layer as follows
◾1 cup pasta sauce
◾4 sheets of pasta, 1/3 of ricotta mixture, half of meat, 1 cup of mozzarella, 1 cup pasta sauce
◾4 sheets of pasta, 1/3 of ricotta mixture, 1 1/2 cup of pasta sauce
◾4 sheets of pasta, remaining ricotta mixture and meat, 1 cup sauce
◾4 sheets of pasta, remaining sauce and mozzarella
Bake covered with foil until bubbly, about 50-60 minutes. Uncover and cook until cheese is melted, about 5 minutes. Let stand 15 minutes before serving.
Until next time, happy eating.
~Audrey