If you like to garden, craft and/or cook or you just like to smell nice, you might want to throw together this Lavender Rosemary Sugar Scrub for your skin. I promise it is easy, and you can use any flower or herb from your garden (or your neighbor's or the store).
I have a bunch of onions right now. Well, more than one bunch, more like 7 pounds. My neighbor went away for Spring Break and she left me some of her perishables so they wouldn't go to waste. Plus I had inadvertently bought some twice at the store forgetting the second time that I had already purchased some the previous trip. Yeah, I know, I should make a list before I go.
I put some in these nifty paper bags punched with holes I found on Pinterest:
Thanks, Monica at The Yummy Life (and your mom too)!
The rest I decided to dehydrate and make onion powder. I dug out the dehydrater, sliced the onions up and loaded them on the trays.
One tray I added some spice to so I could toss them on top of casseroles, scrambled eggs, soup, etc.
Sometime last night my dehydrator died. Ugh. I put the almost dried onions on cookie sheets in the oven and I keep preheating it to the lowest temperature, turning it off, then reheating it every 45 minutes or so. Once they are hard and brittle I will run them through the spice grinder until fine. If they are even slightly soft they don't crush into a powder.
At this point you are probably asking yourself, "what does this have to do with Lavender Rosemary Sugar Scrub?" Did I mention I was working with lots of onions? Besides having a good cry, my hands stunk! And I was out of the Lemon Olive Oil Scrub I hade made awhile ago.
So with a few simple ingredients from my kitchen and garden I whipped up a new batch, this time with Lavender and Rosemary because I couldn't decide between the two. I rubbed it all over my hands, rinsed it off, washed my palms with soap so they weren't slippery and the onion smell was gone! Replaced with heavenly fresh herbs and flowers.
You can use white or brown sugar, any oil (coconut, olive, vegetable, mineral, etc.) and any scent (essential oils, herbs, flowers, citrus peel, extracts). NOTE: if you don't want your hands smelling like olive oil, don't use it, or use a mild smelling olive oil. The original I made was with Extra Virgin Olive Oil and I found it overpowering for me.
The scrubs work great for getting the dirt off from gardening, glue and other bits when crafting, sloughing off dry skin, etc. WARNING: this has oil in it so use caution using it in the tub or shower, especially on the feet, so you don't slip. If you want to use it on your feet, I'd recommend soaking your feet in a dishtub (large bowl) of hot water, scrubbing them, resoak then dry completely with a towel just to be safe.
Sugar Scrub
Print recipe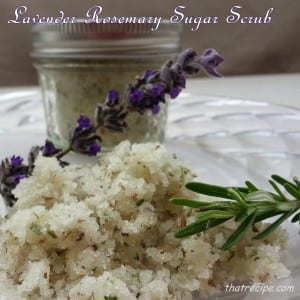 Simple instructions for making homemade sugar scrub to use to remove cooking odors, dirt, glue etc from hands and to soften hands.
Ingredients
herbs, flowers, citrus peel, extracts, essential oils
1 cup sugar (white or brown)
1/4 cup oil (coconut, mineral, vegetable, almond, or olive)
Optional
Note
Some suggestions for the additions:
brown sugar and vanilla
lemon peel and rosemary
lavender and rosemary
rose petals
vanilla and coconut
vanilla and almond
mint
Sea Salt or Epsom salt can be used in place of the sugar for a coarser scrub.
Directions
Put all ingredients in food processor and pulse until well blended. Add more sugar if it seems too oily or more oil if it is too dry.
Store in an airtight container in a cool dry place. Mine is under the sink so it is readily available.
For more great recipes, crafts and just plain awesome blogs check out these links:
Wine'd Down Wednesday (Manupua/Char Siu Bao, Skillet White Chocolate Chip Cookie)
Pinterest Foodie Link-Up (Spring Butterfly Cupcakes, Crockpot Granola Bars)
Lovely Ladies Linky (Skinny Cheesecake Brownie Bites, Quinoa Mexican Stuffed Peppers)
Fabulously Frugal Link Up (Honey Garlic Crunch Chicken Tenders, Chocolate Banana Split Cupcakes)
Foodtastic Friday (Japanese Melon Bread, Orange Chili Salmon)
Until next time, happy cooking/crafting/gardening
~Audrey