Jump to Recipe
Print Recipe
Ham Hocks and Black Eyed Peas are a New Year's Day tradition in the Southern US. Easy pressure cooker instructions.
Ham Hocks and Black Eyed Peas with Cornbread are a Southern tradition on New Year's Day.
My brother and I were told (as Ma'am and her brothers were told and probably generations before were told) that you will earn a dollar in the coming year for every black eyed pea you eat on New Year's Day. I keep trying but, so far my piggy bank isn't busting. Ha ha!
Traditional Stove Top Method:
Ma'am and I were discussing the different ways to make this yesterday, because my family likes to talk about food and cooking. As she states in her original recipe, she prefers to use ham shanks when she can find them because they have more meat than the hocks.
The stove top method takes 4-5 hours or more if you make the stock and chill it to remove the fat.
Slow Cooker
I usually use the ham bone leftover from my Christmas dinner and throw all of the ingredients below in the slow cooker and let it cook for 6-8 hours on low.
Pressure Cooker
The pressure cooker method takes about 1 to 1 ½ hours total. Most of that is bringing the stock to pressure initially twice and waiting for the pressure to release naturally.
You could throw all of the ingredients in at once, like the slow cooker method, but I like the extra flavor from the longer cooking of the stock.
No matter how you cook the beans, traditionally this should be served with cornbread baked in a cast iron skillet.
Ham Hocks and Black Eyed Peas – in Pressure Cooker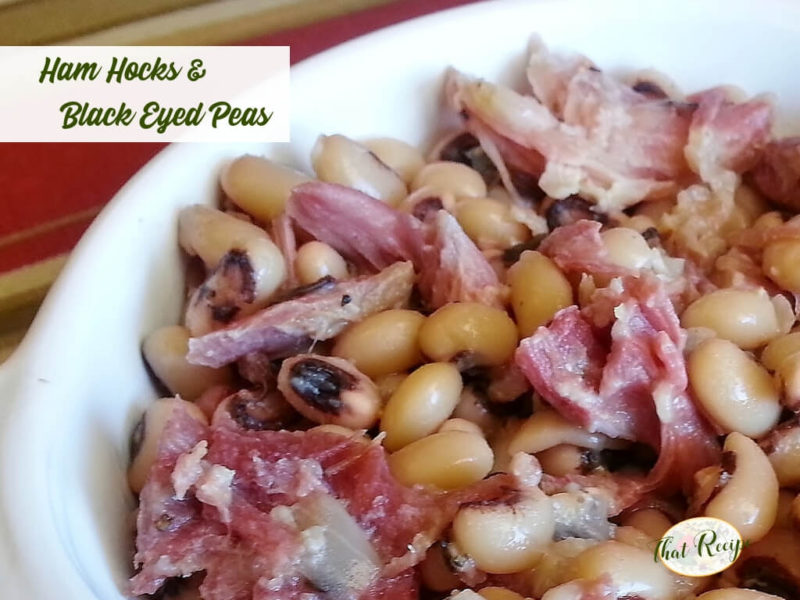 Ingredients
1

pound

dry black eyed peas

(frozen or canned may also be used)

1

Medium chopped onions

(save the peel!)

2

bay leaves

4-4 ½

pound

ham hocks

(shanks or ham bone with some meat still on it may also be used)

6

cups

water

3

large

garlic cloves

1

cup

chopped green pepper

(optional)

1

cup

chopped celery

(optional)
Instructions
Soak dried black eyed peas overnight per package directions (or follow package directions for quick soak). Drain and rinse.
The no soak method: you can cook dry beans in the pressure cooker if you want to skip the soaking stage. Read the important note in step 6.


If using canned, drain and rinse.

If using frozen, leave on counter to come to room temperature or step 4 will take longer to come to pressure.

Put ham bones, onion peel and bay leaves in a pressure cooker with 6 cups of water. Cook on high pressure for 20 minutes and let steam release naturally (20-30 minutes).

With a slotted spoon, remove ham bones, leaves and peel from liquid. Discard leaves and peel. Set bones aside to cool.

Add remaining ingredients to pressure cooker. Bring back to high pressure and cook for 10 minutes. Do a quick release of the steam. If beans are not as soft as you'd like, add some more water and finishing cooking on high heat.

NO SOAK METHOD: If you did not presoak the dried beans, turn the cooker off and wait another 10 minutes before releasing the remaining pressure.


Remove meat from bones and chop, add to beans and serve with cornbread.
Notes
NOTE! Pressure cooking times are not exact. Variations can be expected because of altitude, type of pressure cooker used, starting temperature of ingredients, etc. 
Know someone that would love this? Share it!
Until next time, happy eating!
~Audrey