Jump to Recipe
Print Recipe
Ham Hocks and Black Eyed Peas with three different methods of preparation: stove top, slow cooker (crock pot) or pressure cooker (Instant Pot).
Ham Hocks and Black Eyed Peas are a Southern tradition on New Year's Day to bring good fortune in the new year.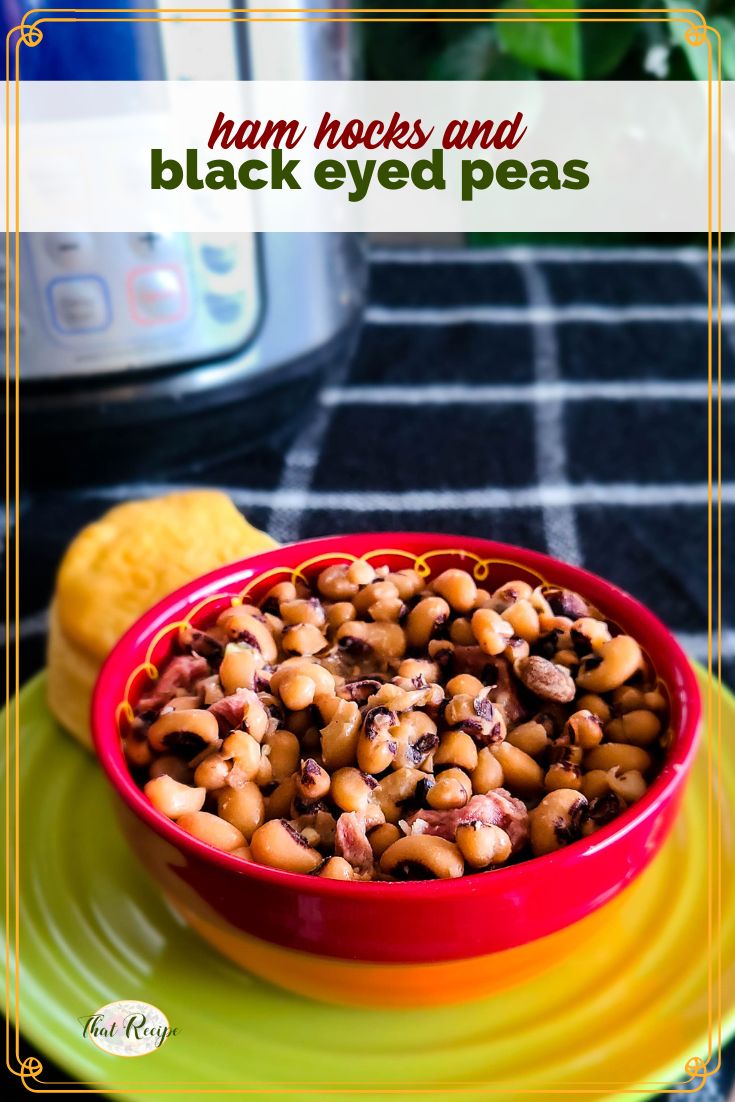 My mother told my brother and I that we will earn a dollar in the coming year for every black eyed pea you eat on New Year's Day. That's what her mom told her and her brothers and Grandma was probably told the same thing.
I keep trying but, so far my piggy bank isn't busting. Ha ha!
Black Eyed Peas are traditionally served with Cast Iron Skillet Cornbread and maybe some Greens on the side. To make it into Hoppin' John, serve it on a bed of white rice.
Methods for Preparing Ham Hocks and Black Eyed Peas
My mother liked to use ham shanks instead of ham hocks because they have more meat on them. The hock is right above the foot, while the shank is closer to the shoulder. However, shanks are sometimes hard to find. I use my leftover Christmas ham bone so I don't have to buy anything else.
My mom's original recipe called for making ham stock separately then chilling and removing the fat. I think this step is unnecessary, but mention it here in her memory since she was the original creator of That Recipe. If you wish to do so, combine the ham hocks, water and bay leaves and cook in either a stock pot on the stove (cook at least 2 hours) or in a pressure cooker (20 minutes at high pressure with a quick release).
Traditional Stove Top Method:
The stove top method takes 2 ½ - 3 hours. Put everything in a big pot on the stove and cook until done.
Slow Cooker
Put everything in the slow cooker and let it cook for 6-8 hours on low, 3-4 hours on high.
Pressure Cooker
The pressure cooker method takes about 1 hour. And, you do not need to presoak the beans unlike the other methods.
Other Tips for Preparing Ham Hocks and Black Eyed Peas
You can use frozen or canned beans if you prefer. For the canned beans, drain first and rinse. Cooking times will probably be shorter.
Cook them until they are as tender as you like. Some people like them a little firm others want them almost falling apart. Both are correct.
Black eyed peas, like most beans, can be served with a little bit of sauce or almost soup like, or anywhere in between. All are correct.
If beans are too soupy or on the dry side, do not panic! You are not a terrible cook, the recipe isn't wrong and, most importantly, they are not ruined (unless you scorched them on the bottom).
To fix soupy beans: enjoy them as a soup, dipping some cornbread in is delicious, or drain out some of the liquid off or just serve the beans with a slotted spoon.
To fix dry beans: add a cup of water and stir it in, adding more water if needed.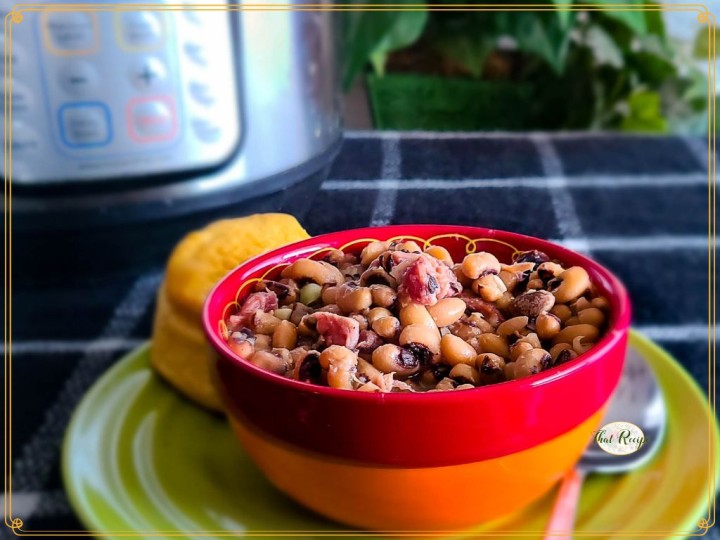 Ingredients
1

pound

dry black eyed peas

4-4 ½

pounds

ham hocks

(shanks or ham bone with some meat still on it may also be used)

6-8

cups

water

(depends on method)

1

medium

chopped onions

3

large

garlic cloves

2

bay leaves

1

cup

chopped green bell pepper

(optional)

1

cup

chopped celery

(optional)
Instructions
Soak dried black eyed peas overnight per package directions (or follow package directions for quick soak). Drain and rinse.

The no soak method: you can cook dry beans in the pressure cooker if you want to skip the soaking stage. Read the important note in step 6. 

STOVE TOP:

In a large stock pot add all ingredients using 8 cups of water. Bring to boil and reduce to simmer. Stir about every ½ hour. Cook until black-eyed peas are tender, about 2 ½ to 3 hours. Add additional water if needed.

SLOW COOKER:

In a 5-6 quart slow cooker, add all ingredients using 8 cups of water. Cook on low for 6-8 hours, high for 3-4 hours.

PRESSURE COOKER:

Add all ingredients using 6 cups of water and soaked or unsoaked beans to a pressure cooker. Bring to high pressure and cook for 10 minutes.

If you did not presoak the dried beans, turn the cooker off and wait another 10 minutes before releasing the remaining pressure. 

For presoaked beans: do a quick release of the steam.

If beans are not as soft as you'd like, add some more water if needed and finishing cooking on high heat (called sauté mode in most electric pressure cookers). Or you can reseal and cook another 2-3 minutes on high pressure doing a quick release.

ALL COOKING METHODS:

Remove and discard bay leaves.

Remove meat from bones and chop, add to beans and serve with cornbread.
Notes
NOTE! Cooking times are estimate. Variations can be expected because of altitude, type and size of cookers used, starting temperature of ingredients, etc. 
Know someone that would love this? Share it!
Until next time, happy eating!
~Audrey