Jump to Recipe
Print Recipe
This recipe is from the 1970's. I have copied it here almost as it is written on the photo copy I received with a couple of edits to remove obvious name-brand references as well as to correct a few blatant grammatical errors.
"From the famous Chasen's Restaurant in Hollywood's filmland comes this recipe for what has been regarded as the finest Chili every to simmer in a bubbling pot. It's so highly regarded that many of the restaurant's regular patron from the film colony often have it delivered to their homes. Elizabeth Taylor and Richard Burton were so fond of it they had gallons dispatched to Rome when they were over there making "Cleopatra"...."
This hearty Chasen's Chili recipe supposedly came from the famous Chasen's Restaurant in Hollywood, CA.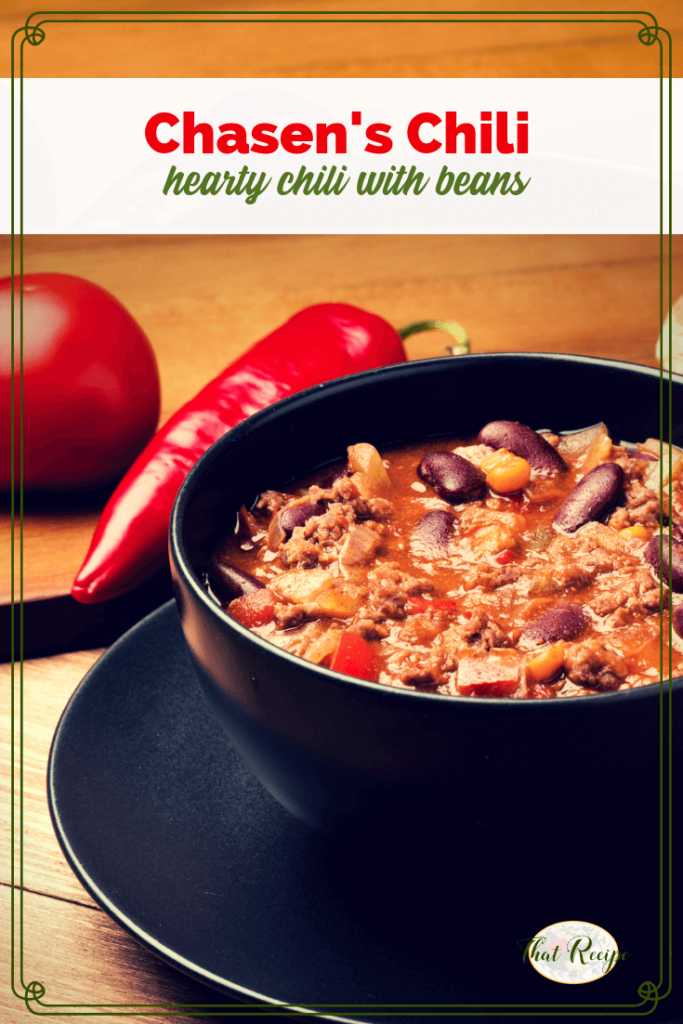 Back in the 1970's my mother got a copy of this recipe. The recipe claimed that it was the same one that Elizabeth Taylor and Richard Burton had flown to them on the set of Cleopatra.
I am sure it is just an urban legend, but it is mighty delicious.
Through the years Mom and I both made modifications to make it healthier and easier using modern appliances (slow cooker or pressure cooker) without losing any of the taste.
No matter how we make it, we always serve this with Cast Iron Skillet Cornbread.
The "Original" Chasen's Chili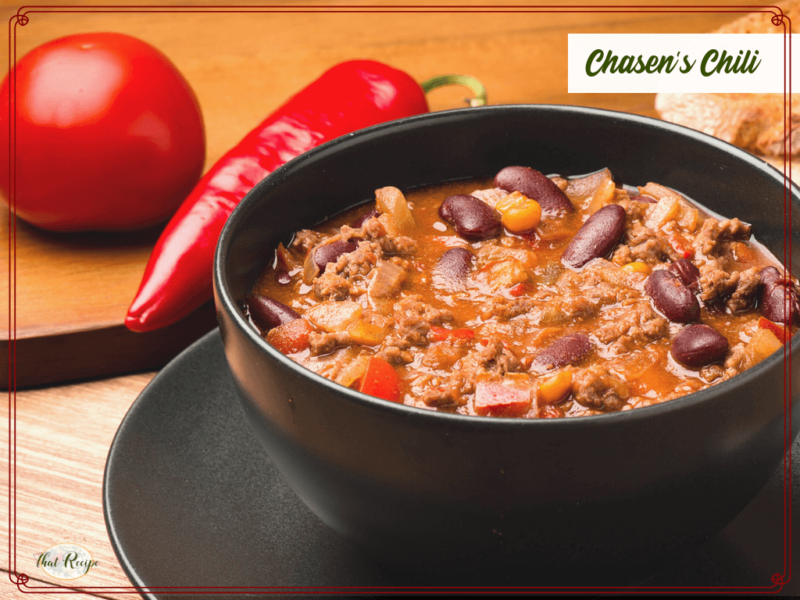 Ingredients
½

pound

pinto beans

5

cups

canned tomatoes

1

pound

green bell pepper

(chopped)

1 ½

tablespoon

salad oil

1 ½

pound

onions

(chopped)

2

cloves

garlic

(crushed)

½

cup

parsley

(chopped)

½

cup

butter

1 ½

pound

beef chuck

(course or chili grind)

1 ½

pound

lean ground pork

⅓

cup

chili powder

2

tablespoons

salt

1 ½

teaspoon

pepper

1 ½

teaspoon

ground cumin seed
Instructions
Wash beans and soak covered in water overnight.

Simmer beans covered in water until tender. Add tomatoes and simmer 5 minutes. Sauté green pepper in salad oil 5 minutes. Add onion; cook until tender, stirring often.

Add garlic, parsley. Melt butter and sauté meat for 15 minutes. Add meat to onion mixture, stir in chili powder and cook 15 minutes. Add this to beans and add spices. Simmer covered for 1 hour. Cook uncovered 30 minutes. Skim fat from top.
Until next time, happy eating
~Audrey