Jump to Recipe
Print Recipe
Mild meaty chili with beans is a healthier version of Chasen's Chili, a Holywood favorite of the 1970's.
This Chili with Beans recipe is an updated version of Chasen's Restaurants chili made healthier and using modern conveniences.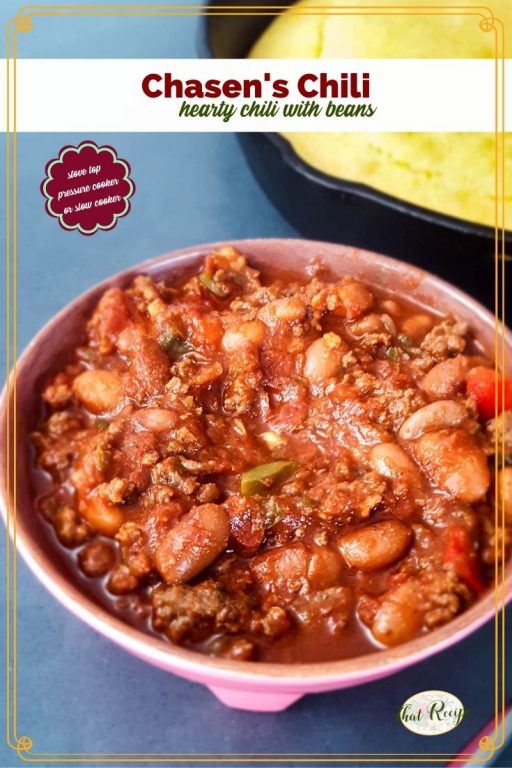 Way back in the 1970's Mom got a photocopy of a chili recipe allegedly from Chasen's Restaurant in Hollywood. According to the recipe, it was so beloved by Hollywood stars Elizabeth Taylor had it flown to the set while filming Cleopatra.
While the recipe and the story are probably nothing more than an urban legend, both of us used this as our go to chili recipe... with modifications.
The original recipe uses a 6:1 ratio of meat to beans and adds butter, then skims the fat at the end. Mine is more like a 3:1 or 2:1 ratio and I always skip the butter because you don't taste it. More often than not, I cook it in the slow cooker or pressure cooker instead of the stove top. Yeah for modern conveniences!
I keep the chili mild like the original since my guys do not like spicy. But, I add some hot sauce to mine when I want to kick it up.
Virtual Chili Cook Off
One of my blogging buddies, Ashley from Cheese Curd in Paradise, is hosting a Virtual Chili Cook Off today so I thought it was time I wrote down how I actually make this wonderful chili with beans, including all three cooking methods for you to choose your favorite.
And you lucky folks get not just one chili recipe but a bunch to choose from:
Welcome to our #ChiliCookOff!
We have delicious recipes from across the country to get your chili making to the next level of delicious!

Healthier Chasen's Chili
Ingredients
½

pound

pinto beans

1

tablespoon

olive oil

1

pound

bell pepper (any color), chopped

1 ½

pound

onions, chopped

3-4

cloves

garlic, crushed

1

pound

beef chuck, coarse or chili grind

1

pound

lean ground pork

½

cup

fresh parsley, chopped

⅓

cup

chili powder

1 ½

teaspoon

pepper

1 ½

teaspoon

ground cumin seed

1

teaspoon

kosher salt

5

cups

chopped canned tomatoes
Instructions
All methods: Wash beans and soak covered in water overnight. DrainSpeedy Soak Method Stove Top or Crock Pot: Put beans in a large stock pot and cover with water 1 inch above the beans. Bring to a boil and cook 1 minute. Turn off heat, cover and let soak 1 hour. Drain.Speedy Soak Method Pressure Cooker: Put beans in the pressure cooker and cover with water 1 inch above the beans. Cook on high pressure for 5 minutes, rest for 10 minutes then manually release remaining pressure. Drain.

Stove Top: In a stock pot, sauté green pepper, onion and garlic over medium heat in olive oil until the onion is translucent and the peppers have softened. Add beef and pork and cook until brown, about 10 minutes. Add parsley and spices and cook another minute.Slow Cooker: use a skillet or sauce pan and cook as above.Pressure Cooker: prepare as above directly in the pressure cooker using the Sauté feature for electric models.

Stove Top: Add beans and tomatoes to the stock pot. Simmer covered for 1 hour. Cook uncovered 30 minutes.Slow Cooker: Add cooked meat and vegetables, beans and tomatoes to the crock of a 5-6 quart slow cooker. Cook on low for 5-6 hours or high 3-4 hours.Pressure Cooker: Add beans and tomatoes to the pot and seal. Cook on high pressure for 20 minutes with a natural release.