Jump to Recipe
Print Recipe
Ready for something a little different? These Red Hot Cinnamon Pickles are spiced with cinnamon imperials candies for a spicy sweet treat.
At first glance, these Cinnamon Red Hot Pickles made with cinnamon imperial candies might sound odd, especially to those outside of the American South and MidWest. But, pickles are nothing more than vegetables soaked in vinegar, sugar and spices. Change up the vinegar, change up the spices and you have different flavored pickles from dill pickles to bread and butter pickles to cinnamon pickles.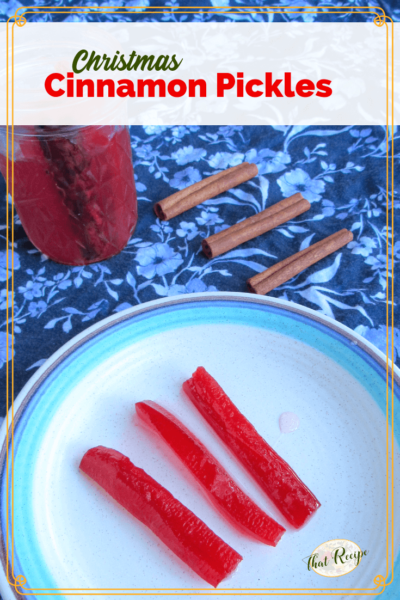 This recipe comes courtesy of Michael and Melanie, my kid brother and sister-in-law. I am not going to lie, these look like a lot of work at first glance. FIVE DAYS! to make them.
But, I promise, pickles are easy to make. It really isn't much more than boiling water/vinegar/spices. These just need more boiling and draining than the kinds I usually make.
Luckily, I just sent them some Spiced Pickled Beets, Giardiniera, Lavender Orange Marmalade and Spicy Pomegranate Cranberry Jam for their birthdays. So, I am hoping for at least one jar of these and some of their Homemade Pepper Sauce this year. HINT HINT 😉
Two ingredients that may be odd to you are alum and pickling lime.
Alum - find it in the spice aisle. Get a small container because you probably won't use it for much else. Though it can be used as a canker sore remedy.
Pickling lime - find it in the canning section with the jars and lids and other goodies or order online. This is going to make the pickles crisp.
Warnings! Only buy food grade pickling lime and be sure to rinse and soak and rinse to get all of the lime out before proceeding with the pickles.
Simplified canning chemistry lesson:
pickling lime is an alkaline
vinegar is an acid
botulism bacteria cannot live in an acidic environment
alkaline + acid = neutral pH = happy bacteria = possible food poisoning
Be sure to soak and rinse the cucumbers to get all the lime out, okay?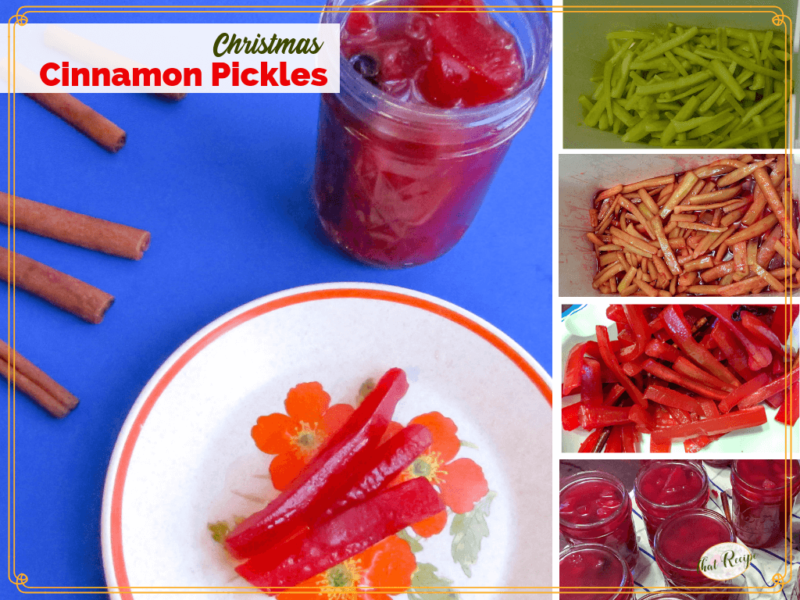 Ingredients
5-10

pounds

cucumbers

½

cup

pickling lime

2

cups

white vinegar

1

tablespoon

alum
Pickling syrup
2

cups

white vinegar

2

cups

water

2

pounds

cinnamon imperials candies

(e.g. Red Hots)

5

cups

white sugar

cinnamon sticks and whole cloves for jars

(optional)
Instructions
Day One
Peel and deseed cucumbers. Cut in ½" thick sticks or half moons.


Soak cucumbers in an ice bath with a mixture of 1 gallon water to half cup pickling lime mixture for 18 to 24 hours. Drain.

Day Two
Soak cucumbers in cold water for 4 to 6 hours. Rinse and drain. This step is imperative for food safety (see note).

Drain. In a large pot combine 2 cups vinegar, 1 tablespoon alum and cucumbers. Cover with water

Simmer for 2 hours. Do not let boil. Stirring gently occasionally, trying not to break.

Combine syrup ingredients in a medium large pot. Bring to a simmer over medium heat, stirring constantly, until candies are dissolved.

Drain cucumbers. Put in a non-aluminum container (stoneware, glass, stainless steel) Cover with hot syrup. Cover. Let stand at room temperature for 24 hours.
Day Three
Drain cucumbers, reserving the syrup.


Reheat syrup to a slow boil. Cover cucumbers in hot syrup. Cover and let stand at room temperature for another 24 hours.
Day Four
Drain cucumbers, reserving the syrup.

Reheat syrup to a slow boil. Cover cucumbers in hot syrup. Cover and let stand at room temperature for another 24 hours.
Day Five
Drain syrup one last time and save.

Pack sterilized jars with pickles.

Bring syrup back to a boil. Ladle into jars to cover pickles and fill to the ¼" line.

Add a cinnamon stick and whole cloves to each jar if desired.

Process in a boiling water canner for 15 minutes.
Notes
Pickling Lime helps ensure crispness of the pickles. Use only store bought food grade pickling lime and be sure to rinse thoroughly, multiple times. The alkaline lime will counterbalance the acidic pickling brine and botulism can occur.