Jump to Recipe
Print Recipe
Dark Chocolate Nut Clusters are lightly sweetened vegan candies that make a delightful way to treat yourself and your family.
This Healthy Dark Chocolate Nut Clusters recipe is sponsored by Barlean's. The recipe and all opinions expressed in this post are mine.
These Dark Chocolate Nut Clusters are an easy, no cook, vegan, low sugar, "hide from the kids in the vegetable drawer" type of treat.
Or am I the only mom that hides chocolate from her kids? Well, these are actually good for them too. If you want to share.
Ingredients for Dark Chocolate Nut Clusters
For the chocolate, I used a combination of cocoa powder, coconut oil and liquid sweetener whipped up in the blender. No cooking needed.
The drawback is coconut oil starts liquifying above 70 degrees, so these are best kept in the fridge.
The alternative is to use some dark chocolate candy melts (my favorite brand) and melt in the microwave or in a pan on the stove. Or you could temper dark chocolate, which I always find tricky.
For the liquid sweetener I used honey. Maple syrup or agave syrup are my go to substitutes. Or you could use sugar or your favorite sugar replacement.
For the nuts, go nuts! I used pecans and almonds. You could use any nut or combination you prefer.
Barlean's Coconut Oil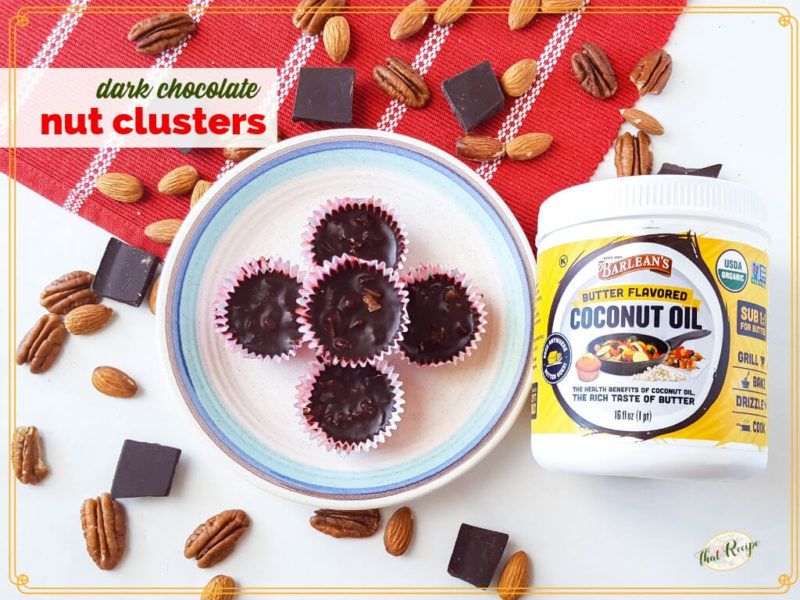 Is it possible to have delicious butter taste with a vegan lifestyle? Yes! Thanks to the secret ingredient from one of our favorite sponsors: Barlean's.
Sponsor or not, their Butter Flavored Coconut Oil is amazing. It is the only coconut oil I use and I put it in loads of things from cooking with it in recipes like Chocolate Granola and Lemon Bundt Cake to drizzling it on popcorn.
Barlean's has all kinds of products to help you lead a healthier life and they are committed to making the world a better place too through their community outreach program. Get more information about the company and their products on their website. And be sure to follow them on Social Media for more great tips:
Facebook ~ Twitter ~ Pinterest ~ YouTube ~ Instagram
Dark Chocolate Nut Clusters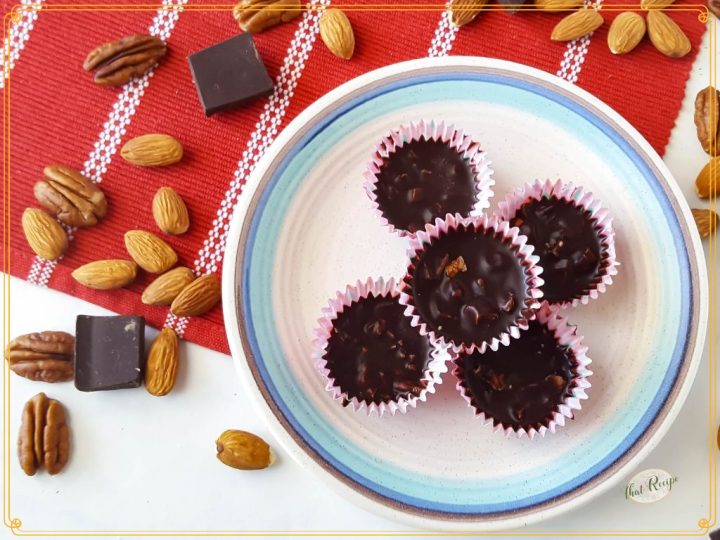 Ingredients
½

cup

coconut oil

(I used Barlean's Butter flavor)

½

cup

honey, agave or maple syrup

(or other liquid sugar replacement)

½

cup

cocoa powder

½

teaspoon

vanilla

½

cup

nuts (halves, quarters or large pieces)

(pecans, walnuts, almonds, etc.)
Instructions
In a blender combine coconut oil, honey, cocoa powder and vanilla until smooth.

Pour into a bowl and fold in nuts.

Line mini muffin tin with liners. Add a spoonful of chocolate mixture to each one.

Refrigerate until set, about 2 hours. It is best to store these in the fridge until ready to eat.