Mexican Hot Chocolate is easy to make and makes a wonderful low sugar way to warm up on a chilly day.
Mexican Hot Chocolate differs from it's American cousin by using almost no sugar and including spices like cinnamon, cloves and cayenne pepper.
Yes, cayenne pepper. It adds a nice spicy little kick to the rich chocolatey drink.
Mexican Hot Chocolate Ingredients
The ingredients for this drink are fairly basic pantry staples, though the combination may seem unusual to the uninitiated:
Milk - dairy or non-dairy, whole milk will be creamier obviously.
Dark chocolate - you can use semi sweet or milk chocolate if you want it sweeter.
Spices - cinnamon, cloves, and cayenne pepper.
Add sweetener to the drink if you feel it needs it, but traditionally it is served without any sugar except that in the chocolate itself.
Directions for Mexican Hot Chocolate
Start by simmering the spices and milk to infuse it with the aromatic flavors.
The chocolate is then melted in the warmed milk along with a pinch of cayenne.
Finally, the mixture is frothed either with an immersion blender or a standard blender.
Mexican Hot Chocolate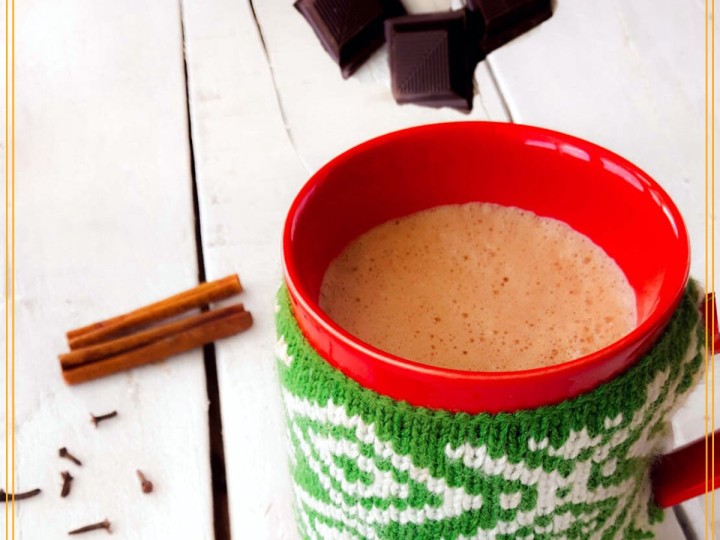 Ingredients
4

cups

milk

1

stick

cinnamon

2

whole

cloves

4

ounces

dark chocolate

1

pinch

cayenne pepper

(to taste)

ground cinnamon

(for decoration)
Instructions
In a small saucepan, slowly heat milk, cinnamon and cloves over medium heat until just below the boiling point.

Remove from the heat. Remove the spices and stir in the chocolate until melted.

Pour into a blender and whip until frothy. Serve immediately with a sprinkle of cinnamon.
More Chocolate Drink Recipes