Pan Seared Fish Fillets with a simple lemon wine sauce is a simple healthy weeknight fast dinner.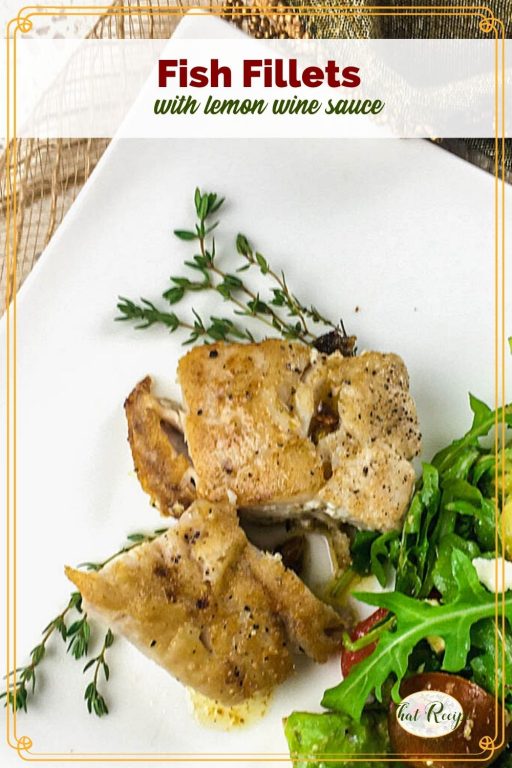 Fish can be a simple thing to prepare yet many of us get intimidated by it. I am sure price has something to do with it. No one wants to ruin an expensive meal. But good fish only needs minimal preparation to become a great meal.
What type of fish should you buy?
This recipe works well with just about any boneless fillet. While the images show Atlantic tilefish you can use grouper, snapper or other white fish. You could even use salmon or other
There are concerns about both pollution and sustainable practices when it comes to fish. I am not the fish police so I am not going to tell you what to buy and not to buy. You can ask at the fish counter for recommendations or check Seafood Watch if you are concerned.
Cast Iron Cooking
I am a huge fan of cast iron cooking. Even heating, and a natural nonstick coating that doesn't scrape off into my food. And it is a handy weapon if I need it for the zombie apocalypse.
I have two cast iron skillets that live on my stove. Seriously, I just clean them and put them back on the stove because I use them at least once a day. One is a 6.5" sauté pan I use for eggs or a small batch of vegetables and the other is a 10" skillet.
More Lemon Week Recipes
Here are some more delicious lemon recipes from some of my favorite bloggers.
Thursday #LemonWeek Recipes
Pan Seared Fish Fillets

Ingredients

1

pound

fish fillets

(or larger fish cut into 4 pieces)

1

tablespoon

extra virgin olive oil

¼

cup

dry white wine

3

tablespoons

butter

2

tablespoons

fresh lemon juice

1

teaspoon

lemon zest

4-6

fresh thyme sprigs

salt and pepper to taste

Instructions

Heat olive oil in a large cast iron skillet over medium-high heat, swirl to coat the bottom of the skillet.

Add the fish and cook until it releases easily from the bottom of the skillet, about 4-5 minutes.

Flip the fillets and turn the heat down to medium.. Cook for another 4-5 minutes, or until the fish is cooked through and flakes easily with a fork. Transfer to a platter and set aside.

Add the white wine to the pan and gently scrape the bottom with a wooden spoon to release the browned bits. Add the butter, lemon juice, zest, and thyme sprigs. Season with salt and black pepper, to taste.

Cook for 1-2 minutes, or until heated through. Remove from heat and discard the thyme stems.

Return the fish to the skillet for 1 minute then place on serving platter or individual plates with the remaining lemon wine sauce poured over the top.

Sound fabulous? Share it!

Until next time, happy eating!
~Audrey