Jump to Recipe
Print Recipe
Green Tomato Chow Chow is a southern relish recipe made with green tomatoes, cabbage, peppers and onions.
Green Tomato Chow Chow is a fabulous relish that uses up those green tomatoes that haven't ripened at the end of the season.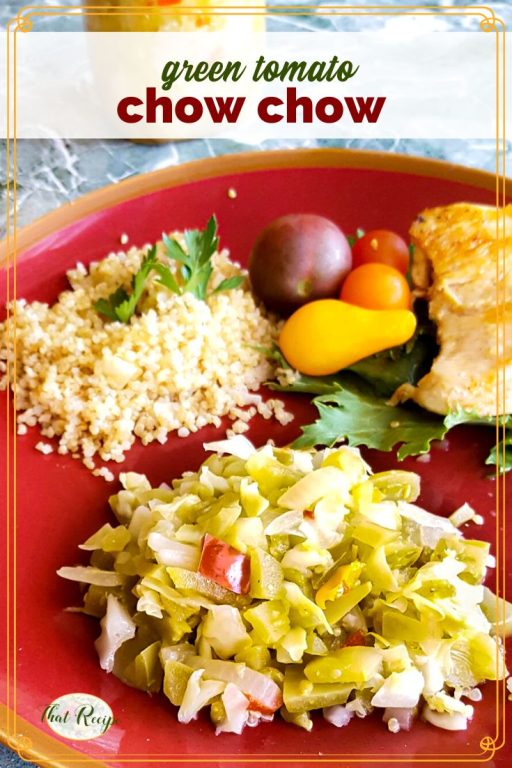 I am not a fan of fried green tomatoes. Great book, good movie, but the actual dish is not one of my favorites.
And if you have pounds of green tomatoes you need other ideas to use them up.
This recipe is courtesy of my Great Aunt Wanda. Mom pared down her the original recipe that called for 10 pounds of tomatoes. I'm sure Aunt Wanda would can this to share with family and friends and eat throughout the winter.
If you have more than 1 pound of tomatoes, increase the recipe and can them in pint or quart jars. If you've never canned before read these water bath canning instructions from Ball.
How to ripen green tomatoes
If you grow tomatoes, you will probably have some tomatoes that will not have time to ripen before the weather cools.
You could just toss them in the compost pile, but here are a few tried and true methods for getting them to ripen:
keep them on the vine and hang them upside down in a warm dark place inside to ripen (like a closet or kitchen cabinet).
put them in a paper bag with a ripe banana or apple to ripen
if they have a little color, and you have a window that gets plenty of light, spread them out on the sill.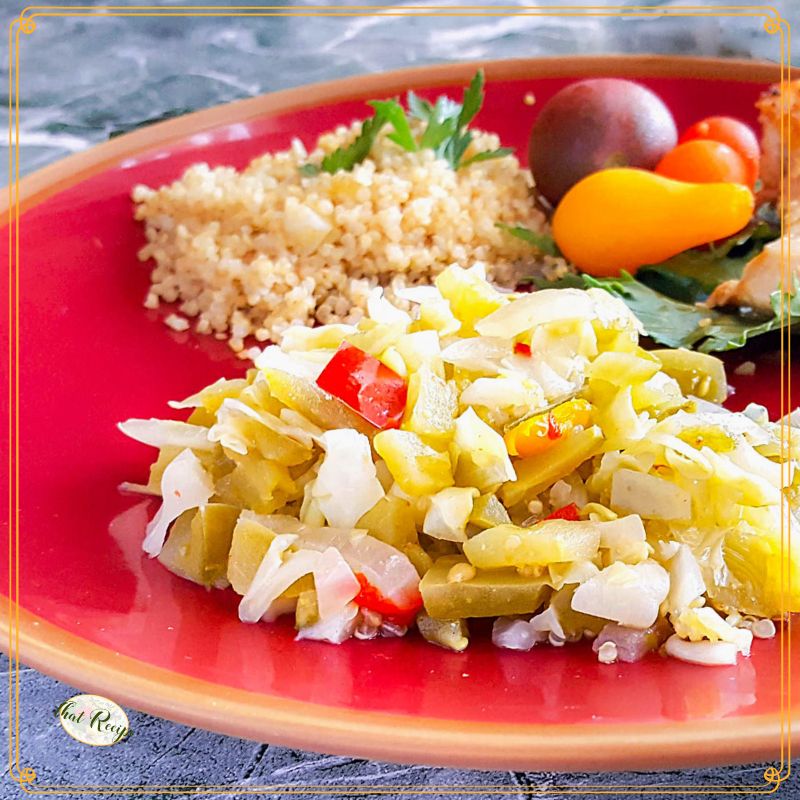 Ingredients
1

pound

green tomatoes

1

pound

green cabbage

1

medium

green bell pepper

½

medium

red pepper

½

small

onion

1 ½

tablespoon

sugar

1

teaspoon

salt

(optional)

½

teaspoon

ground mustard

¾

cups

water

1 ½

tablespoon

distilled white or cider vinegar

dash

black pepper
Instructions
Coarsely chop tomatoes, cabbage, peppers and onion. Mix and divide in half.

Process first half with pulse button in food processor and reserve.

Finely chop second half of mixture and mix with processed portion in large pot.

Add remaining ingredients and mix well. Bring to a boil and reduce heat to simmer.

Cook uncovered until most of the liquid is absorbed, about 45 minutes, stirring occasionally. Correct seasoning to taste.

Ladle into 1 quart glass jar and store in refrigerator or process in a water bath canner. 
Notes
Makes 1 quart. The recipe can easily be doubled, tripled etc. (The original recipe was 10x larger).
More Green Tomato Recipes