Green Tomato Bread is a delicious use for those tomatoes that fall off the vine or are still green at the end of the growing season.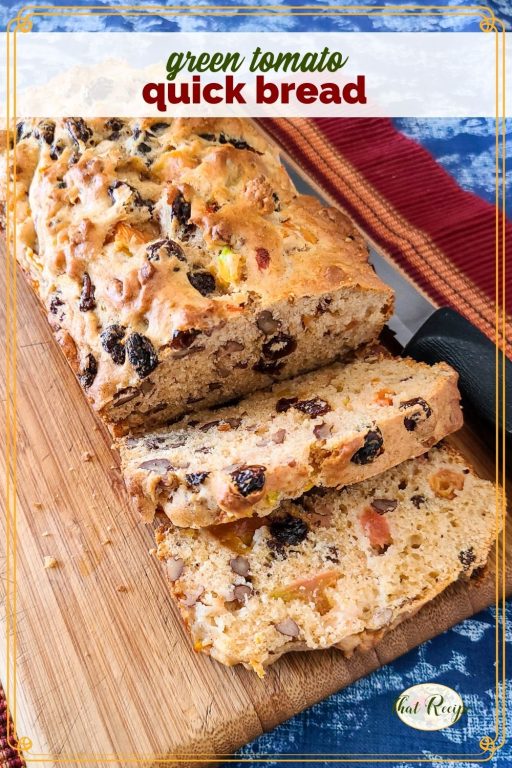 Say what now?! Green Tomatoes... in BREAD?! Yes, it is similar in taste and texture to a zucchini bread and is a healthier alternative to Fried Green Tomatoes, which I do not particularly care for.
I had a tomato vine break from the weight of the fruit. Since I didn't have all of the ingredients for Green Tomato Chow Chow, I opted to make a healthier version of a recipe in The Beverly Lewis Amish Cookbook that calls for a half cup of oil and sugar per loaf of bread. Eek!
I reduced both the oil and sugar plus swapped in some whole wheat flour. It was moist and lightly sweet.
More sugar would have made it too sweet.
What kind of tomatoes to use for Green Tomato Bread?
The key to this recipe is to use unripe tomatoes. Not tomatillos or green zebras that are green when ripe. Well, you can use those, if they are not yet ripe.
As you can see from the photos, I used a few tomatoes that were beginning to turn color, but they were still very firm and had very little juices.
Ripe tomatoes will be too soft and will make the bread mushy.
You can use cherry, grape Roma, beefsteak, etc. any tomato you have as long as they are still hard.
Go pick a few of your un-ripened tomatoes, or save this recipe for use at the end of the season. I think you will be pleasantly surprised with this delightful bread.
Lighter Green Tomato Bread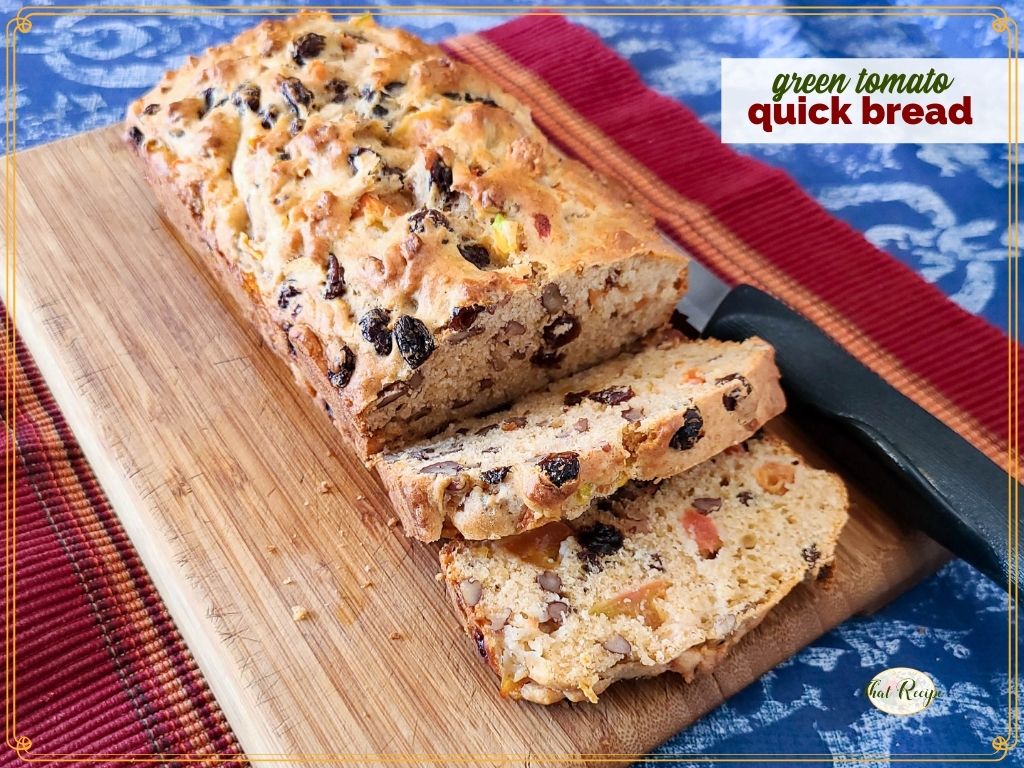 Ingredients
¼

cup

vegetable or canola oil

¼

cup

low or non fat yogurt

1

egg

⅓

cup

sugar

(or honey)

½

teaspoon

vanilla

1

cup

green tomatoes

(diced into small chunks)

1

cup

all purpose flour

½

cup

whole wheat flour

(or use all-purpose flour)

½

teaspoon

baking powder

¼

teaspoon

baking soda

½

cup

nuts

(chopped)

½

cup

raisins

(optional)
Instructions
Preheat oven to 350°F. Grease a loaf pan.

In a large bowl combine oil, yogurt, eggs, sugar (or honey), vanilla and tomatoes.

Add flour, baking powder and baking soda and mix until all ingredients are wet. Stir in nuts and raisins. Pour into prepared loaf pan.

Bake for approximately 40-45 minutes until toothpick inserted in the center comes out clean.
Until next time, happy eating.
~Audrey