Jump to Recipe
Print Recipe
Easy old fashioned tomato preserves is a delightfully easy jam to make. A great way to use up those end of the summer tomatoes.
Easy old fashioned tomato preserves is a simple homemade jam with tomatoes, lemons and sugar. Kick it up with a little ginger or cinnamon.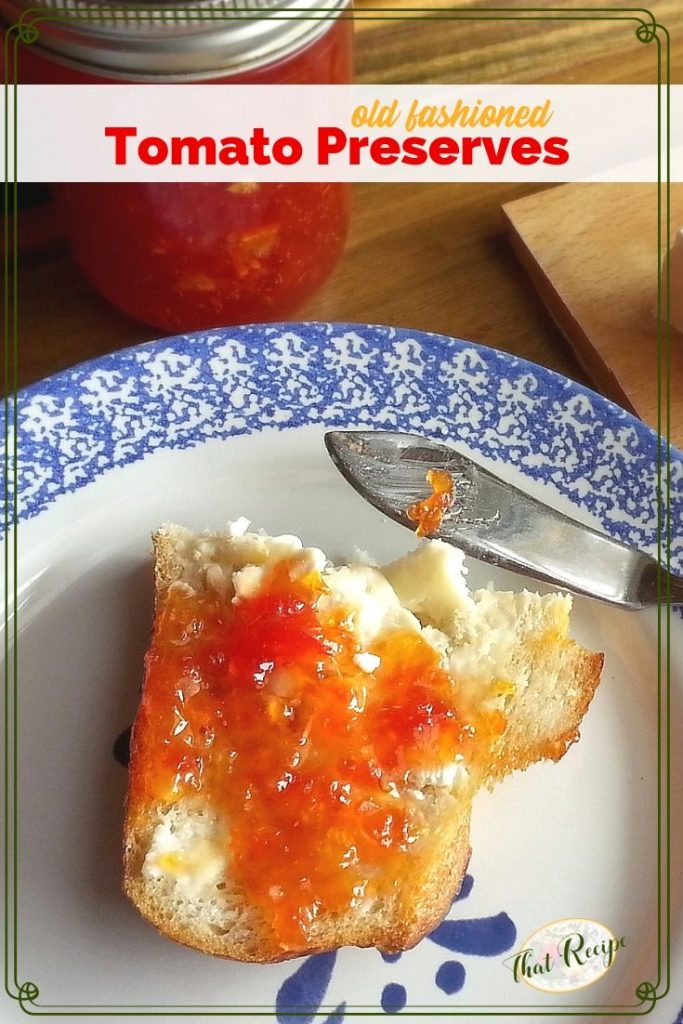 Do you have too many tomatoes and are running out of things to make? Salsa, Caprese Salad, spaghetti sauce, Pasta alla Vodka with Fresh Tomatoes are all great, but ...
Or has the weather started to turn cold where you are and you are worried you will have unripened tomatoes? Fried Green Tomatoes, Green Tomato Chow Chow or even Green Tomato Bread are all possibilities.
But, I just made a recipe that you probably never thought of trying before: Tomato Preserves.
That's right, a sweet jam made with tomato instead of berries, stone fruit or just about any other fruit you would normally associate with jam.
What kind of tomatoes to use for Tomato Preserves
I used ripe Roma tomatoes that were on sale at the store. But here's the great thing, you can use any tomatoes. Green, yellow, red. Heirloom, beefsteak, early girl, etc. I would stay away from cherry or grape tomatoes because who wants to stand around and blanch the peel off of a pound of those. Not me, thank you very much.
If I may make a recommendation: make these preserves, get some good sourdough bread (or make your own) smear it with some Brie and add a little Tomato Preserves. Maybe a nice glass of wine. Then sit back with some nice soft music and just savor the fabulous flavors.
How to Blanch Tomatoes
Never blanched tomatoes before? Check out our video. I use peaches in the video, but it is the same technique.
Tomato Preserves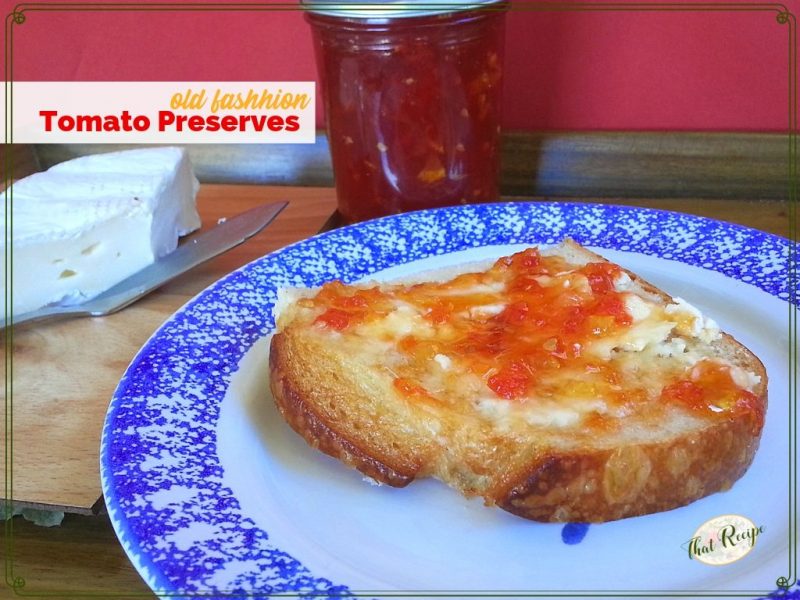 Ingredients
1

pound

tomatoes

1

pound

sugar

(approximate quantity)

1

small

lemon

½

inch

piece of fresh ginger or 4 inch cinnamon stick
Instructions
Slice an x in the top of each tomato. Place in a pot of boiling water until skin begins to peel off. Immediately place in a bowl of ice water. Slough off skin and remove stem button.

Weigh tomatoes and place in a non reactive bowl (plastic or glass). Gently squeeze tomatoes by hand or with a wooden spoon to release juice. Add an equal weight of sugar. Let stand for 12 hours.

When ready to cook, place two metal teaspoons in the freezer.

Drain juice into a large sauce pan. Boil until the syrup thickens and falls of a spoon in heavy drops. Approximately 20 minutes.

Rough chop the tomatoes and add to the thickened syrup. Grate the lemon zest and add to the syrup. Cut lemon in half and squeeze juice into the syrup. Add the ginger or cinnamon.

Boil mixture until thick for 20-30 minutes, stirring occasionally.

To test for doneness, remove one spoon from the freezer. With the spoon you used to stir the preserves remove a small amount of jam and pour into the frozen spoon.

Tilt the frozen spoon over the pot, if the preserves pour off in large thick drops it is done. If it pours off quickly, boil for another few minutes and retest with the other frozen spoon.

Remove ginger or cinnamon. Put preserves in sterilized jars and boil in a water bath canner for 20 minutes.
Until next time, happy eating.
~Audrey