These Honey Spiced Peaches are an easy way to preserve your summer peach harvest.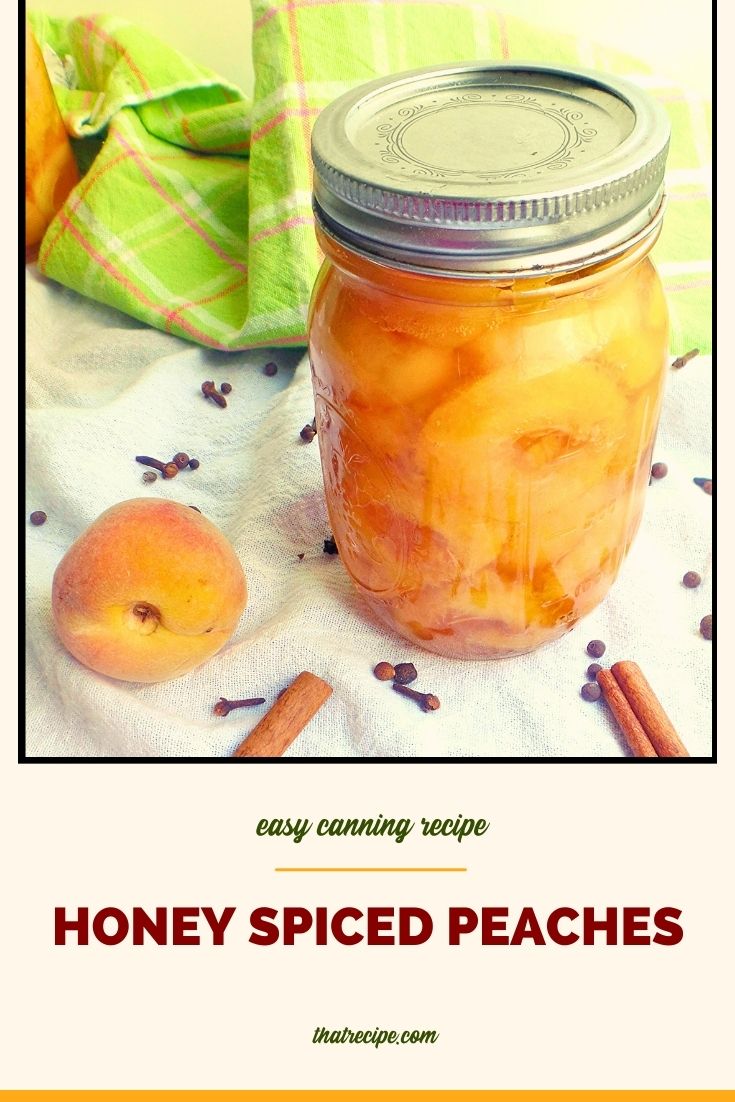 I had some peaches from the CSA and a neighbor also gifted me some from their tree. I didn't feel like standing over a hot stove to make jam or cobbler today.
So, I decided to can them to use later. The recipe is another winner from my guide to all things canning: The Ball Blue Book Guide to Preserving
. (affiliate link!)
It is really simple, but the taste of the honey and warm spices adds something magical to the peaches.
How to Blanch Peaches (or Tomatoes)
Peeling peaches or tomatoes or other thin skinned fruit can be tricky if you don't know the trick.
Here's a quick video showing you how I do it:
Water Bath Canning Instructions
If you have never tried canning before, water bath canning a high acid fruit like peaches is a great way to start. I could type out the directions, but it is easier to send you to the people that taught me: the experts at Ball/Kerr.
If you don't want to can them for shelf stable storage you can keep them in the fridge for a few weeks instead.
Honey Spiced Peaches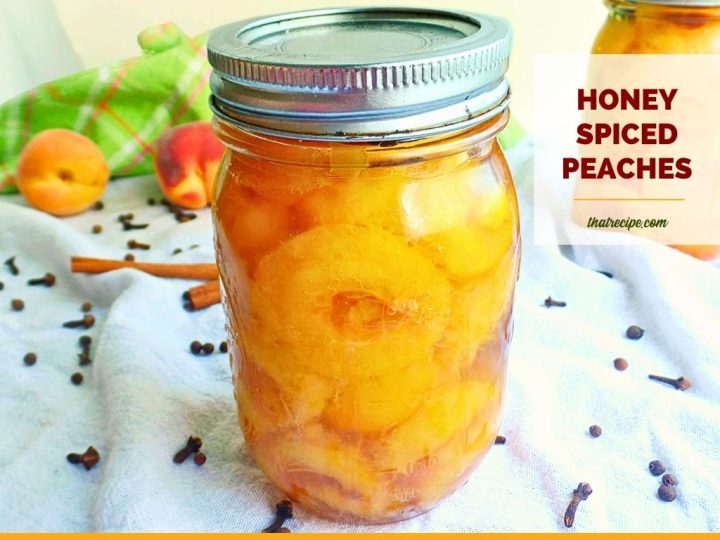 Ingredients
4

pounds

peaches

2

cups

water

1

cup

honey

½

cup

sugar

3

sticks cinnamon

¾

teaspoons

whole allspice

¾

teaspoons

whole cloves

3

pints

canning jars with lids

(sterilized)
Instructions
Blanch peaches to remove peel. Slice in half and remove pit.

In a medium saucepan, combine water, honey and sugar. Cook over medium heat until the sugar dissolves.

GENTLY add peaches and stir until coated in syrup. Cook until peaches are heated, about 3 minutes.

Pack hot peaches into hot jars, leaving ½ inch head space.

Add a cinnamon stick, ¼ teaspoon cloves and ¼ teaspoon allspice to each jar. Remove air bubbles from jar, add extra syrup if needed.

Adjust two piece cap. Process in a boiling water canner for 20 minutes
Notes
These look best with freestone peaches. Cling peaches taste equally delicious, but are a bit harder to pit cleanly.
Sound fabulous? Share the love with your friends and family!
Until next time, happy eating.
~Audrey