Jump to Recipe
Print Recipe
Fruity and refreshing Citrus Peach Red Wine Spritzer is a delicious way to celebrate summer. Just four simple ingredients, including juicy fresh peaches.
Citrus Peach Red Wine Spritzer is a refreshing fruity summer cocktail with just four simple ingredients.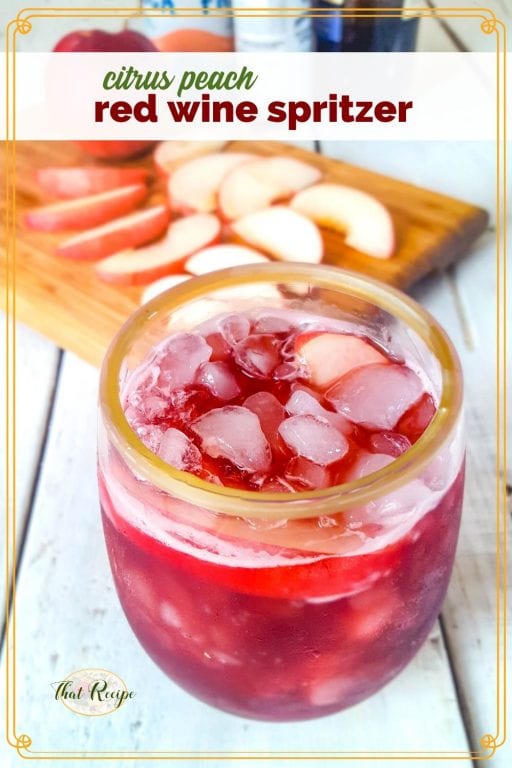 There are only four ingredients in this drink besides crushed ice:
- red wine (I chose a local cabernet sauvignon)
- orange bitters (look in the liquor department of your grocery store)
- fresh peach slices (or frozen to replace some of the ice)
- peach or citrus soda or flavored sparkling water
What kind of wine to use for a red wine spritzer?
What kind of red wine do you like?
Martha Stewart suggests Pinot Noir, Grenache or Gamay. I used a local Cabernet Sauvignon, because I prefer a dry wine with this. If you want it sweet use a Lambrusco or a Zinfandel.
If you really don't like red wine, go for your favorite white or rose.
What kind of soda would be good in a wine spritzer?
This is NOT a sponsored post! I originally made this with Peach Citrus Fresca and it was the perfect match. But, then Covid hit. I haven't been able to find it since.
As a replacement you can use any citrus flavored soda, and maybe some peach nectar (juice) for a little extra peachiness.
Or go for more peach flavor and use a peach soda or sparkling water and a few more dashes of the bitters.
Citrus Peach Red Wine Spritzer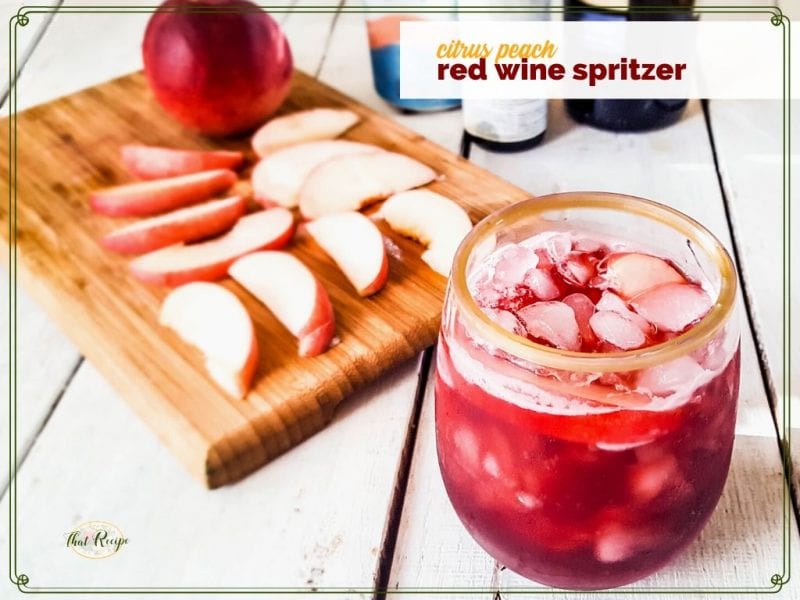 Ingredients
red wine

(chilled)

peach citrus soda or other citrus soda or peach sparking water

(chilled)

fresh or frozen peach slices

orange bitters

ice
Instructions
Fill a tall glass half way with ice.

Add 2-4 ounces of chilled red wine.

Fill glass with chilled soda/seltzer.

Add a few splashes of bitters.

Stir to blend, crushing peaches slightly.
Sound fabulous? Share it!
More Summer Drink Recipes
Until next time, happy eating!
~Audrey