Jump to Recipe
Print Recipe
Delicious homemade Hot Cross Buns are perfect for Easter time, or anytime! Sweet rolls loaded with currants or raisins.
Hot Cross Buns are a sweet yeast roll filled with warm spices and currents or raisins then topped with a frosted x. Traditionally served for Good Friday in many countries, they are delicious any time.
This recipe for Hot Cross Buns came from my mother-in-law, who used to make them for the teachers at the kids' school every year during Holy Week. I took a cue from her and made them for J's preschool teachers last week. They are a nice treat any time of year, yet somehow I only make them around Easter.
Tips for Making Hot Cross Buns
It may look like you have too many raisins initially, trust me, once the dough doubles it will be enough (in fact I added about a ¼ cup extra because I like raisins).
The dough will be sticky when you are kneading it, resist the temptation to add more flour so it doesn't become too dense. Better yet, if you have a mixer with a dough hook or bread maker (set for dough only) use that.
My Mother-in-Law used to use a tiny syringe to make the X, available at your local pharmacy. You can pull out the pastry bag with a small tip. I usually just use a toothpick or bamboo skewer or even a knife, whatever is handy.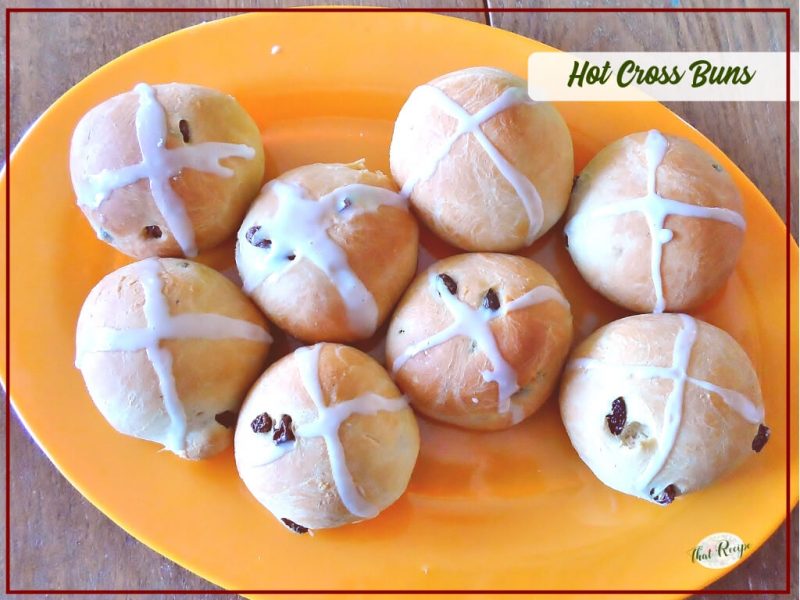 Ingredients
¾

cups

milk

⅕

cup

butter

(softened)

¼

cup

sugar

1

teaspoon

salt

2

large

eggs

½

teaspoon

vanilla

1

packet

active dry yeast

(dissolved in ¼ cup warm water)

3 ½

cups

flour

¾

cups

raisins

¾

teaspoons

cinnamon

⅛

teaspoon

nutmeg

½

cup

powdered sugar

1

teaspoon

milk
Instructions
Scald milk: in a saucepan heat ¾ cup milk until bubbles begin to form around the edges, just before it is going to boil. Remove from heat.

In a large bowl, pour milk over butter sugar and salt. When dissolved add eggs and vanilla. When mixture is lukewarm add dissolved yeast.

Add flour, raisins and spices in halves, beating until stiff and smooth. Place on floured surface and knead for 3 minutes.

Place dough in a greased bowl, cover and let rise until doubled. Turn out dough and knead for 1 minute. Return to bowl and let rise again.

Place dough on floured surface and cut into halves, then quarters and then each quarter into 5 pieces (making 20 total buns).

Shape into round buns and place on a baking sheet or in a greased 9x12 pan and let rise about 45 minutes.

Bake at 350°F until golden brown, about 20 minutes. Move to a cooling rack and let cool.

Combine powdered sugar and 1 teaspoon of milk to create a thin icing, if needed add more milk a small amount at a time. When cool, frost each bun with an X.
Until next time, happy eating.
~Audrey